Who Is Jannah in Star Wars: The Rise of Skywalker?
Wait, Who's Jannah? 6 Key Details to Know About The Rise of Skywalker's New Character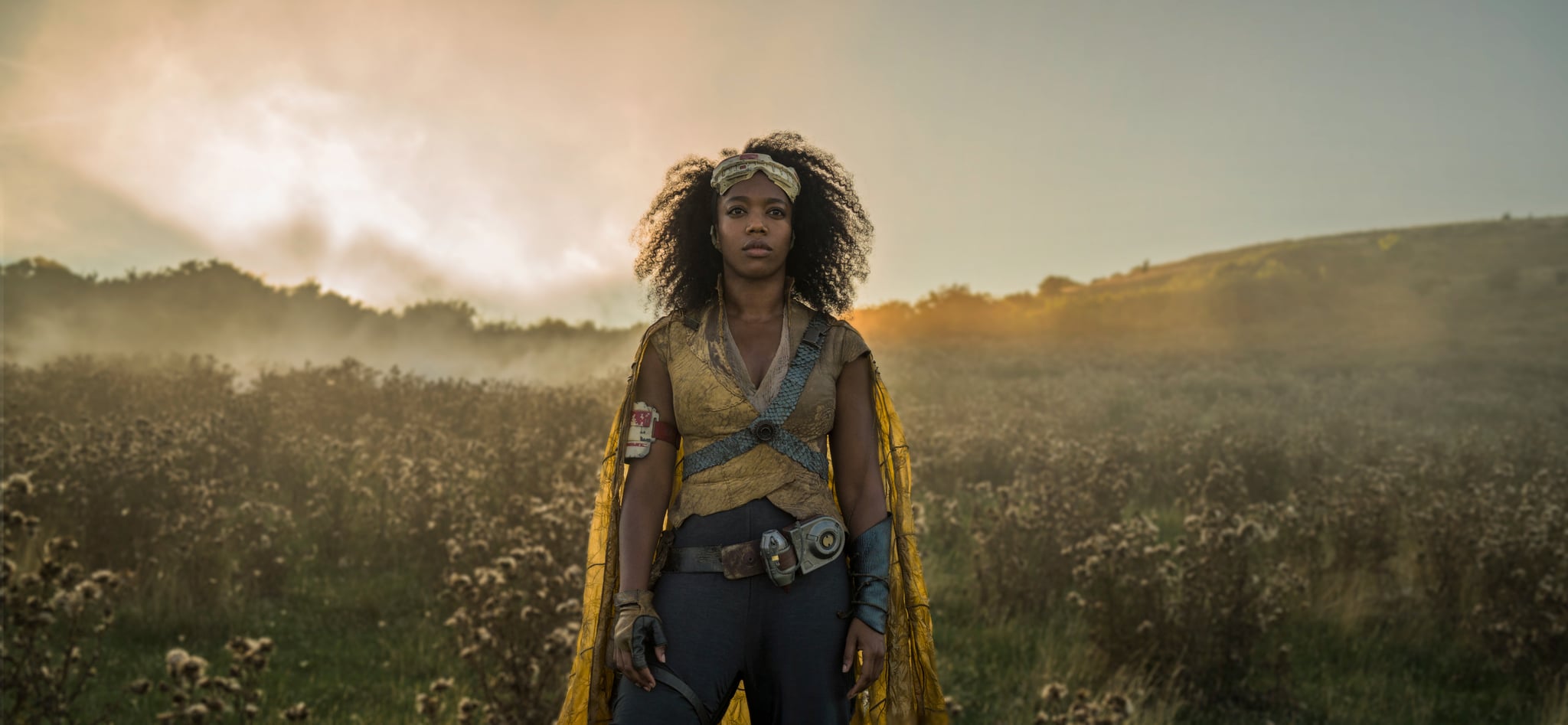 The latest trilogy of Star Wars films has been full of familiar characters — Han Solo (Harrison Ford), General Leia Organa (the late Carrie Fisher), Luke Skywalker (Mark Hamill) — but the real draw has grown to be the new, original characters that have been introduced. At this point Rey (Daisy Ridley), Kylo Ren (Adam Driver), and Poe Dameron (Oscar Isaac) have all become beloved figures within the franchise, and with The Rise of Skywalker on the way, it looks like we'll get another fresh face to obsess over: Jannnah.
We've known for a while now that the mysterious character would appear in the final installment of the new trilogy, but she still remains a bit of an enigma. Aside from a few photos of her here and there, here are the hard details Disney has deigned to share with fans:
Jannah is played by Naomi Ackie. If you haven't had the pleasure of watching The End of the F***ing World's second season on Netflix, I beg of you to stop whatever it is you're currently doing (aka reading this article) and go press play. Even though Ackie stars in the quirky Netflix series as a terrifying, complicated sociopath named Bonnie, it's near-impossible not to come away a fan after watching her spectacularly dark performance.
There are rumors Jannah might be Lando's daughter. When Ackie's character was revealed at the annual Star Wars Celebration in Chicago earlier this year, panel moderator Stephen Colbert pointed out the similarities between Jannah's yellow and blue costume and Lando's. Could they be related? "Lando is a very charming man, so he could have children all over the universe, that's all I'm saying," Ackie teased.
Jannah will cross paths with the core group of characters. At the same event in Chicago, Ackie revealed that "the original group are going on this epic, epic adventure together and I'm so excited about where Jannah crosses paths with them." Interesting!
She has a definite connection to the ongoing battle of good vs. evil in the galaxy. While speaking to The Los Angeles Times, Ackie described Jannah as "fierce" and explained that "she's got a lot of history involved with the issues in the film. Once you find out her story, you're rooting for her and you can understand why she's fighting . . . Her importance to the story has to be relevant — and it feels relevant, definitely, for some of the characters and for the larger picture."
Jannah will help take down the First Order. In an interview with Total Film, Ackie said that when we meet her character, Jannah will already be working for the Resistance in an effort to defeat the First Order. According to the star, Jannah will "show up at the right time," which "might be helpful when it comes to the big conclusion." Could she be the key to ridding the universe of Emperor Palpatine once and for all?
Jannah is a fan of horses. (OK, not horses exactly.) During her interview with Total Film, Ackie mentioned that she had to spend seven months training with horses to prepare to play the warrior, who leads a pivotal battle charge in Episode IX on the back of a horse-like animal called an Orbak alongside Finn.
So far, that's the gist of what we know about the principled freedom fighter! As the days until the film is released tick by, however, we're sure we'll get a bit more information . . . or at least we hope we do.