Why Aquamarine Is the Underrated Summer Movie That Deserves a Rewatch (Like, Now)
I watched 2006's Aquamarine at my very first sleepover. At the time, it inspired me to style every long-sleeved shirt I owned and taught me to wait for boys to shake their hair, because apparently that meant they liked me. The teen staple is one of those underrated movies that I don't think about or watch very often, but when I do, it brings back a tidal wave (ha, get it?) of endless summer nostalgia.
If you somehow haven't seen this gem, it's about two shy, boy-obsessed best friends, Claire and Hailey (Emma Roberts and JoJo), during their last few days of summer before Hailey moves to Australia. A large coastal storm washes the ocean ashore their resort pool, bringing a mermaid (Sara Paxton) along with it. Aquamarine, named after a rare and precious gemstone, has legs when the sun is up and when she's dry. The issue: she has to find true love before going back to the ocean in three days for her arranged marriage.
If you watched this in your adolescent years, you simply can't claim you never daydreamed in the last few fleeting days of summer that a mermaid would wash up and turn your world upside down. When I recently rewatched it, it brought back all the magic and fantasy that comes along with mermaids, summer romances, and adventures with your best friends. It's like The Little Mermaid, but for high schoolers.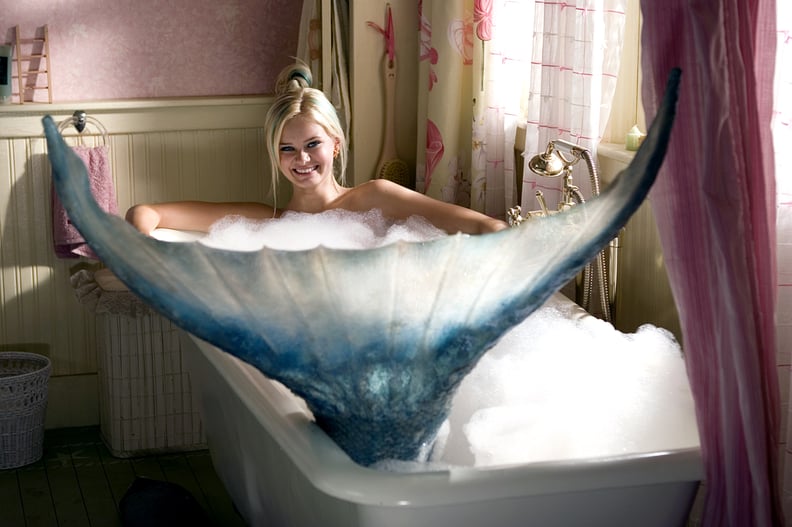 Want to feel just how the times have changed? Put this baby on. Phones are attached to the wall and fashion equates to low-rise everything, Bermuda shorts (which just happen to be back in style), and crimped hair. Aquamarine has a kickass 2000s soundtrack (Mandy Moore! The Jonas Brothers!), a popular mean girl, and a love interest who's wearing cargo shorts. Rewatching also reminds me of all the hours I spent reading teen magazines like Tiger Beat, J-14, and Bop to find out how to flirt with a boy ("It's called the fluff and retreat. Fluff his ego then walk away, not only will this leave him wanting more, but he's under the impression that it's his idea.") and style my hair. Very 2000s.
As someone who has moved several times, hated their parents for it, and would've done anything for a wish from a mermaid to make it all go away, Hailey and Claire's friendship during their last few days together is incredibly special — even if they're only eighth graders. I know the feeling of trying to make those last few days count and being in absolute denial of the situation (and yes, even unpacking some packed boxes).
Maybe I'm biased because I have this faint memory of watching it at this sleepover and thinking it was the coolest thing ever, but to this day, I maintain that Aquamarine is still the ideal summer watch. Even if we don't have blue streaks in our hair or starfish earrings that whisper compliments in our ears, at least we have the perfect movie to make us feel like we do. And on a final note, I've definitely found myself saying "the only two men I need in my life are Ben and Jerry." While I always thought I was so clever, I really just got the line from Aqua (who was even eating my favorite flavor, Phish Food).