Hot Take: Why 90 Day Fiancé Is the Perfect Show to Binge With Your Partner
It started on our honeymoon two years ago. Jetlagged after a red-eye flight to Portugal, my husband and I turned on the TV in our hotel room. We quickly realized there was only one English channel — TLC — and it happened to be airing a weekend-long marathon of 90 Day Fiancé.
Just like that, an obsession began. I don't think we even made it through a full episode that first night, but after returning home, we started binging 90 Day Fiancé in earnest.
The premise is simple. Cameras follow people who just happened to fall in love with someone from a different country through their long-distance courtship, engagement, and eventual marriage. In the United States, you have 90 days after arriving in the country to get married on a fiancé visa (hence the title).
While my husband and I didn't have to deal with any visa issues, the show felt like a fitting watch after our own wedding. Though many of the obstacles that 90 Day couples face — language barriers, legal issues, the occasional catfish — don't apply to our relationship, we sympathized with other parts of their journey. We've dealt with pressure from family, the stress of planning a wedding, and the bittersweet pain of moving far from home, just like these people.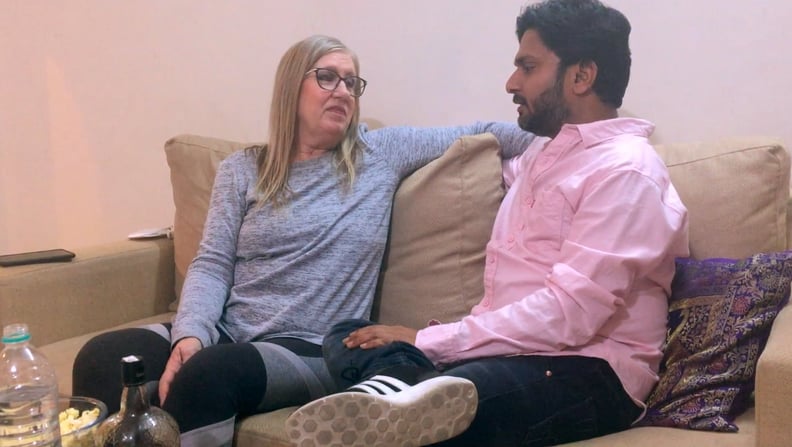 Of course, I'd be remiss not to mention the show's absurdity factor. People in love can do crazy things, and it makes for excellent TV. A personal favorite is anytime one of these star-crossed lovers reveals their plan to marry someone they've only met in person once — the shocked expression on the face of the friend, family member, or salesperson they're talking to is priceless. There are also the couples who downright lie about their appearance, age, or criminal history, like Rebecca, who used such heavy filters on FaceTime that her boyfriend Zied was shocked when they met in person for the first time.
Best of all, there's plenty to watch: The original show is on its eighth season and has spurred several spinoffs (all available on Discovery+). There's 90 Day Fiancé: Before the 90 Days, which follows long-distance couples meeting for the first time before their engagements; 90 Day Fiancé: The Other Way, in which Americans travel to another country to marry their beloved; and 90 Day Fiancé: What Now?, a series that checks up on couples after their "I dos", just to name a few. Discovery+ has also added a few new series, like 90 Day Bares All, a confessional-style talk show with never-before-seen scenes, and 90 Day Diaries, an intimate look at past couples' daily lives.
The 90 Day shows are so compelling because these are real people. A twist of fate, and I very well could have been in their shoes: blowing my savings on plane tickets, desperately trying to find a way to be with the person I love. Every time my husband and I press play on a new season, I'm reminded of how lucky we are — and that's worth every minute I've spent watching.