Best ASOS Maternity Clothes
This Kate Middleton Approved Brand Made Me Stop Fearing Maternity Clothes
As POPSUGAR editors, we independently select and write about stuff we love and think you'll like too. POPSUGAR has affiliate and advertising partnerships so we get revenue from sharing this content and from your purchase.
You may go through the first few months of pregnancy in denial that your wardrobe has to change. But once that zipper on your boyfriend jeans won't budge around the second trimester, it's time to act. Leggings and your loosest dress can only take you so far. It's time for maternity clothes. Groan.
When that happened to me, I thankfully recalled the wisdom of my mom friends: check out ASOS. When you're pregnant, generous friends share advice about baby gear, pregnancy-safe beauty products, and their preferred parenting philosophy. Everyone seems to have a slightly different take on these personal decisions, but I noticed a theme when it came to maternitywear. So many of my friends had a soft spot for ASOS, the affordable online-only retailer I hadn't previously associated with maternity clothes. Since I had bought some nonpregnancy dresses and a few favorite sweaters from the site, I was excited to check it out.
In addition to its own maternity line, ASOS stocks over 20 additional brands in the US. I was relieved to find that the site completely upends the traditional "maternity tent" style and instead translates mainstream looks for pregnancy needs. Just look at this side-by-side comparison of Princess Diana in 1984 and Kate Middleton in 2015 to see how far pregnancy fashion has come (polka dots remain popular, apparently). Kate, who is pictured wearing an ASOS maternity dress here, shows off the more tailored look modern mothers-to-be prefer. Perhaps we can expect to see more of her in ASOS now that Kate is pregnant with her third child.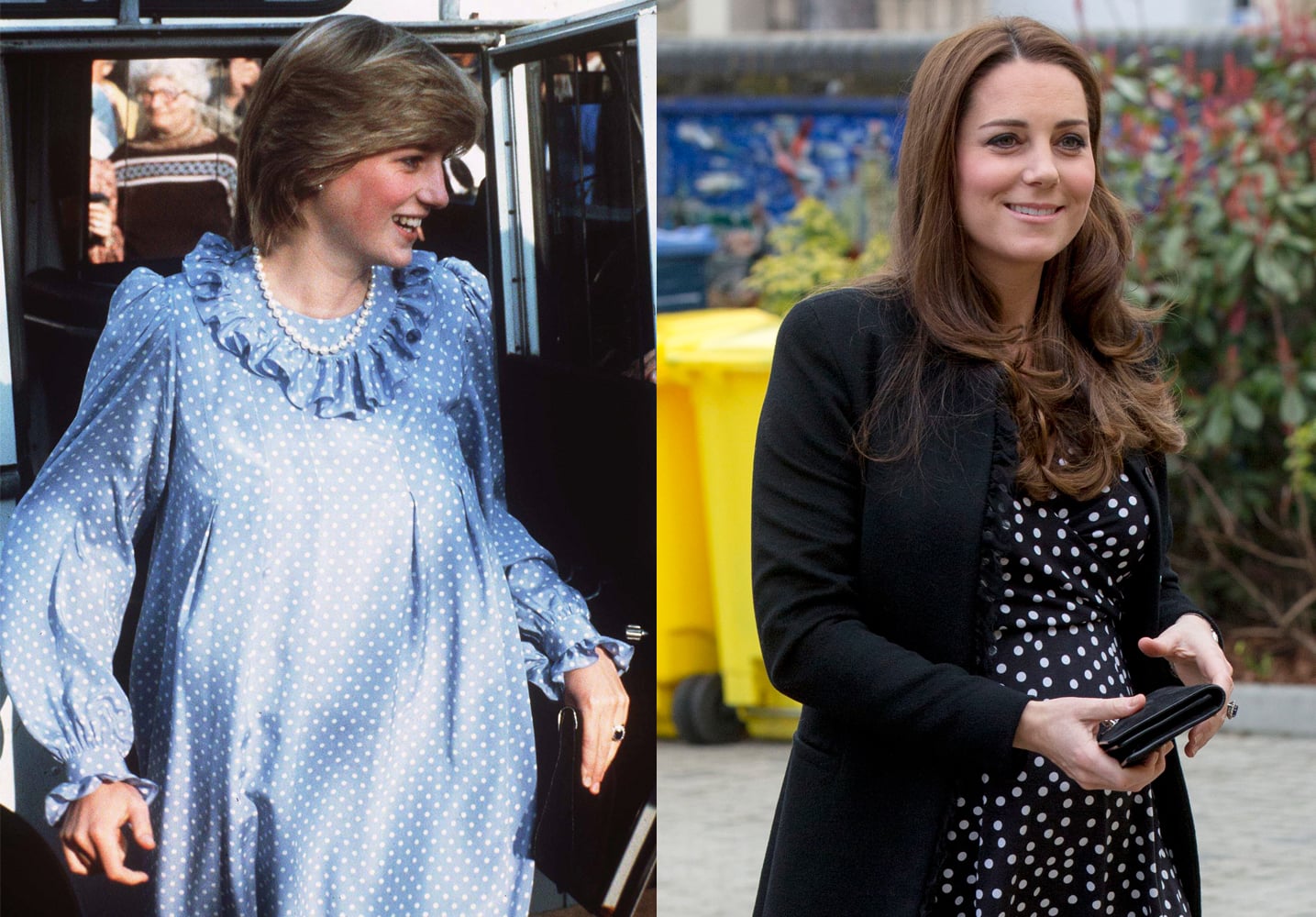 ASOS launched its maternity offering toward the end of 2011 and has been growing since then. A brand spokesperson told me that millennial expectant mothers want to maintain their sense of style. They also want something affordable. When you think about it, maternity clothes makers have a captive market: us pregnant ladies need something to wear. But ASOS recognizes that a maternity customer will probably only get five months of wear out of a piece, which means she is always looking for the best possible value often at low price points. And even if you could spend all the money in the world, these styles will win you over, as evidenced by Kate Middleton and even Beyoncé, who wore a "Preggers" t-shirt from ASOS a couple months before her twins arrived.
In order to keep the maternity offerings as relevant as possible, ASOS treats its maternity line just like the others: it studies which styles are hot right now. "We start by considering what the key trends are for the season, then identify whether they are fit appropriate for the shape of the maternity customer," the company explains. Pregnancy can be a time of heightened body awareness, and shopping for an unfamiliar figure can cause anxiety. By giving style-conscious pregnant women a familiar online shopping experience and overall looks they'd like regardless if they were pregnant, ASOS makes the maternity clothes experience more enjoyable.
In fact, I find myself planning to wear some of my purchases post-pregnancy, and many of the brand's "nursing" options are created for that dual purpose. To get a taste, here are some of my ASOS favorites, including basics, special occasion dresses, and professionalwear. Just like any online shopping site, ASOS's styles and fits can be hot and cold and vary by specific taste and body. You may require a few rounds of returns. But I swear I'm getting more compliments these days on my maternity wardrobe than I did on my regular outfits.