Champagne Bottle Christmas Ornament
Cover Your Tree in Champagne Ornaments, Because That's What the Holidays Are All About
As POPSUGAR editors, we independently select and write about stuff we love and think you'll like too. POPSUGAR has affiliate and advertising partnerships so we get revenue from sharing this content and from your purchase.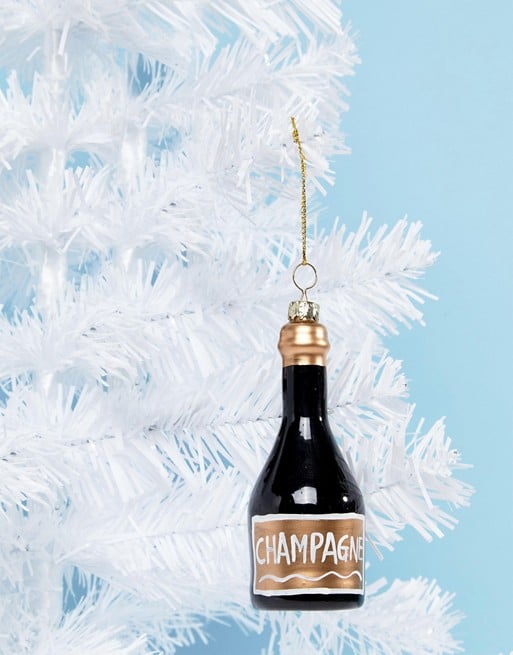 Maybe it's your annoying little cousin asking you to teach her how to do a cat eye or that inevitable political argument at the dinner table, but whether you're commiserating or celebrating, the holidays are about popping Champagne. Instead of decking the halls with festive Disney ornaments or sweet pom-pom decorations, this Sass & Belle Prosecco Bottle Holidays Bauble ($11) gets right to business . . . liquid business.
Unfortunately, there's no Champagne in the plastic ornaments, but pro tip: there's *probably* an extra bottle hidden in your family coat closet that reads "break in case of emergency." If your family is anything like mine, a holiday dinner definitely calls for that emergency. The package, which is sold online at ASOS, comes with two ornaments, and it's begging you to just pop it open.
String this alongside some adorable wine glass ornaments and you've got yourself a very merry Christmas! But if you're really trying to get in the creative liquid spirit, boozy ornaments from The Lakes Distillery in the UK are filled with actual vodka, gin, and whiskey (separately, of course), and they might even convince you to teach your cousin about said eyeliner style. Until then, you can find us covering our trees in Champagne bottle ornaments with one hand and holding a glass of the real stuff in the other!