Dads Adopt 6 Siblings in Foster Care
These Dads Adopted 6 Siblings Who Spent 1,640 Days in Foster Care, and I'm in Tears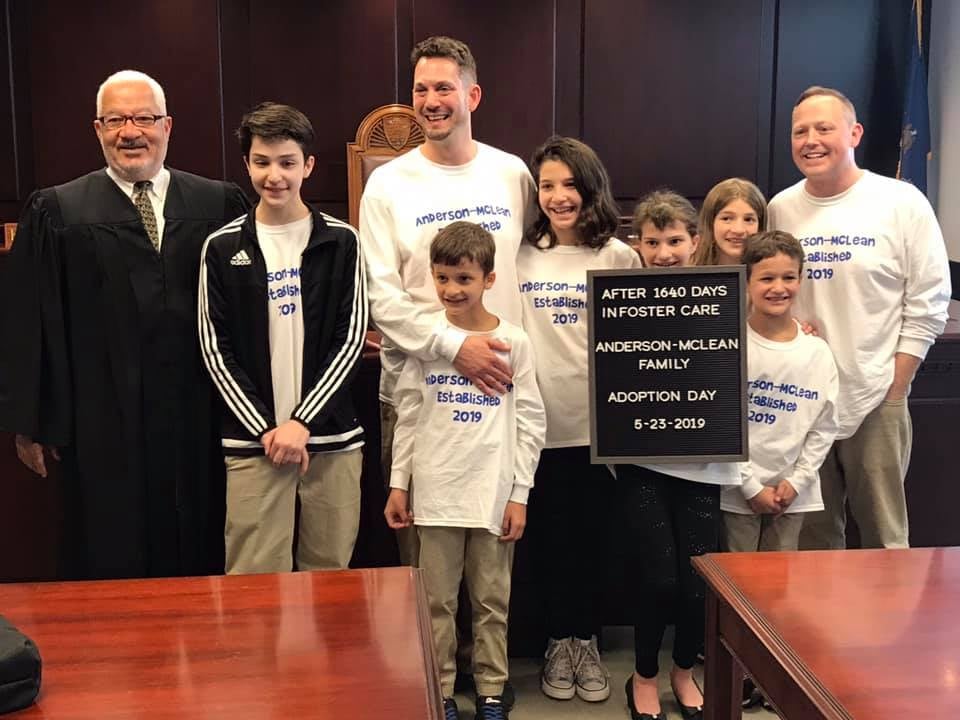 Steve and Robert Anderson-McLean, two dads from Pittsburgh, PA, recently changed the lives of six siblings who were in foster care for nearly five years. After 1,640 days in the system, Steve and Rob officially adopted six brothers and sisters — Carlos, 14, Guadalupe, 13, Maria, 12, Selena, 10, Nasa, 9, and Max, 7 — into their family on May 23, 2019.
"We instantly fell in love with them! We read their brief biographies on the Ohio adoption website and thought that we might be a great fit for each other as a family," Rob told POPSUGAR. "Their smiles were beautiful!"
Although the couple raised two sons — Parker, 25 and Noah, 21 — from a previous marriage together, they realized that they had a lot more to give in the parenting department. While bringing six children into the house might seem overwhelming, Rob explained that his older sons adjusted well to their new family dynamic.
"The reward is incredible. There are so many kids, who want and crave love and permanency, especially older kids who have been in the system for a while."
"The kids get along well with Parker and Noah, although, when the family dynamic is changed, there is a period of adjustment," explained Rob. "Parker lives out of state and is preparing to go to grad school, so they kids don't have a direct effect on his daily life. Noah, however, still lives at home, and it was new for him to have so many younger siblings running around the house, since he's a young adult. He enjoys playing with them, and the kids absolutely adore and look up to Parker and Noah."
As for the brand-new family members? Life couldn't be better. "The kids adapted pretty quickly to living with us. We visited them for about a month while they they were still in foster care, and we bonded and fell in love pretty easily during that time period," said Rob. "They were excited to move in with us, and the transition went smoothly. The local school district is great and understands the kids' special needs due to their pasts and work with them accordingly. The kids are social and likable, and they made friends pretty easily."
Ever since they were adopted, Rob and Steve have enjoyed giving their children new experiences. The kids were overjoyed to attend their first-ever Pittsburgh Pirates game and loved bouncing around at the trampoline park. As for Rob's advice to other parents who want to adopt? Dive right in.
"Try to get past the initial intimidating part of the process, including the paperwork, background checks, and classes," he said. "The reward is incredible. There are so many kids who want and crave love and permanency, especially older kids who have been in the system for a while. They just want a family to come home to, even when they're adults. To most children, it doesn't matter if they're adopted by a single parent, a mom and dad, or a same-sex couple. And financial assistance is available in a lot of cases to help with the legal fees and expenses when adopting from foster care . . . there are very few, if any, out-of-pocket expenses in many cases."
He continued: "With all of the challenges, the reward is hearing your child call you 'Dad,' when they tell you they love you for the first time, or when they need reassurance that they're in their forever home!"
Image Source: Rob McLean