Family of 5 Lives in School Bus
See How This Family of 5 Lives Full-Time in a 240-Foot School Bus
For six years, the Trebitowski family lived in a gorgeous 2,100-square-foot house on a half acre of land in Albuquerque, NM. But in October 2016, they downsized to "smaller and better things," moving their clan of five into a 240-square-foot, 84-passenger school bus, which they renovated into their homey haven on wheels. After catching up with the matriarch of the crew, Ashley, to hear more about her family's compact home, I walked away with a renewed love for the small-space living movement.
"We fell in love with the simplicity of minimalism. We loved living with very few things and traveling, so naturally, the bus life was an easy transition for us."
When Ashley and I got on the topic of what initially inspired her family to trade in their spacious house for a home on wheels, she told me that it all came down to a passion for living with less. "We fell in love with the simplicity of minimalism," she said. "We loved living with very few things and traveling, so naturally, the bus life was an easy transition for us." She and her husband, Brandon, scored their dream school bus — a classic yellow Blue Bird from 1999 — from Craigslist for $4,200. After driving to Texas to pick it up from the small church where they purchased it, the transformation process began. Over the course of six months, they completely gutted the vehicle, swapping rows upon rows of blue leather seats for standout features like a shower with subway tiles and a skylight, ample storage drawers, wooden countertops, and beds for every family member, including their three kids, Cayden, 9, Jackson, 7, and Reagan, 4.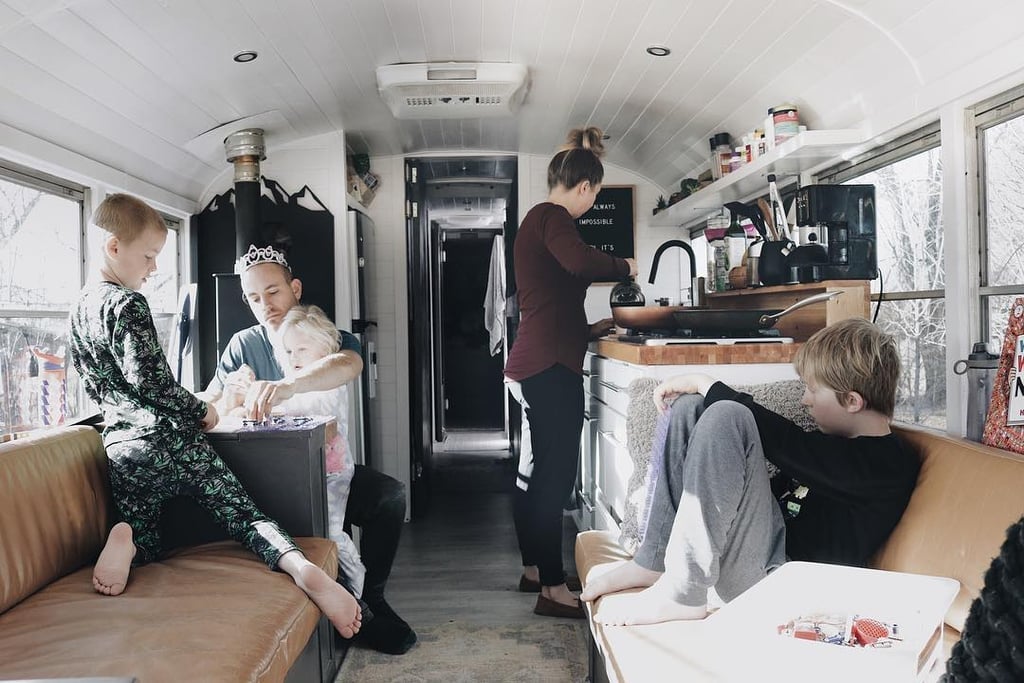 Yep, you read that correctly: three growing kiddos plus two grown adults (one of which is a tech entrepreneur who owns and operates his own software-development company while on the road) living in one bus. It may sound hectic, but the Trebitowskis make it work. "We get asked a lot of, 'Isn't it hard to raise kids living tiny?' And my answer is, 'Isn't it hard raising kids in a house?'" Ashley told me. "It's amazing living simple with time to travel and experience life alongside our kids instead of sending them off to school . . . they will be more focused on living life instead of filling their lives with things."
When I asked Ashley how she parents and homeschools in such a compact living space, she simply said, "Just like any other mom would." Adding, "Homeschooling isn't any different in a bus than a home, except we have more time to do fun stuff instead of cleaning and organizing our large home full of stuff."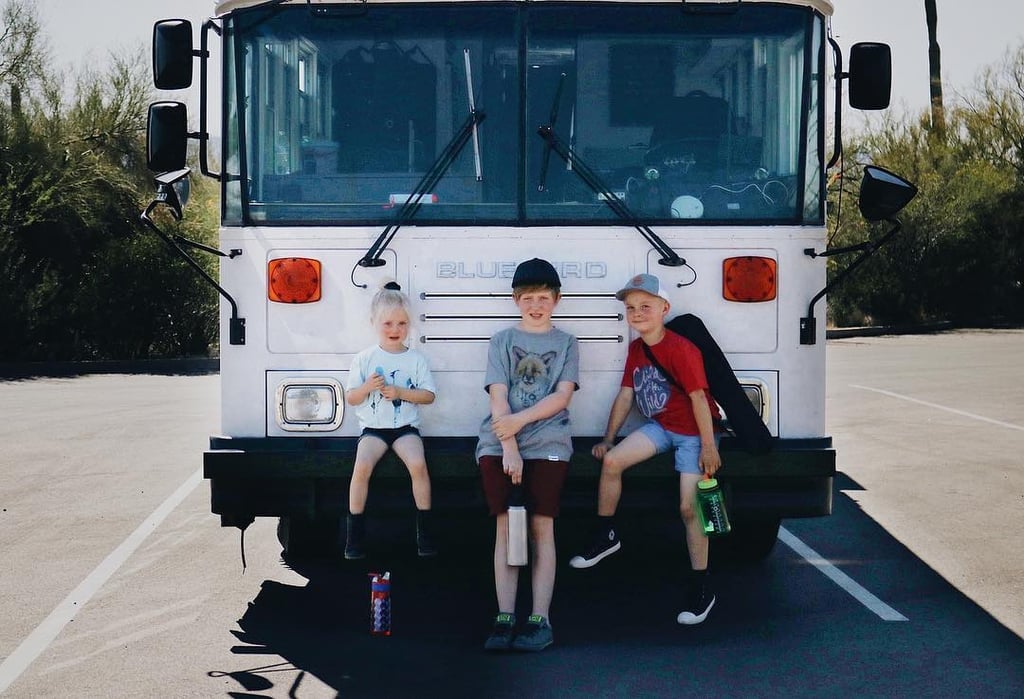 Of course, the family of five encounters their fair share of challenges — "It's loud at times, and Winter is rough," Ashley said — but overall, the benefits of living in their converted bus far outweigh the difficulties. "We can feel at home even if we are parked in a Walmart parking lot. When we get tired of a place, we can pack up and leave in 30 minutes. It's really nice being able to live off-grid and park on the coast of California or pull our home into the Disneyland parking lot and bring the kids back for naps. It's super fun living this way," Ashley told POPSUGAR. Plus, the kids are a fan of bus life. "They say it's nicer because they have fewer chores, and they like that we have more time to spend with them since there is less house upkeep."
Speaking of house upkeep, the Trebitowskis seem to be pretty great at it, considering how pristine and enviable their home on wheels looks in every single post on their Instagram page, @Trebventure. Ahead, take a peek inside their adorably decorated bus . . . you just might consider ditching your current living situation for an old-fashioned school bus.