Georgetown Cupcake Chocolate Ganache Cupcake Recipe
DC Cupcakes Sisters Share Valentine's Day Baking Wisdom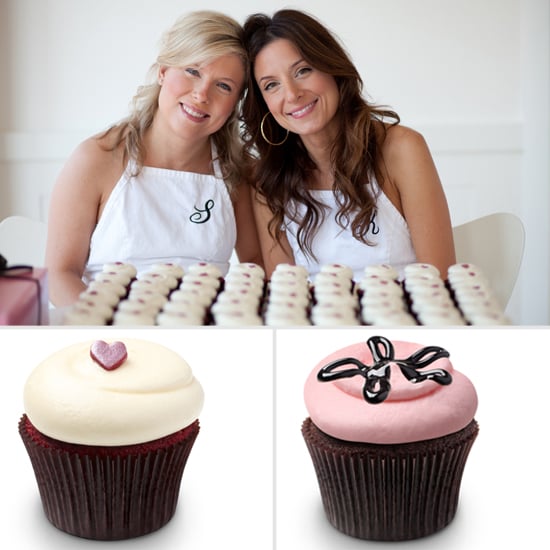 What's sugar and spice and everything nice? Cupcakes! And no one knows more about our obsession with the little confections than Sophie LaMontagne and Katherine Kallinis, co-owners of Georgetown Cupcake and stars of TLC's DC Cupcakes. The sisters, who learned their kitchen skills from their grandmother ("We followed her around the kitchen and always begged to help"), have been known to bake up to 10,000 cupcakes a day, much to the delight of the patrons who line the block of their original Washington, DC store as well as their outposts in NYC, Boston Los Angeles, and Atlanta. The duo gave me a few minutes of their time to discuss their tasty desserts.
POPSUGAR Moms: Cupcakes have moved from kiddie birthday party staple to a favorite of adults and kids alike. But kids aren't always willing to try new flavors. Which are most popular with kids?
Sophie LaMontagne and Katherine Kallinis: Our Vanilla Birthday (vanilla cupcake with vanilla buttercream and rainbow bobbles), Chocolate Birthday (chocolate cupcake with vanilla buttercream and rainbow bobbles), and Milk Chocolate Birthday (vanilla cupcake with milk chocolate buttercream and rainbow bobbles) are the most popular with kids. We think it's the color rainbow bobbles!
PSM: Moms are busy; what shortcuts can you recommend to making delicious, beautiful cupcakes without spending the whole day baking and decorating them?
SL and KK: Try to keep a stash of baking staples — butter, sugar, eggs, vanilla, milk, all purpose flour, baking soda/powder, salt, and cocoa powder/chocolate on hand in your kitchen at all times and you can make almost any flavor! Our recipes are very simple — we don't use cake flour or pastry flour — just all purpose — we find that works best. Also, we're big fans of chocolate ganache icing. It's so easy — just two ingredients — chocolate chips and heavy cream. You just melt them down (two cups of chips to one cup of cream), and dip your cupcakes in and you've got a super fast and unbelievably delicious frosting.
PSM: Do you ever make "healthy" cupcakes for those who want to skip some of the sugar? If so, what goes into it?
SL and KK: We have a carrot cake cupcake, which has fresh carrots and fresh apples grated in it. We skip the walnuts, to save on calories, and it's a light and delicious cupcake!
Inspired to get baking? You've come to the right place! Check out the recipes for Georgetown Cupcakes' Red Velvet, Chocolate Ganache, and Strawberry Lava Fudge concoctions below.