How to Be a Class Chaperone
Be a Great Class Mom (Without Driving Your Kids Crazy)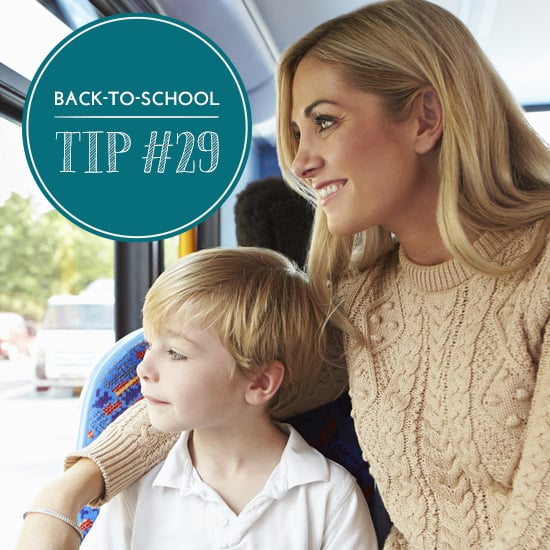 Welcome to our guide to Back-to-School Success: 31 days of tips, apps, recipes, and more to help you make this your family's best school year yet. Today, day 29, we share our favorite tips for being the best kind of class mom — one that's helpful without being pushy, or interfering with the teacher's agenda.
There are multiple layers to being a great classroom volunteer — there's showing up on time, helping out the teacher where necessary, and being a presence that your child and his classmates look up to and respect. Then there's the other, less talked about criteria — not driving your kids (or their teacher) crazy! When you're the new addition to a pre-established group, it's important to know your place. Let the teacher(s) run the show, have a helpful and positive attitude, and don't disrupt your kids' routines. Here are five simple, straightforward rules for being a class mom that everyone in the room will appreciate — and even invite back!
Be Reliable: It's one thing to cancel a dermatologist appointment or reschedule a work meeting. It's quite another to leave a teacher high and dry with more kids than they can handle at the last minute. Before committing to volunteer in your kids' classroom or accompany the class on a field trip, double and triple check your calendar and clear any potential conflicts. Arrive on time — or even early — energized and ready for action.
Follow (and Enforce) the Rules: If kids aren't allowed to have smartphones, keep yours discreetly tucked away with the volume off. Does the teacher abide by the rule of no food or drinks until the designated snack time? Then no coffee to go for you. Set a strong example and follow it.
Let the Teacher Run the Show: Sure, it's fun and exciting that you're joining the class for the morning or afternoon, but for you, it's a one-time stint. For your child's teacher, it's a school year-round job. Don't forget who's boss. You can be helpful and supportive without trying to steal her thunder.
Bring Your Unique Perspective — Quietly: If you have something to share on the topic that the teacher's covering or the site of the field trip you're chaperoning, by all means, let the group know. Contribute in a way that enhances, but doesn't overshadow the teacher's plan.
Observe, Participate, and Don't Overwhelm: Seeing your child in their "natural" day-to-day environment should be viewed as a special privilege. Don't alienate them from friends and classmates or embarrass them (at least not intentionally). Use the opportunity to get to know your little one's peers a bit better and witness your amazing little person in action!