How to Clean an Instant Pot
Obsessed With Your Instant Pot? Here's How to Properly Clean It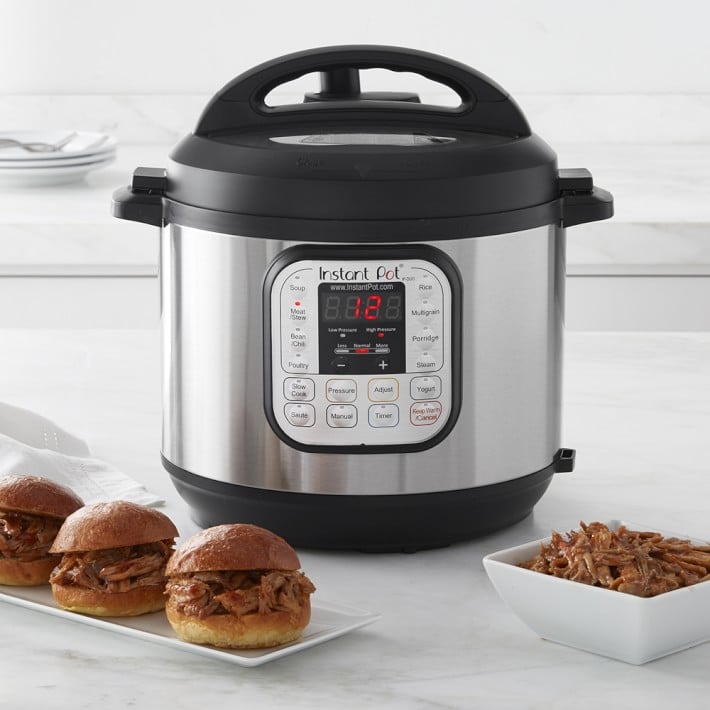 The Instant Pot is undoubtedly the reigning kitchen gadget of 2018. It's the perfect appliance for busy people who are constantly on the go but still appreciate a good, home-cooked meal.
If you're like us, you probably use your Instant Pot multiple times a week — no shame! But if you do use it regularly, it's important you keep it clean. Cleaning your Instant Pot won't just keep your family healthy and make the Instant Pot last longer, but it will also prevent tastes from meals past from spoiling your future bakes. Here's how to keep your Instant Pot as good as new all year long.
Everyday Cleaning
You should clean your Instant Pot after every use, like any other kitchen appliance. First, take a damp cloth (microfiber works well) to wipe down the inside. Next, you'll want to use a foam brush or microfiber cloth to clean the rim of the Instant Pot. This is an important step, as this rim can become gunky over time! You can put the inner pot in the dishwasher or wash it by hand.
For discoloration or stains that are still present after washing, wiping down with white vinegar should do the trick. For the lid, be sure to rinse it with warm, soapy water, and avoid the dishwasher.
Deep Cleaning
You should give your Instant Pot a deep clean every few weeks, or more depending on how often you use it. For deep cleaning, unplug your Instant Pot and wipe down the outside with a clean, damp cloth. Use a brush to really get into the nooks and crannies on the inside of the unit, taking care to dislodge any old food bits you may have missed during your everyday cleaning. Remove pieces like the Quick Release handle, the steam valve shield, and the condensation collection cap, and wash all of these parts.
Finally, and perhaps most importantly, give the sealing ring a wash! You can run the sealing ring through the dishwasher (just place it on the top rack), but you can choose to wash it by hand to avoid it becoming misshapen. Washing the sealing ring is essential as the silicone can become stinky otherwise. Rinse it in white vinegar, and air it out to dry if you notice it starting to smell a little off. Once everything is dry, reassemble, and you'll be ready to start cooking again.
Buy It: Instant Pot Duo60 7-in-1 Multi-Use Programmable Pressure Cooker ($100)