Mom Warns Parents About Rocky Mountain Spotted Fever
This Mom Is Warning Parents About a Tick-Borne Illness After Her Son Came Home With a Bizarre Rash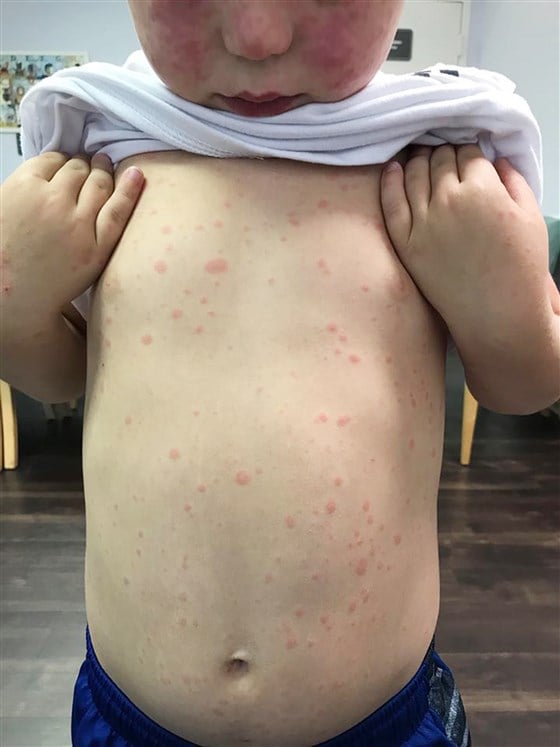 Although the Summer months have plenty of fun aspects like camping trips and family vacations, there are also a number of risks that come with letting kids play outside. Danielle McNair, a mom from Georgia, is warning parents about a less commonly known danger, Rocky Mountain spotted fever, after her 5-year-old son, Mason, contracted the tick-borne bacterial infection.
Danielle told POPSUGAR that Mason's grandparents first found the tick in his belly button while Mason was taking a bath at their house in LaGrange, GA. Despite removing the tick, the bite site remained red and swollen. Danielle decided to take him to the doctor's just to be safe.
"His grandfather saw the tick on May 10; we're honestly not sure how long it was there because it was in his belly button and he was at his grandparents' house," said Danielle. "They actually removed the tick and made sure the head was out. He came home that day, and we noticed that it was very red and looked infected the following day."
Believe it or not, Mason didn't show any symptoms right away. In fact, he didn't have a sign of a rash until 11 days after the tick was removed. And that's when Mason's health took a turn for the worse. According to his mom, he began to experience headaches, abdominal pain, fatigue, diarrhea, and a fever along with the rash.
"This has been the scariest thing my husband and I have ever dealt with regarding any of our children."
"The rash [appeared] on the last day of his first antibiotic, so 11 days after we found the tick," explained Danielle. "His first round of antibiotics lasted for 10 days. I was entirely panicked. This has been the scariest thing my husband and I have ever dealt with regarding any of our children. It has been extremely scary for us and my son."
Danielle's maternal instincts immediately began to kick in. She started frantically researching what could be causing the symptoms online and finally found a potential cause: Rocky Mountain spotted fever, which she learned could be life-threatening if not treated correctly. She shared what she discovered with Mason's doctor.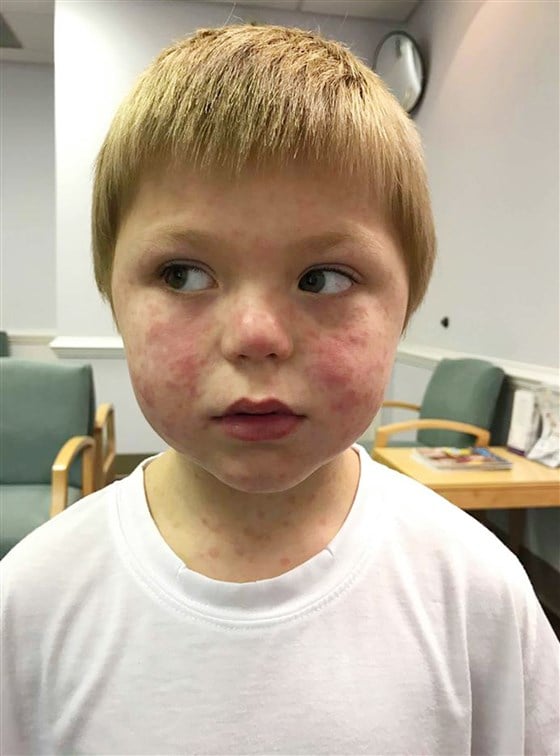 "When I took Mason to the doctor's the first time the rash showed up, they said that it was a delayed reaction to the antibiotic he just finished," said Danielle. "The doctor said it could take six weeks to clear up, and they sent us home. That's when I did my own research because I wasn't satisfied with that answer. After my husband, sister, and I did some digging online, I took him back to the doctor and showed them what I found. That's when they diagnosed with him RMSF."
Mason was immediately put on a different antibiotic used to treat Rocky Mountain spotted fever called doxycycline. Ever since, he's been making a steady recovery.
According to the CDC, these are the symptoms of Rocky Mountain spotted fever that parents should look out for:
Fever
Rash (occurs two to five days after fever, may be absent in some cases)
Headache
Nausea
Vomiting
Abdominal pain (may mimic appendicitis or other causes of acute abdominal pain)
Muscle pain
Lack of appetite
Conjunctival injection (red eyes)
While Danielle is extremely relieved, she has some advice for other parents who find themselves in the same situation: go with your gut.
"I'm so thankful that I did my own research because if I didn't, we would be in a completely different situation right now with Mason," she said, adding that she doesn't blame the doctors for the mix-up with Mason's diagnosis. "I'm trying to raise awareness for RMSF and all tick-borne diseases. . . never let a doctor disregard your concern for your child, get a second or third opinion if you have to! Just don't stop until you're satisfied!"
Image Source: Danielle McNair