Serena Williams Quotes About Having a Toddler April 2019
Serena Williams's Best Tip For Parents of Toddlers Is 1 That ALL Parents Should Adopt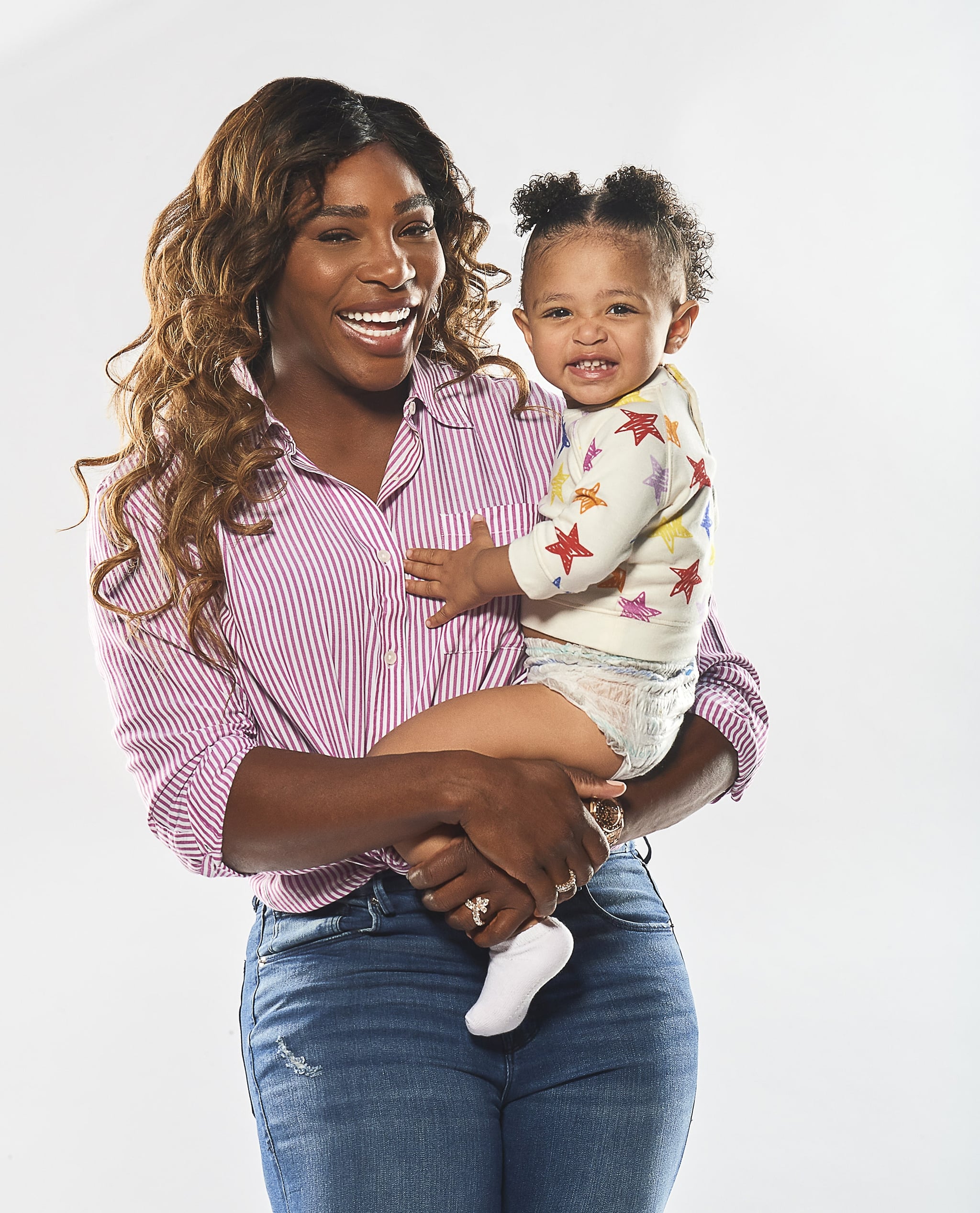 Serena Williams is a busy woman — aside from the fact that she has a larger-than-life career, she's also the mom of a toddler, and that is a full-time, round-the-clock job in itself. Serena and her husband Alexis Ohanian's 1-and-a-half-year-old daughter, Olympia, is quite the little ball of energy, and Serena says that keeping up with her definitely wears her out. However, there's not much that can be done to rein in an active toddler other than doing your best to stay on your toes; which is why Serena's working with Pampers to help other parents embrace their "wild" kids through the brand's #WildChild campaign, which is in celebration of spirited kids as well as the brand's new game-changing diaper, the Cruisers 360 FIT (basically yoga pants in diaper form).
"She's really, really, really active," Serena told POPSUGAR of Olympia. She added, of the new diaper, which eliminates the classic tape fasteners on diapers in favor of a completely stretchy waistband: "The Pampers Cruisers 360 FIT diaper is for an active baby. My baby moves a lot, and there are moments where she would pee in my lap because her diaper didn't fit right . . . this diaper definitely makes a huge difference for a baby who's active and moving around a lot — you need the diaper to move with you and not against you. This diaper has been a real lifesaver for me because I don't have to change my pants three times a day."
Watching a child go from a teeny baby who lies around most of the day to a little person with a budding personality is definitely one of the coolest parts of parenting, and Serena is enjoying this season of motherhood. She says that "seeing her learn" is so exciting, because for Olympia, everything new is so much fun.
"I was like, 'Oh my god this is so great.' She wasn't doing that even a week ago."
"Today I tried — I'm trying — to potty train her as my next challenge. She's working on it, and she just pulled her own pants up, and I was like, 'Oh my god this is so great.' She wasn't doing that even a week ago. She'll go into the closet and pick out a skirt that she wants to wear and just pulls it on herself — she doesn't really get it on right . . . but she's trying different things." She added: "It warms my heart. It's so exciting."
And while most parents will agree that the toddler years aren't all rainbows and unicorns, Serena is doing her best to accept the more difficult parts, like the inevitable tantrum phase. When asked if Olympia is the type to melt down, she shared: "She is, and it's fine. I'm enjoying it, because [toddlers] just don't know any better and they're doing the best they can with what they can do. It's fun, it's cool, and I love that she's experiencing the 'meltdowns' . . . Everything's going to be all right. I try to understand her the best that I can." She added, "I thought it would be harder for me, but I've been more patient than I thought I would be, so that's kind of exciting."
Where does one buy said patience? (Asking for a friend.)
Another thing that Serena has incredible patience for is the toddler phenomenon "Baby Shark". She says it's Olympia's "jam," and we're 0 percent surprised. "She found it somehow, she's into it. It's her thing . . . and then I start singing it, and can't get it out of my head! And now she's learning the dance, it's so cool. She's only got the clapping part down." She added, of Olympia getting a bit of screen time here and there: "It's very monitored, which is really important. I was one of those people to say, 'I don't want her to be on the phone at all!' Then I quickly was like, 'Ah, let her have the phone a little bit.' But I still monitor it a lot . . . kids are actually learning now on devices so I definitely want her to be able to be used to it and know what it's like. She enjoys it."
45545863
"You are worn out with a toddler — at least I am, I get so worn out, but I love every second of it.
And as most of us know, a little bit of screen time can go a long way when you need yourself a little parenting break amid the chaos of everyday life with a toddler. "You are worn out with a toddler — at least I am; I get so worn out, but I love every second of it. But I do kind of find myself passing out at the end of the night, so my only advice is to take a deep breath and get ready for the next day." However, she added with a laugh, "Actually, my other advice is to definitely give me some advice because I'm going to need it — I heard things gets really crazy after a while."
Amen to that, mama.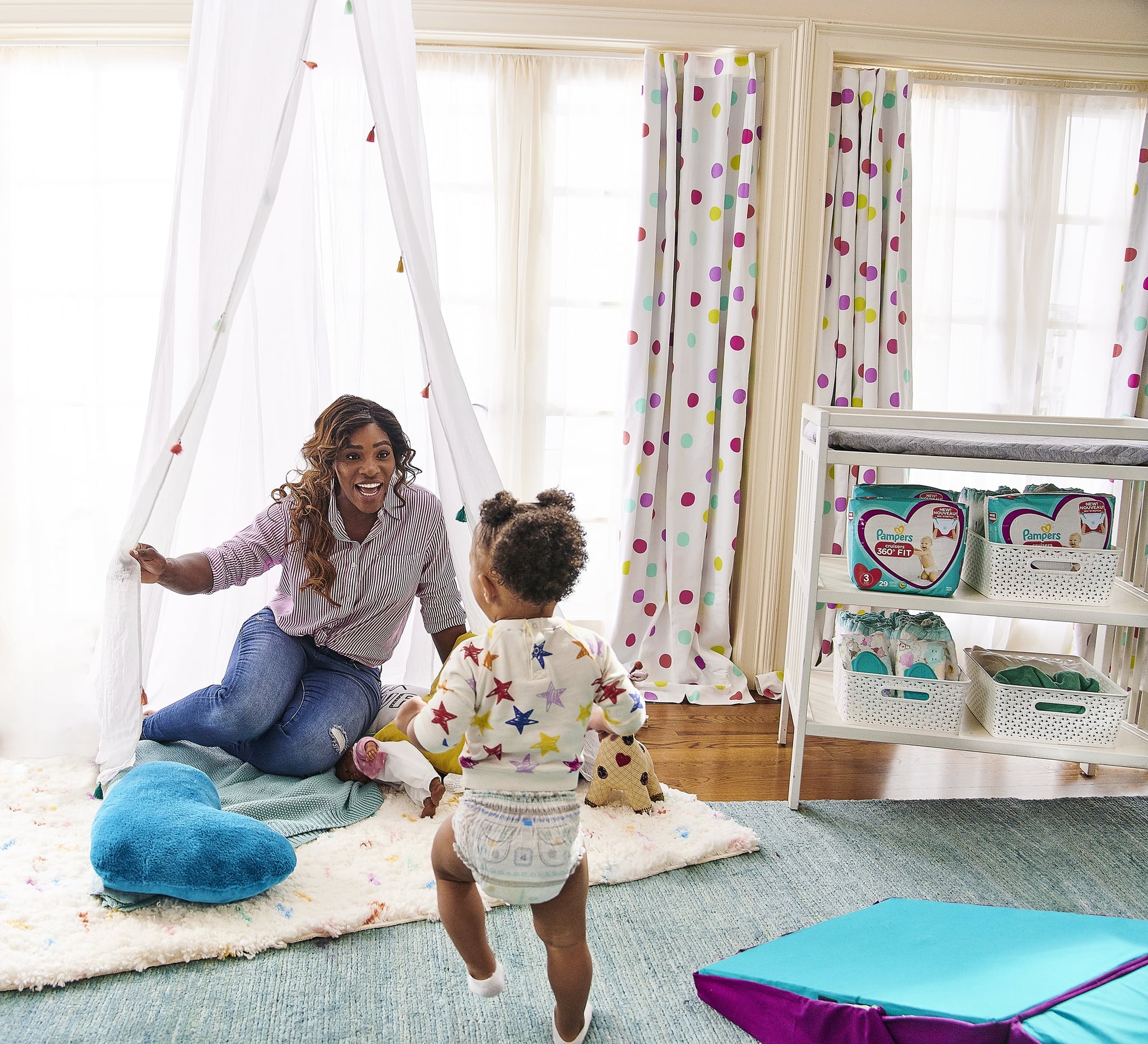 Image Source: Pampers