Tips For Parents of Teens
10 Foolproof Rules For Dads of Teens
Chris Pegula is the actor-turned-father-turned-designer-of-Diaper Dude, the diaper bag company created with dads in mind. More than just a bag, Chris's concept founded a movement and lifestyle born from the idea that fatherhood doesn't have to be complicated or uncool. His latest is From Dude to Dad: The Diaper Dude Guide to Pregnancy, a book offering essentials on pregnancy, birthing and parenthood . . . from a man's perspective. Here, he shares a dad's guide to raising teens.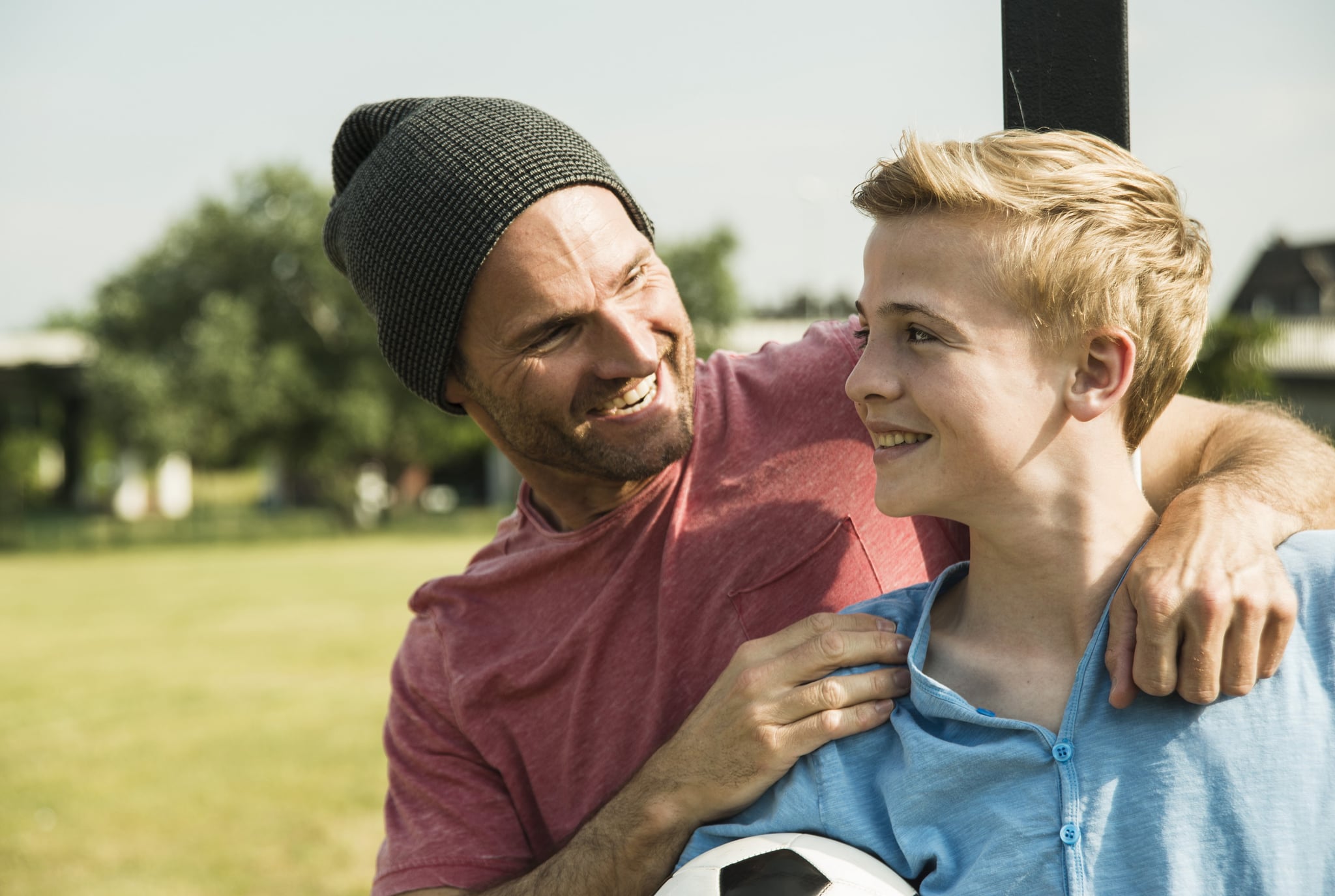 When I was approached to write about rules for Dads of teens, my immediate reaction was "like totally."


Rule #1: Don't pretend to talk like a teen.
It doesn't work. Especially if you're in your 40's like me. Like the saying goes "Act your age not your shoe size."
So what makes me an expert in teens you may be wondering? Well I have two teens — one boy age 15 and one girl age 13. I have a third who is 10 going on 16 (I kid you not.) So I think I qualify for the position.
To gain better understanding of what I was about to delve into, I decided to look up the definition of a teen in the dictionary. What I discovered shocked me. Teen: noun Archaic. 1. suffering; grief. 2. Obsolete. injury; harm.


Rule #2: Keep this definition in mind when they piss you off or act irrationally.
Just as your wife or partner experienced those raging hormones while carrying these little tykes, the same holds true for these suffering, grief filled beings. So keeping that in mind you should heed:


Rule #3: Think before you react.
In my book, From Dude To Dad The Diaper Dude Guide to Pregnancy ($8), I stress how important it is in your relationship with your partner to not react to behavior that may seem irrational or out of the ordinary (mostly due to the raging hormones taking over her body.) The same holds true for our lovely teens. Warning: it is not easy to do. But believe me you'll feel better if you take a moment to breathe and reflect before you speak. You'll both be better off.


Which leads me to Rule #4: Lead by example.
More times than not, I'm guilty of not following this rule, specifically speaking when it comes to cell phones. In our household, we discourage cell phone use when engaged in family time (i.e., breakfast or dinner). That goes without saying when it comes to driving and texting. But there are times when my teens remind me with their authoritative tone to put that phone away. I guess there's always room to learn as a dad as well.


Rule #5: Do not take things personally.
This by far is one of the toughest rules to live by. But it does go hand in hand with rule #3. If you are anything like me (I wear my emotions on my sleeve) this is going to take practice. But remember you already went through this if you recall when your partner was pregnant. You just need to apply the same ideas. Remember your teens are battling a river of emotions inside their bodies. Don't get me wrong if they are disrespectful to you I'm not suggesting you don't correct their behavior. I'm merely offering the advice to have a cool off period and address the situation once you had a chance to remember that this is not a personal attack on you. It's those raging hormones that are largely responsible for their irrationality. Just give it a try.


Rule #6: Let It Go.
Cue the Adele Azeem cover to the Disney Frozen hit here. But seriously letting go of past experiences is important when it comes to maintaining a close relationship with your teen. Remember we all make mistakes. The last thing you want to do is alienate your child during this period. Again, there is no need to walk on eggshells. Just don't be a grudge holder. We've all been guilty hanging onto the past at some point or another in our relationships. It really doesn't give an opportunity for your teen to succeed if you are expecting them to disappoint you. Give them the benefit of the doubt. Let bygones be bygones.


Rule #7: Carve away alone time with your teen.
In a world of distraction it's easy to take our relationships for granted. Whether it's a walk around the block, a trip to Starbucks or even taking time to hang before your teen heads to bed. Make it a point to spend quality time alone with them. Believe it or not, this simple act will impact your child in more ways than one.


Rule #8: Don't let them convince you to drive your car until they have properly learned how to do so.
I grew up in the countryside driving motorcycles, tractors and trucks as early as I can remember. There was no traffic to battle and no concern over crashing into parked cars. (Can you guess where I'm going with this one?) Teens are persuasive. Hold your ground on this one. If you can't then just make sure you let them drive in an open field or a clear parking lot. Enough said.


Rule #9: Give them a daily hug.
I can't imagine not doing this. No further explanation is needed.


Rule #10: Don't let a day go by without telling your teen you love them.
These 10 rules are just the tip of the iceberg for today's dad. But it's a good place to start. Have some rules I didn't mention here? Let me hear them.
Source: Corbis Images