Using Hanging Shoe Organizer For Kids' Toys
The Surprising $9 Product That Saved Me From Toy Room Hell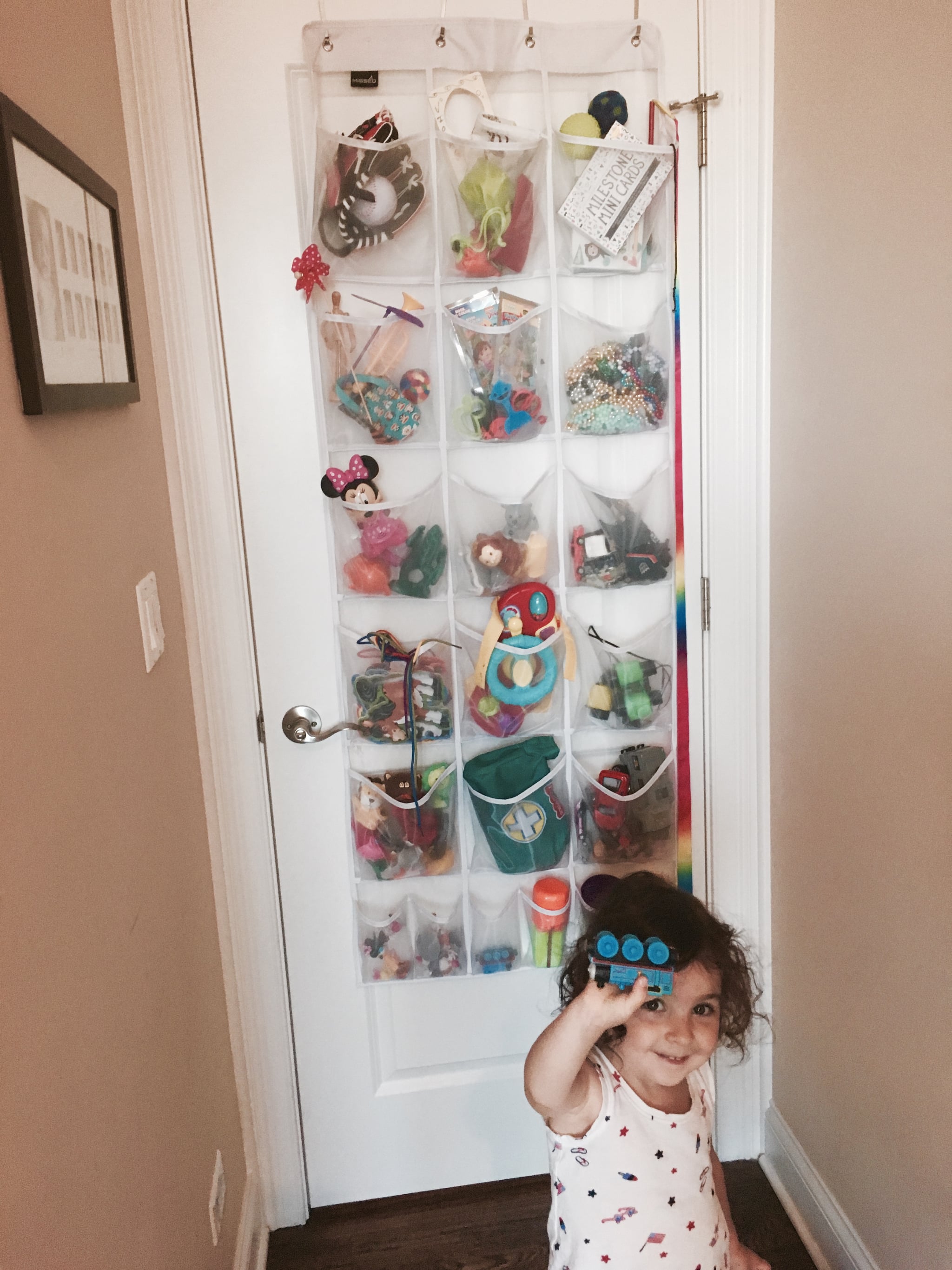 I'm a skilled organizer: I'm at the Container Store on a weekly basis, my drawers have gone through a full Marie Kondo-inspired transformation, and my husband maintains I'm a closeted hoarder in that no one knows how much crap I own because I do such a good job of tucking it all away.
But somehow, my kid's toys make me unravel. If my home were a Pinterest-perfect pantry, my toddler's room would be the junk drawer.
Because we live in an apartment without the extra space for a playroom (never mind storage for the coveted ability to "rotate toys" so that my children are "constantly stimulated" and "unencumbered by clutter"), I've got only so much space to contain all of my tot's books, dolls, toys, and clothes. I spent entirely too much money — roughly $200 — outfitting the inside of her two closet doors with Elfa-branded racks and hanging baskets, and there were still finger puppets and Thomas the Tank Engine trains and dress-up jewelry scattered on the floor. I had exhausted most of the wall real estate with bookshelves and storage bins, so I really had only the door to her room left to work with. And only a few dollars left to spend.
That's when Amazon Prime came to the rescue. Aimlessly searching for door organizers, it led me right to the most clever toy organizing hack that was under my nose the whole time: the ubiquitous over-the-door shoe organizer.
I bought the cheapest one I could find: the SimpleHouseware Crystal Clear Over-the-Door Hanging Shoe Organizer for a measly $9. Free next-day shipping and everything.
Here's what makes this simple product a total game changer when used in a kid's room:
It's a breeze to install. Unlike our previous purchases that required drilling into doors and furniture solutions that involved stressful trips to Ikea, this came right to my front door with the click of a button. And I affixed it to my daughter's door in roughly 15 seconds.
It fits a ton. I bought this organizer shortly after my kiddo's birthday party, and it essentially took care of her added swag (as much as I do want to purge, it's nice to be able to put it off awhile longer).
It's clear, so you can see everything. You don't have to bother with labeling (as much as you might enjoy it), and your kid won't get frustrated looking for things.
It'll encourage your kid to actually play with everything. This organizer is perfect for the small, random trinkets that otherwise get lost in the bottom of a deep bin. I've found that many of my other storage solutions have led to my kid never playing with those toys again because she'd, for instance, forgotten that they were in that tub under her bed. This organizer, for better or worse, puts it all out in the open.
It creates some boundaries. For younger kids, they can get to the toys on the lowest few levels themselves, but it's nice to be able to store items that they can't access without your help up top. Those upper pouches are perfect for iPads, flashcards they might rip to shreds if you're out of the room, or toys with tiny pieces that require your supervision, particularly if, like me, you have a baby starting to crawl.
It has so many uses. I filled my kid's organizer with a general smattering of toys, but if you have more doors (or a kid with more specific interests), you could have your organizer house only Barbie dolls or have it serve as a Lego command center, with each pouch holding a different color set of bricks.
It's cheap. Even if you opt for one of higher quality, which I eventually did, it's still not going to break the bank. There's a top-of-the-line mesh one with oversize storage pockets that might be more conducive to different-size toys, and it's $18.
It can be repurposed. Once your kids outgrow their massive toy collection, the organizer can be used for a tween's accessory collection or for its originally intended use of housing shoes.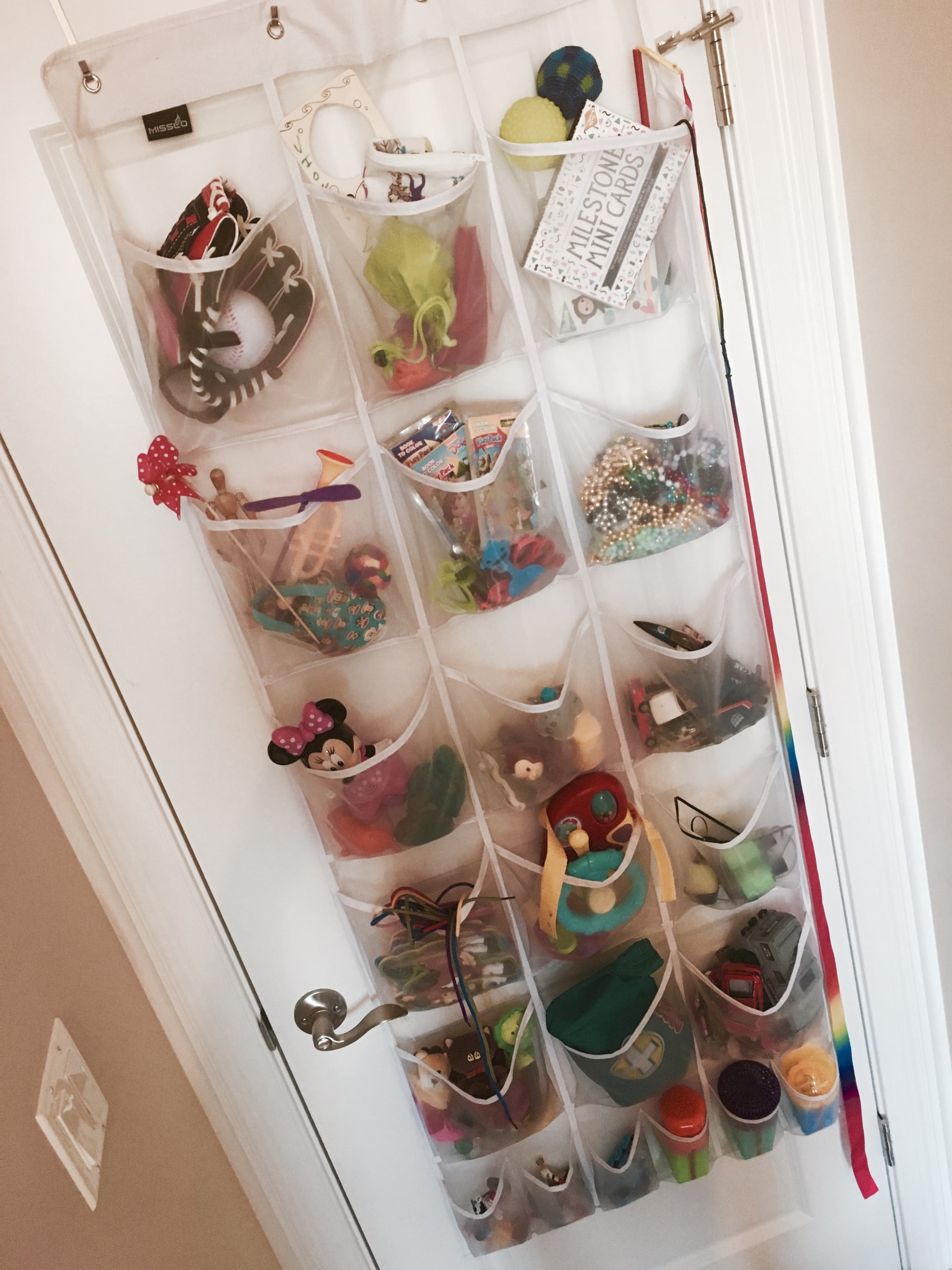 If you too are living in toy room hell, get one for your kid's room now. There's really no better way to spend less than $10.
Image Source: Kate Schweitzer