When Should You Stop Letting Your Kids Run Naked?
At What Age Should Kids Stay Fully Clothed in Public?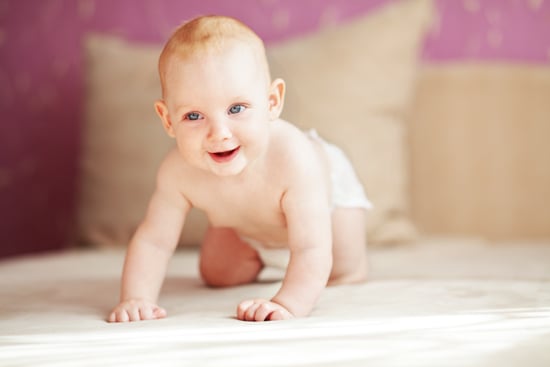 One thing moms learn really fast is that little kids can't keep their clothes on. From the time they are 4 months old or so and start kicking or pulling off their booties, to toddlerhood, when they like to strip down and race around in their birthday suits, young kids prefer to be in the buff.
It's great fun in the summertime, when it's easy to let your kids splash through the sprinklers or play in the pool in the backyard sans bathing suits and cumbersome shorts and T's. But is it OK to let kids be seen naked at the beach or in public? At what age does it become taboo? Those are questions many Circle of Moms members start to wonder as their little ones get bigger.
Keep reading.
Is 4 the Magic Number?
Some moms, like Rori C, believe that running around naked is a rite of passage, but that it becomes an issue when kids start getting closer to school age — 4 or 5 years old. "I just let my toddler son run around carefree and naked while at home or in the privacy of our backyard," she says. "Granted, we live in Tucson, AZ and it's 118 during the summer. As long as it's just at home, I'm not going to worry too much until he gets a little older, and hopefully, by the time he is 4 he'll have outgrown this phase," she adds.
Becky S. agrees, saying all three of her children loved to strip down and run around but that when they got to be about 4 years old, she insisted they stayed clothed. But beware, she warns: "The next phase will be them changing their outfits three times a day."
Experts at The National Child Traumatic Stress Network agree, saying it's perfectly normal for very young and preschool-aged children (ages 4 or younger) to want to take off their clothes as they are naturally immodest. But, according to a NCTSN report, as children age and interact more with other children (about ages 4 to 6), they become more aware of the differences between boys and girls and it becomes time to make sure they're covered up or wearing clothes.
But, as many Circle of Moms members point out, much depends on where their children are when they're naked or running around with minimal clothing on. "Backyard, sure," says Kate C. "I'd let my kids run around naked in the backyard. But after they're out of diapers, then I don't think it's really appropriate to encourage them to run around with nothing but undies on. Just panties are a bit too bare for me."
Is Public Nudity Always Inappropriate?
Other Circle of Moms members say little children should not be naked in public under any circumstances. Carisa V. says it becomes a real issue in her family during summertime gatherings when the cousins get together and some of the little kids run around in their diapers or sans clothes. "My brother-in-law has real issues with nudity," she says. "His daughter is 9 months old and he cannot let her sit around in a diaper. He wouldn't even let my sister-in-law take bath pictures. I told him he was in for a shock when she turned 3 and wouldn't keep her clothes on. He said he would chase her around with clothes. I know it's terrible, but I just can't wait to watch."
Lacye says she too feels adamantly that little kids should not run around in public naked — at any age. "Personally I wouldn't let my daughter run around outside naked or even in her underwear," she says. "It's not because I'm afraid of pedophiles, but because that was how I was raised. When I was younger, you didn't go outside unless you had clothes on, and what I mean is more than just panties. I would have on my shorts and T-shirt. As for people saying it depends on the weather, I live in Mississippi and the weather gets to be about 104 in the summer with a heat index of 110 — and I still make sure her clothes are on."
Some Circle of Moms members say that the child's gender should be considered alongside their age. "I was raised in the back country where the little boys ran without even a diaper on," shares Kimberly E.
At what age do you think kids need to keep their clothes on?
The views expressed in this article are those of the author and do not necessarily represent the views of, and should not be attributed to, POPSUGAR.