Why Dad Puts His Kid on a Leash
The Relatable Reason This Dad Puts His Kid on a Leash Despite "Dirty Looks"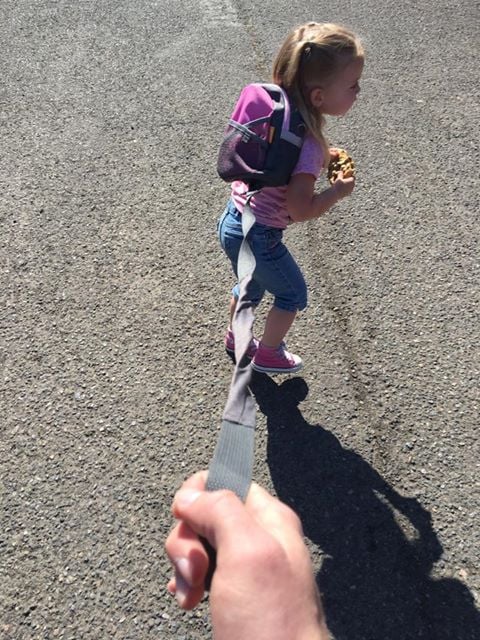 There aren't many parenting decisions that elicit as much judgment as the toddler leash. But when one dad took his "wild" daughter to the local farmers market, he had "no shame" about putting her on a leash.
"The real difficulty with having a wild child is that you are damned if you do, and damned if you don't," Clint Edwards admitted in a Facebook post. "Because the fact is, if I didn't put Aspen on a leash while at amusement parks, the zoo, a crowded mall, or the farmers market, she'd be the lost child announced over the intercom. She'd be the kid popping up in every Facebook feed for wandering into a shopping center parking lot, unattended. She could be the child climbing into the tiger cage. Because I can't, for the life of me, keep her from moving. Her curiosity is incredible, and for only having a 12-inch stride, she moves faster than any Olympian."
Still, he knows what using the leash in public means.
"And sure, I get dirty looks from strangers," he wrote. To those people, he has only this to say:
"I'm keep this kid safe while maintaining my piece of mind, and that is 10-percent worth it," he wrote. "Because the reality is she'll calm down. She'll figure it out, because all kids do. But until that day comes, I'm going to do whatever I can to keep her out of danger, even if it means a leash."