Baby-Name Trend Predictions 2022
The 8 Biggest Baby-Name Trends Predicted For 2022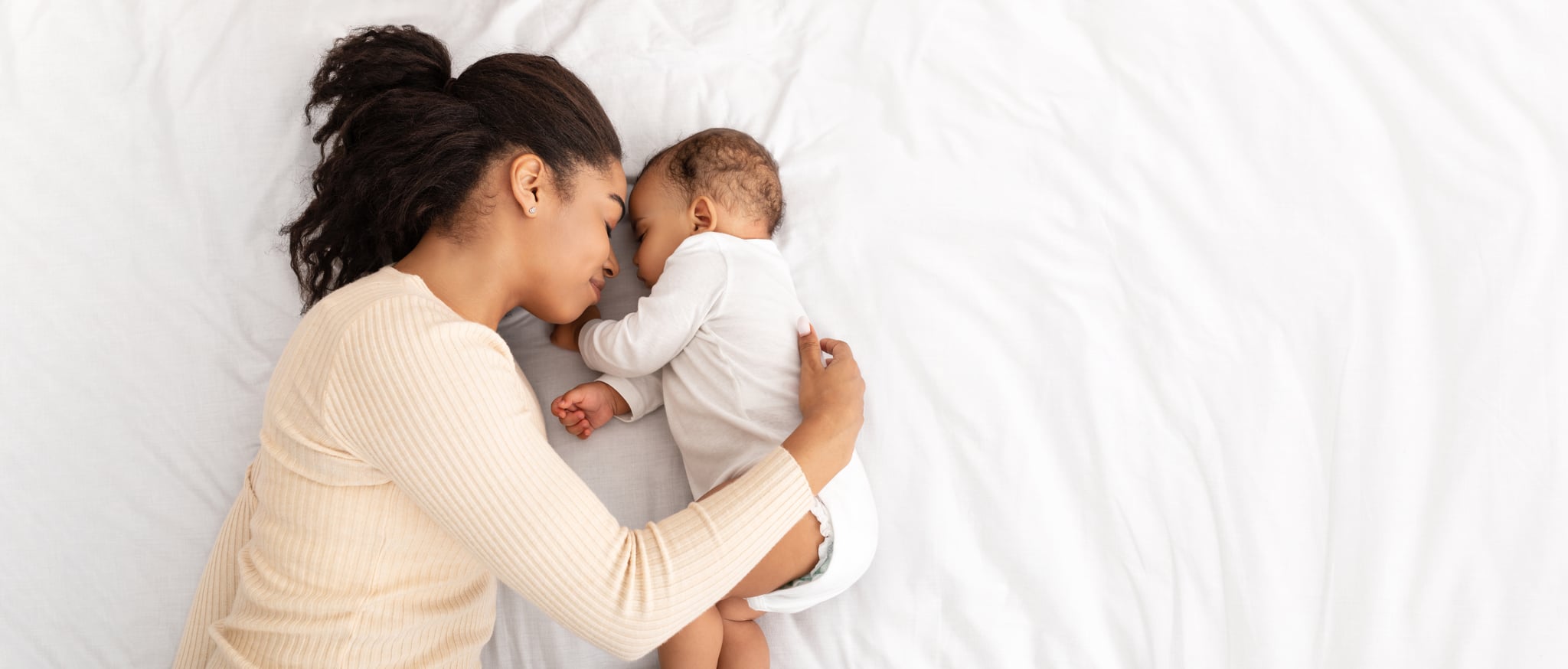 As 2021 slowly (like, very slowly) comes to a close, soon-to-be parents are already on an Internet quest to find the perfect names for their 2022 babies. Thanks to Nameberry's ongoing reports that compile the most-searched names of its users, the site has culled its findings and discovered a few clear trends among them.
Most of all, it seems the ongoing pandemic has highlighted parents' needs for positivity – and, frankly, a little escapism – amid the global turmoil. From super-cute terms of endearment to retro ones, read on for the top baby names trends predicted for 2022.
Playful Names
After two years of doom and gloom, it's no surprise that new parents would want to infuse some joy and light-heartedness into their babies' monikers. These whimsical terms of endearment may have once been reserved for nicknames, but Nameberry predicts they'll find their way right on the birth certificate.
Baby
Bear
Buddy
Dovie
Honey
Lucky
Teddy
Trixie
Ziggy
Escapist Names
Nature-inspired names are seeing a resurgence, certainly predicated by a long period of confinement. For those yearning for wide open spaces, names that embody adventure – whether in the form of beachy getaways or rugged landscapes – are destined to rise.
Bali
Bay
Dune
Forest
Horizon
Lotus
Prairie
Reef
Sequoia
Zephyr
Bridgerton-Inspired Names
Considering more than 80 million people binged Bridgerton, Netflix's biggest original series of all time, when it was released the last week of 2020, it'll be no surprise when Regency-era names – and even names of the Season 1 actors – pop up on newborns in 2022.
Albion
Benedict
Cressida
Daphne
Euphemia
Genevieve
Hyacinth
Marina
Phoebe
Regé
Nonbinary Names For Boys
In recent years, traditionally male names like Dylan and James have found increasing popularity for baby girls, but very few classically female names have crossed over in the other direction. Now, parents are poised to consider more feminine names when looking for gender-neutral options.
Artemis
Blair
Echo
Harlow
Indigo
Laurie
Nyx
Sasha
Shiloh
Wren
Names Ending in S
Names ending in S will feel much fresher than those ending in N, R, A, and O, according to Nameberry.
Ames
Banks
Collins
Emrys
Hollis
Ignatius
Jules
Osiris
Townes
Wells
Nostalgic Names
Like with playful names and escapist ones, parents are also looking to the past through rose-tinted glasses now more than ever. To that end, retro baby names – that have the power to transport you to a simpler time – are on the rise.
Betty
Bobby
Goldie
Gene
Gus
Mae
Nellie
Ralph
Sally
Vincent
Punchy R Names
Short baby names often pack a punch, but Nameberry has noticed energetic unisex R names flooding forward. For many, these particularly short offerings will land in the middle name slot thanks to their flow and grounded feel.
Reed
Reign
Ren
Riggs
Rio
Roan
Rogue
Rome
Roux
Rye
Musical Names
Between Nick Cannon naming one of his twins Mixolydian – a musical mode – earlier this year and the upcoming release of Disney's newest animated movie musical Encanto this fall, Nameberry is bracing for the next wave of music-inspired names.
Allegra
Anthem
Calypso
Chord
Coda
Jazz
Madrigal
Rhapsody
Solo
Symphony
Image Source: Getty / Prostock-Studio