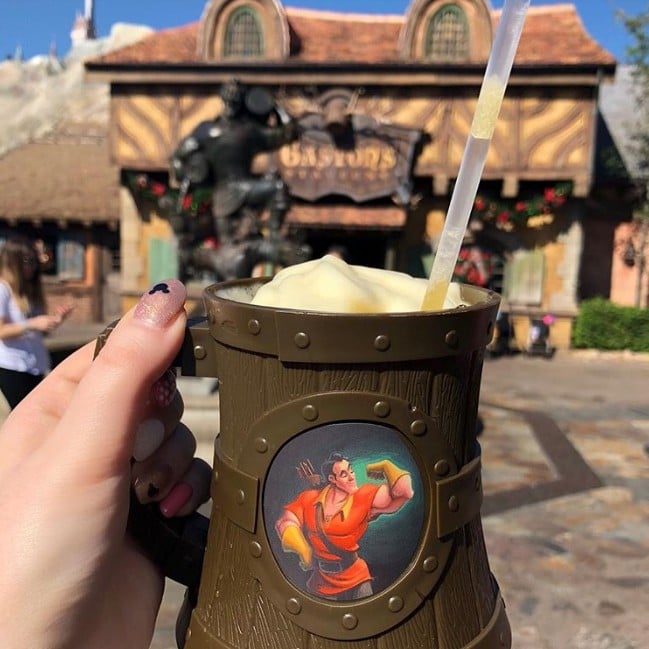 01
The Doofenslurper
What's inside this beaker depends on where you go in Epcot! If you get it at Fife and Drum Tavern, it's a frozen blue raspberry drink with passion fruit sorbet foam. If you go to Promenade Refreshments, it's a frozen lemonade topped with passion fruit sorbet foam. And if you grab it at the Refreshment Outpost, it's a frozen strawberry drink topped with passion fruit foam.
02
Dole Whip Float Skull Mug
Everyone knows about the bucket list-worthy Dole Whip — and it's even better in this souvenir skull mug. You can cool off with this at the Magic Kingdom.
03
Baby Groot Sipper
Although there's no fancy drink inside this cup, sometimes a fountain drink is all you need. You can get this adorable Groot sipper at the popcorn carts at Disney's Hollywood Studios.
04
Mickey's Kitchen Sink Sundae
This sundae has everything you need — chocolate, vanilla, and strawberry ice cream, hot fudge, caramel and strawberry toppings, chocolate chips, peanut butter chips, whipped cream, and two cherries on top. Satisfy your sweet tooth with this at Plaza Ice Cream Parlor in the Magic Kingdom.
05
Orange Bird Sipper
Is there anything more refreshing than a cup of frozen lemonade on a hot day at the park? Grab this adorable orange bird cup at the Anaheim Produce food stand in Disney's Hollywood Studios.
06
Shrunken Zombie Head Mug
This is a cocktail to remember at Trader Sam's Grog Grotto in Disney's Polynesian Village Resort. The souvenir shrunken head glass is filled with three different types of rum, tropical juices, sweet syrup, and cinnamon. Adults needs souvenirs, too!
07
BB-8 Stein
You get to choose which beverage you fill this Star Wars-themed stein with at Disney's Hollywood Studios. Go for the Padawan Limeade, Wild Cherry Slushy, or Blue Raspberry Slushy!
09
"Boot" Beer Float
How clever is this Toy Story-style root beer float? The Woody boot is filled with root beer and vanilla ice cream and can be found at The Golden Horseshoe in Disneyland.
10
Nautilus Cup
Is this a cup or a statue? The Nautilus, which you can find at Trader Sam's Grog Grotto in Disney's Polynesian Village Resort, is filled with two types of rum, a peach liqueur, tropical juices, and sweet almond syrup.
11
Country Bear Jamboree Jug
Although this jug is only filled with a fountain drink, it's so unique that it had to be included! Find it at the Frontierland Trading Post in the Magic Kingdom.
12
Poison Apple Mug
Snow White fans will automatically understand this stein! Keep an eye out for them in Disneyland around Halloween, and don't forget that you can fill them with anything from ice cream to frozen lemonade depending on where you find it.
13
Cars Land Shake Glass
Make sure you order a shake at Flo's V8 Café in Disneyland! You can get vanilla, chocolate, or strawberry with "road gravel," or a creamy orange shake topped with whipped cream and orange sprinkles.
14
HippopotoMai-Tai
Two different types of rum, orange curaçao, sweet almond syrup, agave nectar, and fresh lime juice makes this drink a winner! And you can bring the mug home to use for your morning coffee. Order it at Trader Sam's Grog Grotto in Disney's Polynesian Village Resort.
15
Cozy Cone Cup
Head to the Cozy Cone Hotel in Disneyland to grab one of these souvenir traffic cones filled with a "Route" Beer Float, Red's Apple Freeze, frozen lemonade, or soft drink.
16
LeFou's Brew
This nonalcoholic drink can be found at Gaston's Tavern in the Magic Kingdom. It's a delicious mix of frozen apple juice with a hint of toasted marshmallow and finished with a passion fruit-mango foam.