As POPSUGAR editors, we independently select and write about stuff we love and think you'll like too. If you buy a product we have recommended, we may receive affiliate commission, which in turn supports our work.
Little fingers stretch above little heads. Adorable faces take turns peeking between legs and giggling. It's workout time in my house, and my two toddlers love playing around on my yoga mat! It's all fun and games (and perfect photo ops) until, you know, I actually need to exercise. Then my mini yoga buddies tend to either throw a fit or — more effectively — politely ask if they can use my mat so they can "work out too, mama?"
I don't want to discourage them from exercising (something healthy they actually want to do!), so I started researching. I needed good, interesting yoga mats for kids, stat! Luckily, there are many out there. From blue robots to colorful rainbow unicorns, you are sure to find something that interests your kid, is the right size for them, and encourages them to do yoga, exercise, or simply have a dance party on softer ground. Now I can exercise in peace, and they can have a blast playing on their very own yoga mats. Ahead, you'll find a few of my favorite options out there!
— Additional reporting by Anvita Reddy
01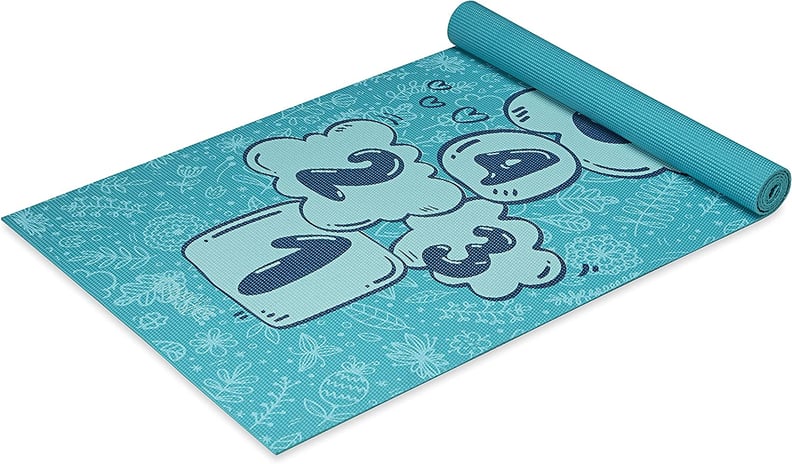 A Nonslip Yoga Mat For Kids
If you're looking for a yoga mat for your kid, the Kidnasium Kids Yoga Mat ($17) has a nonslip surface that will provide them with a safe grip. With colorful, engaging designs, your little one will have fun while staying active. Choose between a hopscotch-designed mat, one with unicorns doing yoga poses, a lime-green one with dinosaurs doing stretches, and one that features a workout.
02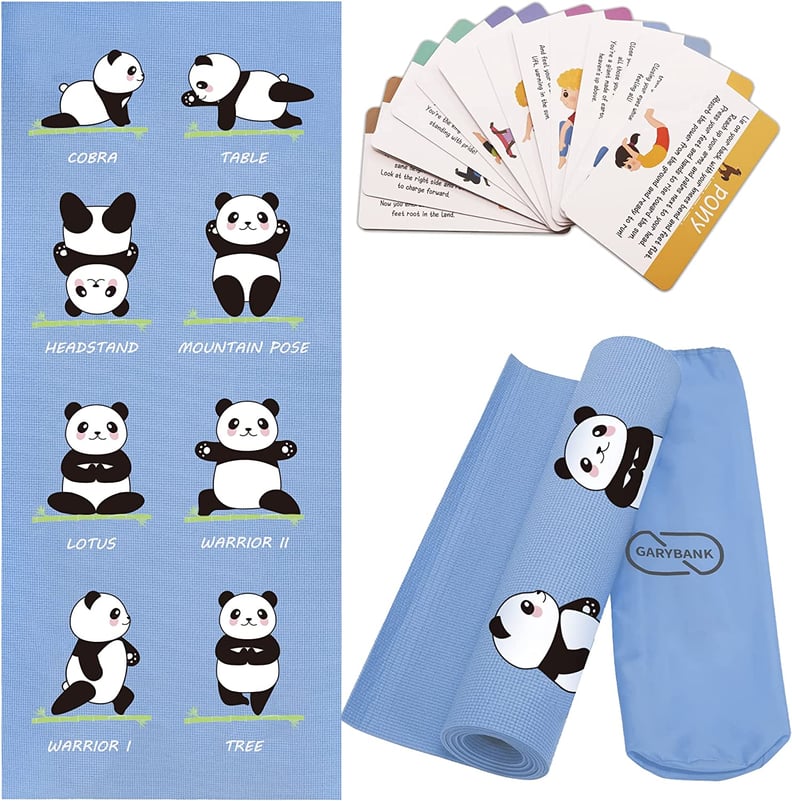 Best Kids' Yoga Mat For Teaching
Designed to make yoga easier for kids to understand, the Garybank Kids Yoga Mat Set ($34, originally $40) features popular moves and symbols for them. For example, you can see the panda doing a Tree Pose, Warrior I, and Warrior II. It even comes with yoga cards to help teach your little ones how to perform some common poses. Not a fan of pandas? You can also get this mat with unicorns or dinosaurs too.
03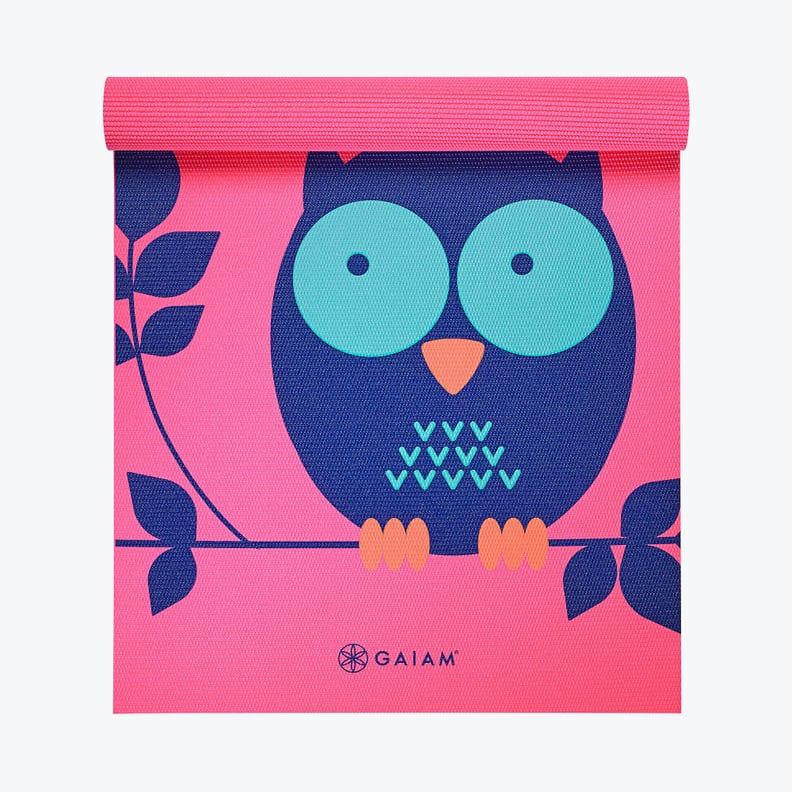 Kids Yoga Mat With Prints and Patterns
The adorable Gaiam Kids Yoga Mat ($20) comes in plenty of fun prints and bold colors, perfect for making your little one excited to workout. It's child-size at 60 inches long and 24 inches wide, and has a three millimeter thickness. It's also made of 6P-free PVC, which is safe for latex-sensitive kids. Whether they're obsessed with dinosaurs, unicorns, owls, or want to be a ballerina, there are a variety of cute designs for your kiddo to relate to.
04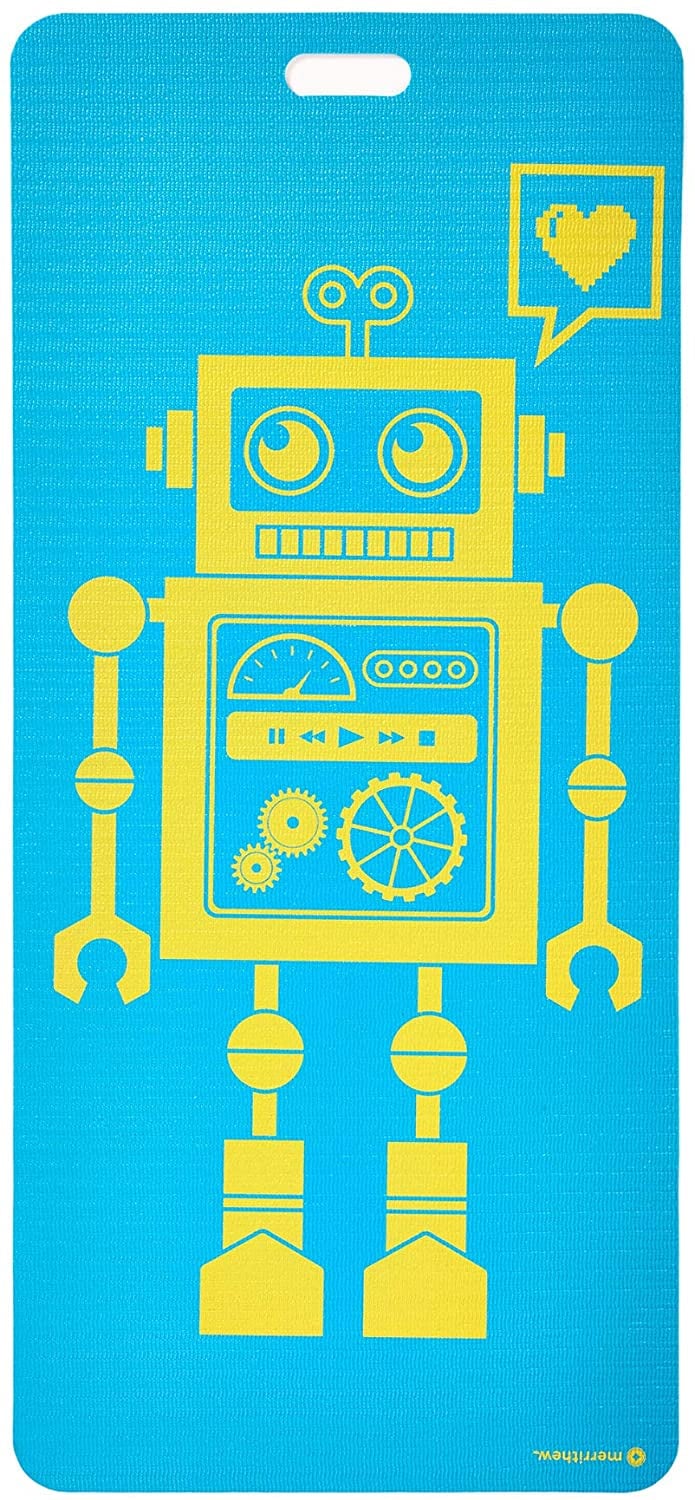 Best Thick Yoga Mat For Kids
The Merrithew Kids Yoga and Exercise Mat ($25) provides a cushioned base to help kids work out. It has a thickness of six millimeters. This fun blue mat features a large print of a neon-yellow robot that is fun to look at while doing Downward Dog. It's made from an eco-friendly poly environmental resin that is a food-grade, non-toxic material. This yoga mat comes in other vibrant colors and prints, too. Plus, it has a built-in handle for easy portability.
05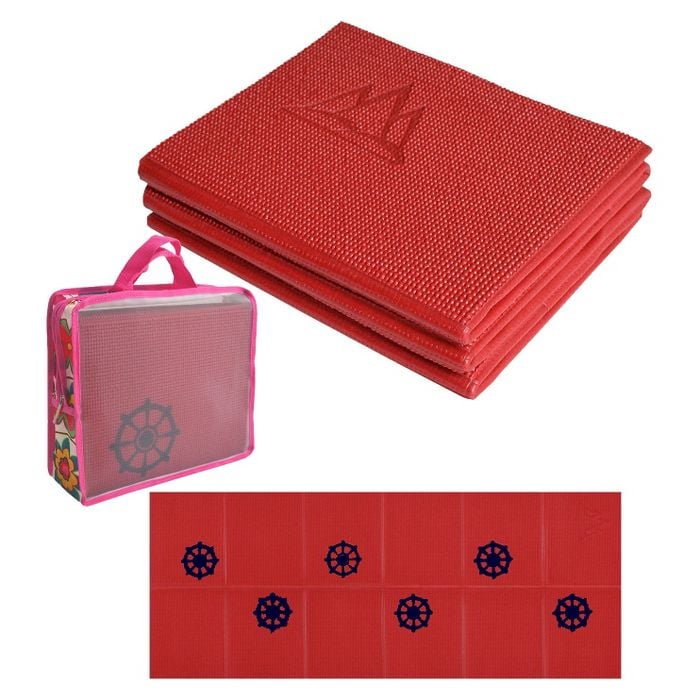 Best Portable Yoga Mat For Kids
This cherry-red yoga mat folds up easily into a light carrying case, so kids can bring it with them anywhere! The Khataland Folding Kids' Yoga Mat ($27) is stamped with blue pictures of a ship's wheel, adding a little nautical-themed fun to your kid's workout.
06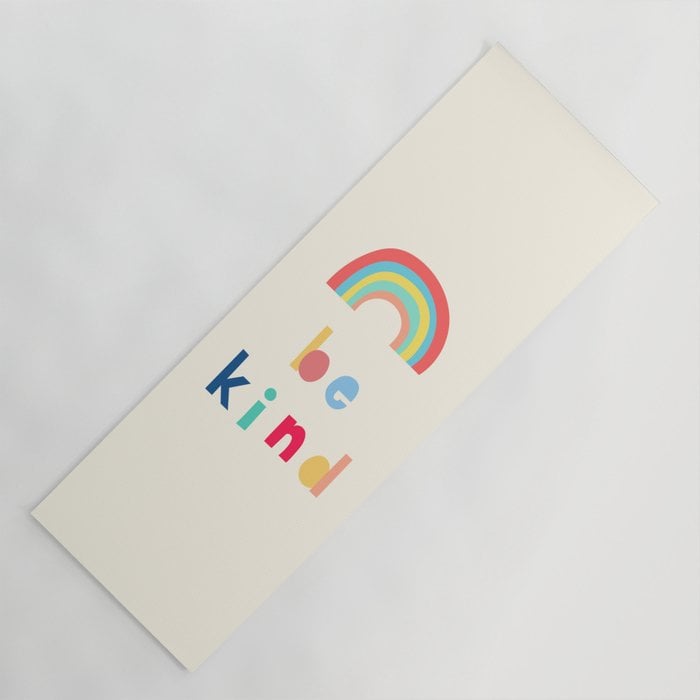 A Mindful Yoga Mat
For your child's next daily meditation session, he or she can reflect on the timeless words of this yoga mat: "be kind." The Be Kind Rainbow Yoga Mat ($39, originally $55) has a simple design of a rainbow and the beautiful message in different colored letters beneath it. It's 24 inches wide by 70 inches long.
07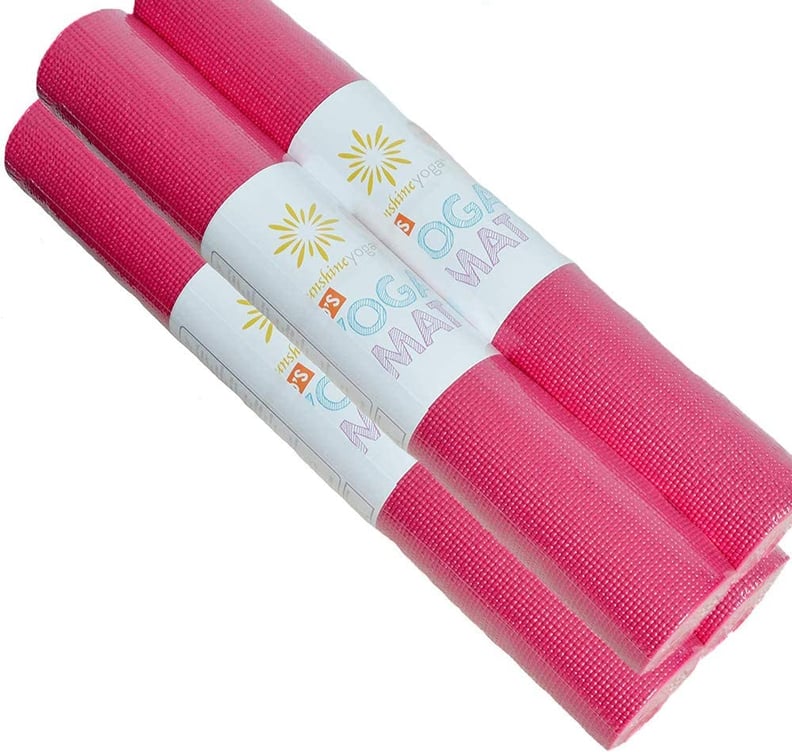 Yoga Mats For Siblings
Do you have multiple kids who all like having the exact same thing? Or maybe you just like stocking up in case something happens to your kid's favorite toy? If so, buy a two- or four-pack of the Sunshine Yoga Kid's Yoga Mats ($28 for two). It comes in bright pink, dark blue, or ocean blue mats that are textured and exactly the same.
08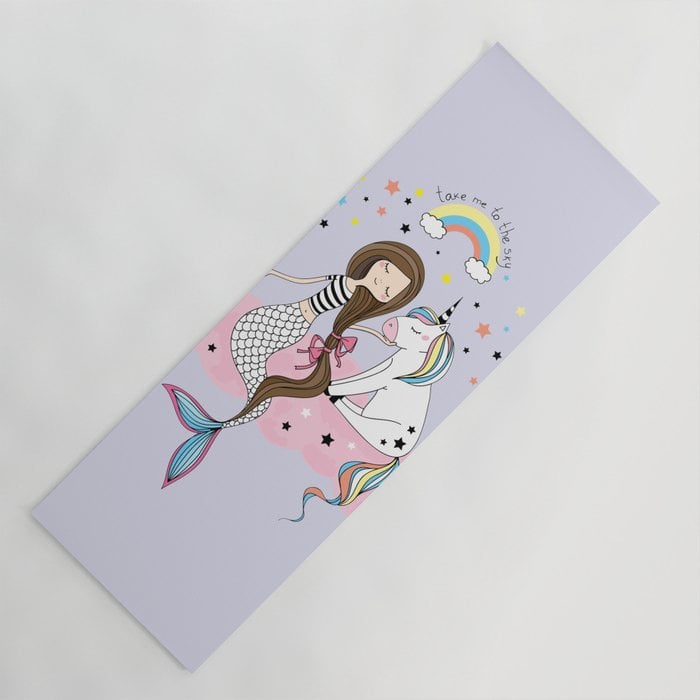 A Playful Yoga Mat For Kids
At 24 inches wide by 70 inches long, the Mermaid & Unicorn Yoga Mat ($39, originally $55) will provide your little ones with all the space they'll need to stretch. Plus, this design will make them feel magical. The lavender yoga mat has a cartoon of a mermaid and unicorn sitting on a fluffy pink cloud, with colorful stars all around them.
09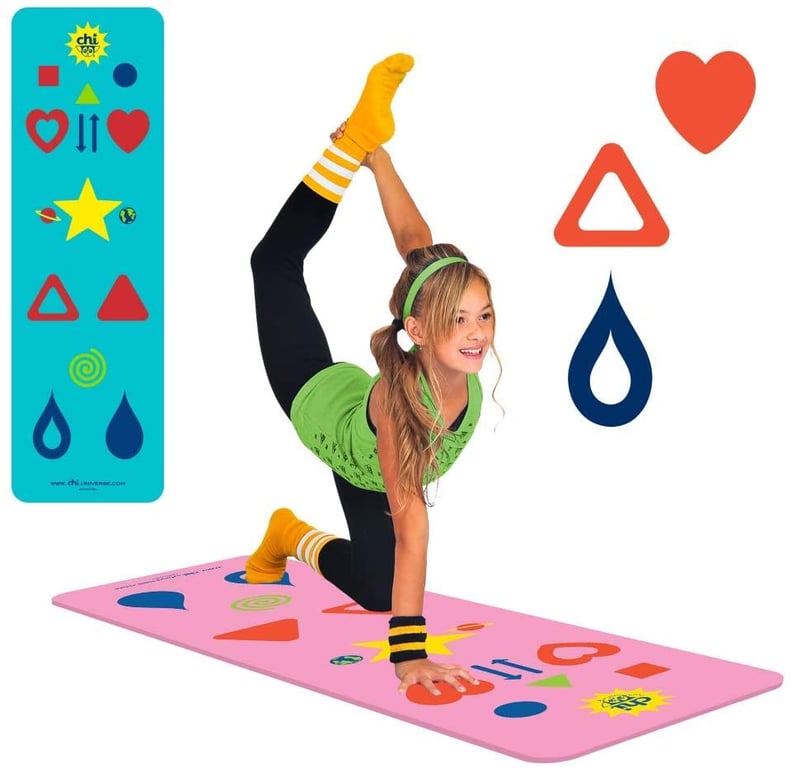 An Interactive Yoga Mat For Kids
Help kids learn yoga with The Chi Yoga Mat and Game ($35). This kid-size mat is pink with different colored symbols. It comes with a poster and access to free videos that teach kids how to do the exercises designed for increasing strength, flexibility, and well-being.