Carey Hart on His "Punk Rock Daughter" Willow's New Haircut: "Fly Your Own Flag"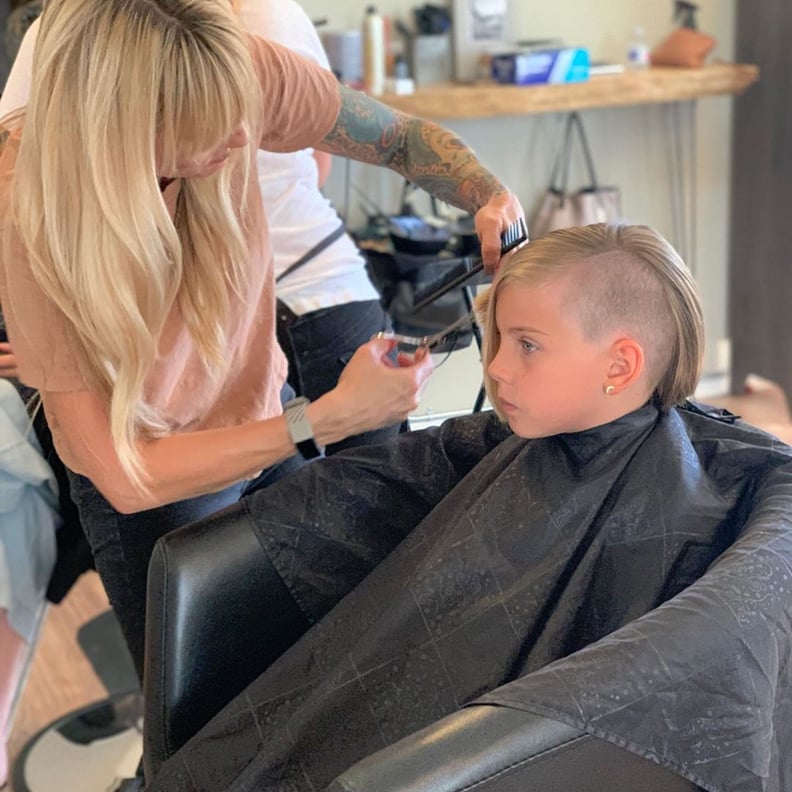 Pink's daughter, Willow Hart, just got a badass haircut that further proves she's cooler than I'll ever be. The 8-year-old had the left side of her head shaved, seemingly emulating her mom's signature long-on-the-top-and-short-on-the-sides hairstyle. Willow's dad, Carey Hart, shared a peek at his daughter's new 'do on Instagram and paired the photo with an empowering caption about the importance of letting your children express themselves.
"Loving my punk rock daughter," the 44-year-old motocross racer wrote. "Remember everyone, fly your own flag. There is no box to be put in. It's better to be your own self. Own it, and love it." Carey went on to give a subtle nod to the trolls out there, just as his wife unabashedly does on social media from time to time. "If anyone has a problem with it, tell them (politely) to move on," he wrote. The father of two added that he "can't wait" to see the woman his daughter grows up to be, writing, "I have a feeling you are gonna be strong, fierce, companionate, and caring. I'm so proud of you, Willow." Well, she certainly has the perfect role model for that!
Of course, this isn't the first time Willow has undergone a drastic hair transformation. Back in August, Pink dyed Willow's hair blue after hearing that Jessica Simpson was mom-shamed for dyeing her 7-year-old daughter's hair. And about a year before that, Willow dyed her locks a bold purple color shortly before turning 7 years old. Ahead, take a trip down memory lane and see Willow's various hairstyles over the past year. I mean, could she possibly be any cooler?!
Willow Hart Getting Her Hair Dyed Blue
Willow Hart's Purple Hair
Willow Hart's Purple Hair
Willow Hart's Purple Hair
Willow Hart's New Shaved Hairstyle