Please Admire the Anniversary Gifts Chrissy Teigen and John Legend Got From Their Kids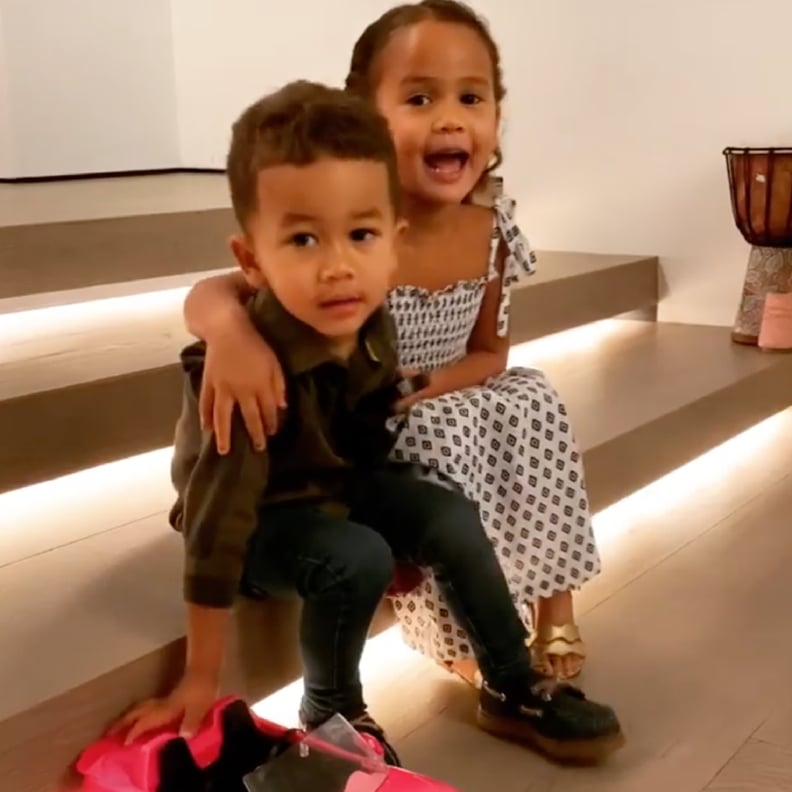 Chrissy Teigen and John Legend celebrated seven years of marriage on Sept. 14, and of course, their two kids, 4-year-old Luna and 2-year-old Miles, got in on the action by presenting their parents with heartfelt gifts to commemorate the occasion.
The soon-to-be mom of three shared her children's creations on Instagram, and we can tell how much thought Luna and Miles put into them! In an Instagram video captioned, "I love it so much," we hear Chrissy admiring Miles's gift, which happens to be a copy of their wedding photo with blue marker scribbled over her and John's faces. Although the humor of "painting Mommy" seems to be lost on Miles, it's clear Chrissy can't get enough of it.
The Cravings author also shared the beautiful card she received from Luna — complete with stickers, a handwritten note, and a drawing of her and John on their wedding day — to her Instagram Stories. "Look how cute this is," she said before showing off her daughter's handiwork.
Ahead, get a closer look at the sweet gifts Luna and Miles made for their parents. We're sure Chrissy and John will treasure them for years to come!
Chrissy Teigen Reacting to Miles's Anniversary Gift
Although Miles clearly wasn't fazed by Chrissy's reaction to his drawing, we have a feeling his artwork will hang on the fridge for a long time.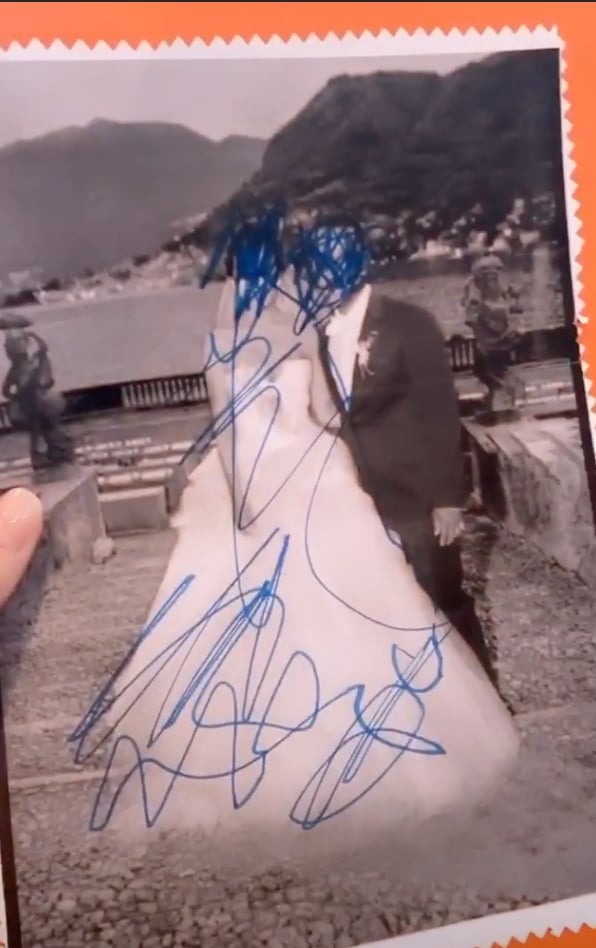 A Closer Look at Miles's Anniversary Gift For Chrissy Teigen and John Legend
As you can see, Miles didn't hold back while adding a few more colorful details to his parents' wedding photo. You've gotta love toddlers sometimes!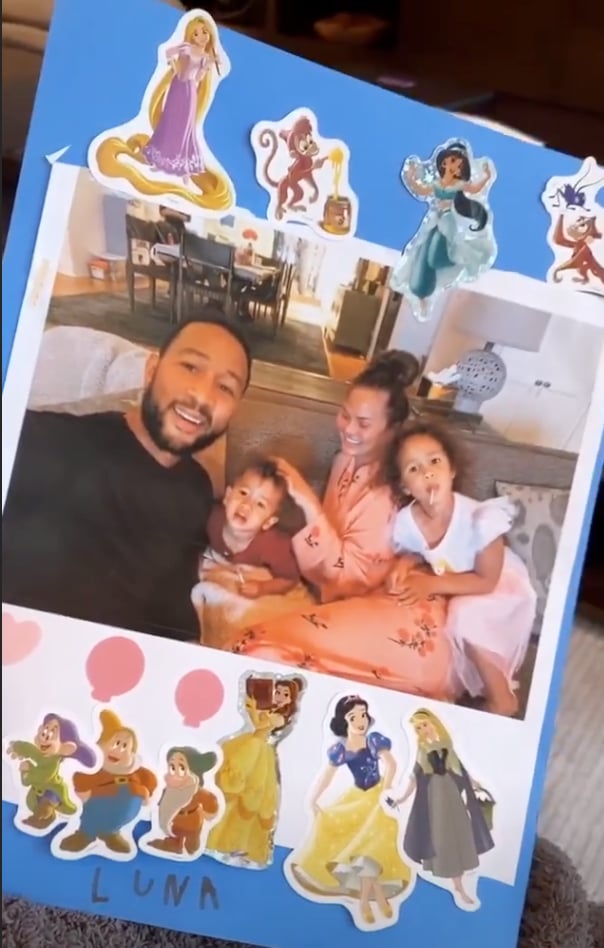 Luna's Anniversary Gift For Chrissy Teigen and John Legend
Luna made a handmade card for Chrissy and John by sticking a family photo on a piece of construction paper. In true 4-year-old fashion, she added a bunch of Disney stickers as a border.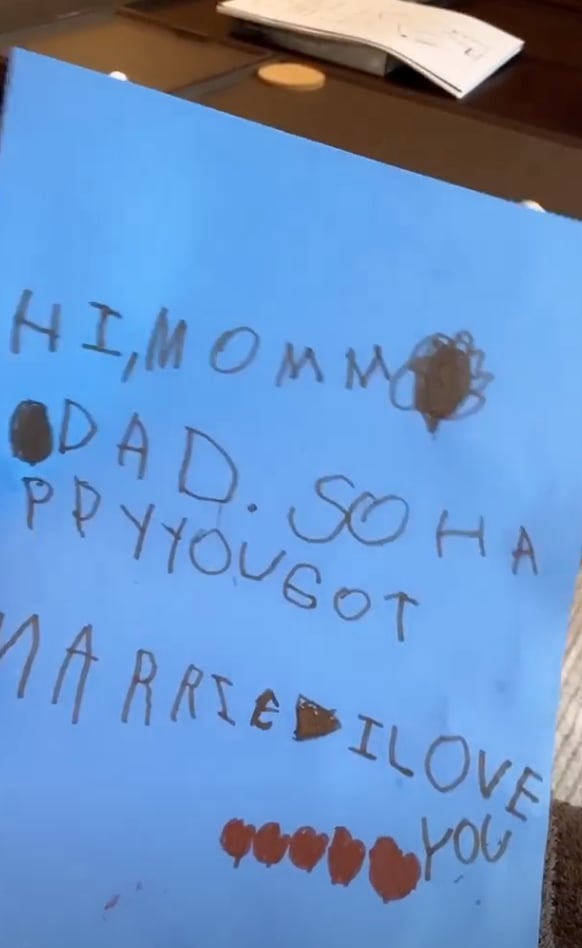 Luna's Note to Chrissy Teigen and John Legend
Luna also crafted a supersweet note to her mom and dad, writing: "Hi mommy and dad. So happy you got married. I love you." Isn't that just freakin' adorable?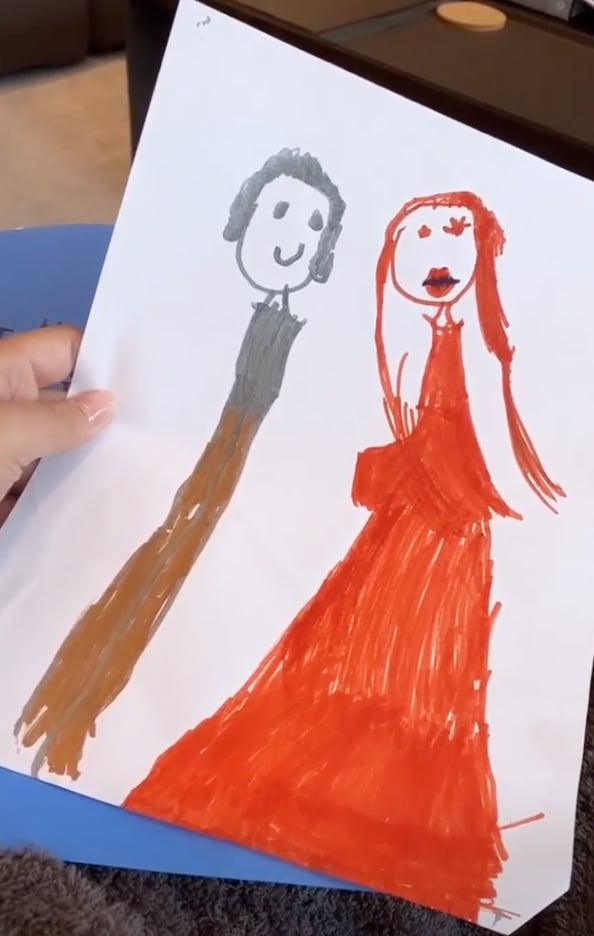 Luna's Drawing of Chrissy Teigen and John Legend on Their Wedding Day
According to Chrissy's Instagram Story, Luna's mind is a steel trap. "This is us on our wedding day," she said. "I did actually have a red dress on. It was my nighttime dress. She's got a good memory, just from old pictures."
Chrissy Teigen's Funny Anniversary Post to John Legend
Of course, Chrissy had a little bit of fun when it came to acknowledging her husband on their special day. "Happy 7th anniversary! 14 years together! @johnlegend love u buddy," she wrote in an Instagram caption. "My best pal. You're like a brother to me!!" Naturally, John took the joke in stride by simply responding: "thank you?" Yep, that seems on brand!