My Heart Is in a Puddle Over This Dad and Baby Daughter's Viral Tutu Photo Shoot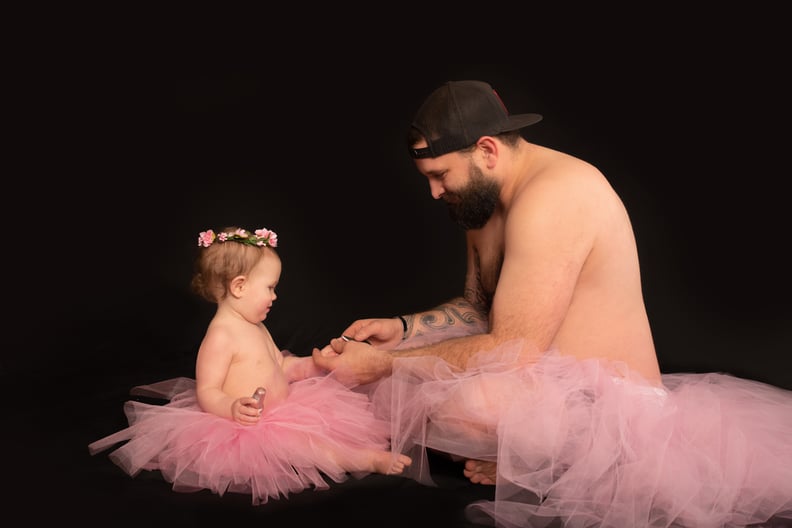 Jenn Floyd Photography
Do you see that puddle of mush on the floor over there? Yeah, that's the melted remains of my heart after seeing this adorable daddy-daughter photo shoot. Casey Fields and his 1-year-old daughter, Lyla, suited up in matching tutus to have professional portraits shot by Texas photographer Jenn Floyd. Lyla's mother hand made the pink tulle skirts for the occasion, and Lyla wore a flower crown while her father accessorized with a snapback hat. As the camera snapped away, Casey painted his daughter's nails, scribbled in a Minnie Mouse coloring book, and shared sweet hugs with her.
The precious photo shoot was born of Jenn's desire to build her portfolio, and she took to Facebook to seek out father-daughter pairs to pose in a tutu-themed session. After getting tagged by a friend in the listing, a somewhat hesitant Casey agreed to participate. "I was nervous at first because I was in a tutu in front of a person I've never met before," he told POPSUGAR. But Casey hopes the pictures will inspire other fathers to do similarly silly things with their kids.
"I want it to show dads it's OK to step out of your element for your kids."
"If there's anything to come out of this, I want it to show dads it's OK to step out of your element for your kids," he said. "Make memories, be a great dad, and have fun with it. Did I need to put on a tutu to do that? No, I didn't, but it's sure gonna be funny when she graduates or gets married because I'm definitely gonna show those pictures off."
Shortly after Jenn shared the results of Casey and Lyla's photo shoot on Facebook, her post went totally viral, garnering more than 50,000 shares and warming the hearts of 20,000 users who "liked" it. Check out all the precious images ahead.