Dads Welcome Kids 5 Weeks Apart After Miscarriage
Dads on Welcoming Their Kids 5 Weeks Apart Via Surrogacy: "We Just Say They're Twins"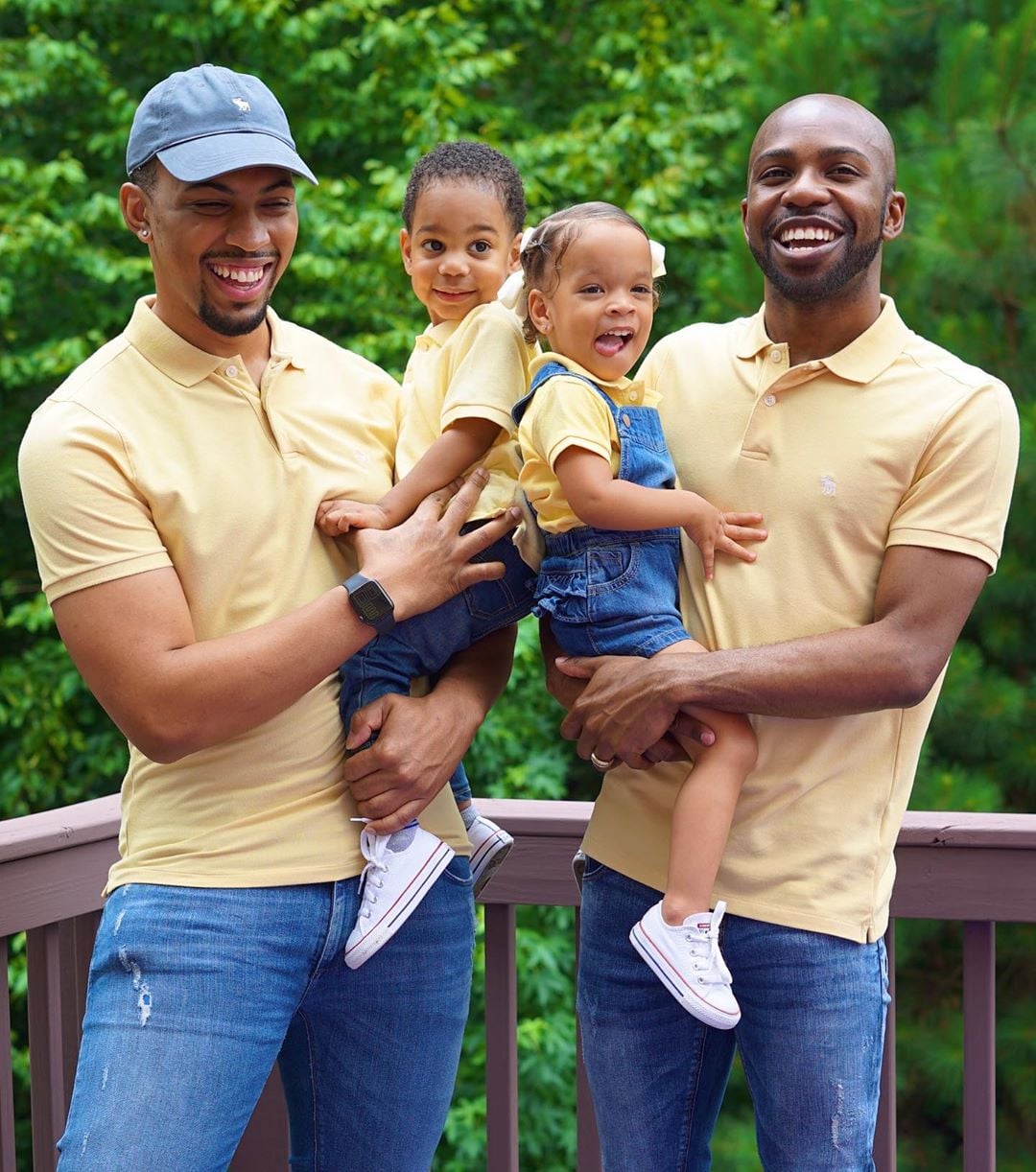 Ever since Terrell and Jarius Joseph met in college, starting a family has been one of their top priorities. Shortly upon graduating, the pair bought their first home in Atlanta, and embarked on their journey to parenthood. Unfortunately for the couple, the road to becoming fathers was long and emotional.
After doing their research and agreeing to privately hire a surrogate, they were ecstatic to learn that she had conceived after just one attempt. But in March 2016, everything changed. They learned that their surrogate had miscarried their daughter, Aubrey, at 20 weeks. Although Terrell and Jarius were heartbroken, they were determined to have kids of their own one day.
"Experiencing the miscarriage was one of the defining moments in our relationship as I'm sure anyone could imagine," Jarius told POPSUGAR. "Having to go through the highs of starting our surrogacy journey after hearing about all of the bad things about the process — like how much it costs and how long it takes to get pregnant — and then for us to actually conceive on the very first attempt, it was pretty unheard of. We were riding that high. During the first trimester, you're just on pins and needles all the time, hoping that you make it through."
After experiencing pregnancy loss, Terrell and Jarius struggled to grieve in their own way at first. "Terrell just wanted to be in the moment and allow himself to process the loss in his own way," shared Jarius. "On the other hand, I wanted to put off having a child. I was at the point where I was all in and was expecting this child. Every single day I was thinking about becoming a father, then all of a sudden it all stopped. It's very traumatic."
"I don't think people realize the number of hoops that we had to jump through in order to even be deemed fit to have kids."
Because of Terrell and Jarius's large social media following, they were constantly fielding questions about how the baby was doing after they received the devastating news. "We did a gender reveal on social media," explained Terrell. "We posted on social media about the miscarriage, but not everyone saw it. They were still texting and emailing us asking, 'How's the baby doing? You're getting so close.' That was really rough for us."
Eventually, the pair healed enough to contact another surrogate. Unfortunately, she had a hard time getting pregnant and offered to give it one last try before giving up. The Josephs agreed, but had also begun working with a second surrogate just to be safe.
A short while later, the second surrogate informed the Josephs that she was officially expecting. Obviously elated, Terrell and Jarius were shocked to learn that their original surrogate had a false negative — and was pregnant, too. Thrilled that they had two babies on the way, they started planning for their arrivals.
"You think that you're totally prepared with having six months worth of diapers and wipes and the nursery set up, but having your child home for the first time changes you," said Terrell. "I think that you're never ready for caring for someone else."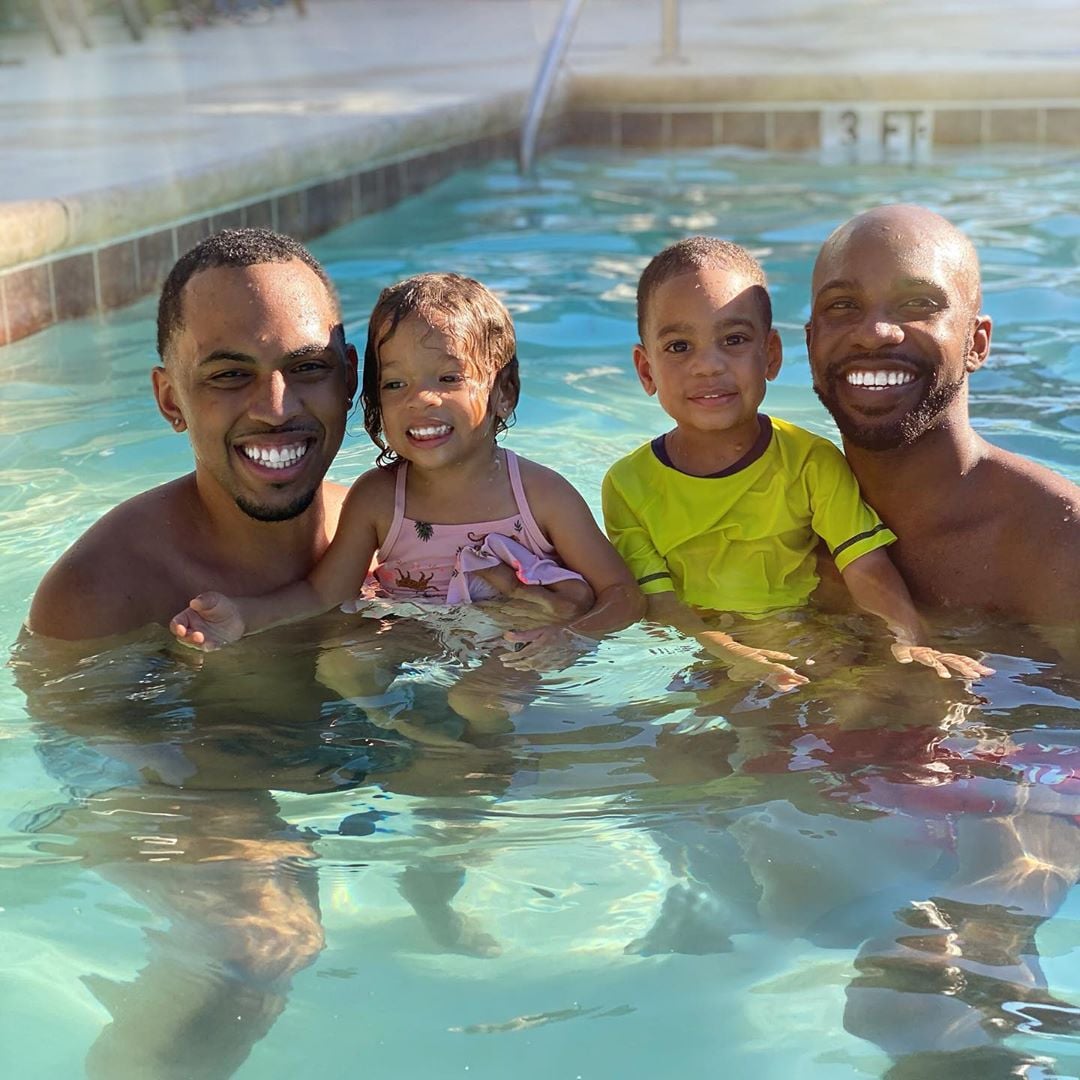 The Josephs eventually welcomed two children five weeks apart. Their son, Ashton, was born first and was required to spend 13 days in the NICU because he was born a month early. They spent three weeks at home with Ashton before welcoming their daughter, Aria.
"If anybody asked us in the grocery store, we just say they're twins because I don't have 30 minutes to tell the story," joked Terrell. "You'd think that they were twins by the way they act. They're pretty much inseparable, but Ashton is just so easy going and then Aria is like, 'Yeah, I'm coming to shake this stuff up. I'm the only girl here and these are my rules.'"
Now that their kids are 3 years old, Terrell and Jarius are sharing their experience to encourage other members of the LGBTQ+ community. "There's no specific timeline that you have to follow," said Terrell. "We were the guinea pigs so to speak. We were the first to buy our home and then go through hell and high water to start our family."
Using their social media platforms — like YouTube and TikTok — the Josephs tirelessly work to educate those who don't understand their lifestyle. "It's just absurd to think that as a man you won't be able to parent your daughter," said Jarius. "Same-sex couples don't have to jump through hoops to have kids. I don't think people realize the number of hoops that we had to jump through in order to even be deemed fit to have kids, whether you're opting for surrogacy or adoption. There are tests, home evaluations, and meetings with different doctors to make sure that you're going to be a good parent. Straight couples don't have to go through that if they want to have a child, they just have one."
Of course, the Josephs have a wonderful support system, but they're confident they can handle fatherhood on their own for the most part. "We have our moms, sisters, and friends that we can always call on if we lack an understanding of something, and of course, the good old internet. Kids don't need much to succeed: just love and a positive environment."