David Burtka on Getting Your Kids to Eat Well
David Burtka Has a Few Tips For Parents to Get Their Kids to Eat Different Foods, and We're Stealing 'Em All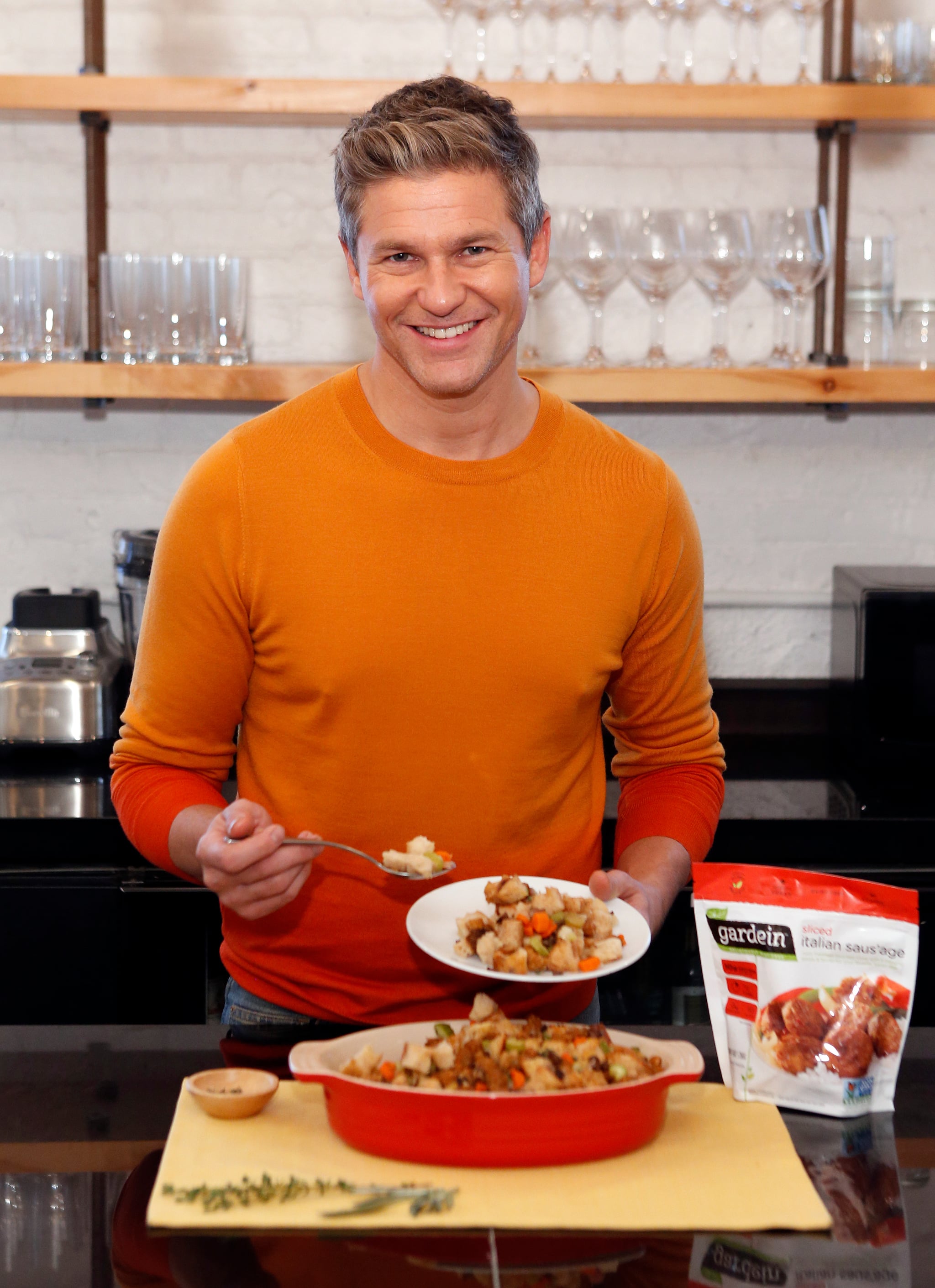 As a celebrity chef and a father of two, David Burtka knows a thing or two about getting kids to eat well. While discussing his recent partnership with Gardein — a brand focused on giving families plant-based, meatless meal options — he explained that when it comes to getting little ones to try new foods, he's pretty no-freakin'-nonsense.
"If you're just starting to feed your kid who's around 6 months old and he or she is eating solid foods, don't hold back on the flavor," he told POPSUGAR. "I think most parents make a big mistake of feeding their kid bland baby foods that have no flavor."
He emphasized that you shouldn't be feeding your kids food that tastes flavorless to you. "Make sure you'd want to eat the baby food," he suggested. "Make sure you think it's tasty. Because if it's not tasty to you, then it's not going to be tasty to them! At 6 months, they're able to process salt, and salt is flavor. Salt brings out all flavors of foods." While he cautioned against going overboard in that category, a pinch here and there is more than enough. (For what it's worth, the American Academy of Pediatrics noted, "Little information is available on dietary salt or recommendations for salt intake" for children 2 years old and younger, and advised caregivers to stay away from salt until a baby is at least 6 months old. At that point, parents should use their discretion.)
Although it might not seem intuitive to parents, David recommended adding a little seasoning to baby food when you can. "If you make steamed carrots and you purée it up, add some herbs and some cumin," he suggested. "Cumin goes really well with carrots. Add a little bit of salt, some fat, and some oil."
David also recommended combining flavors, like peas with mint or peaches with vanilla, to kick up dinnertime. "You need to add herbs, you need to add spices," he said. "You need to get these kids used to eating bolder foods. Then when they become toddlers, they won't be picky. They'll eat what you eat."
"Don't placate your kid. You're in charge. You're the one who's putting the meals on the table."
As for parents whose older kids are rotating between buttered noodles and chicken nuggets daily? Break the cycle ASAP.
"You're placating your kid," he said. "Don't placate your kid. You're in charge. You're the one who's putting the meals on the table. It might be hard for a couple of days and your kid won't eat. They're not going to starve, they'll eat it if they're hungry. Say something like, 'Sorry, no. We're eating a vegetable, plant-based [meal] tonight. You're eating this and this is what it's going to be.'"
Although David knows all too well that children can be picky, the more you get them to try, the better their palates will be. "Just expose your kids to a lot of stuff," he explained. "That's why I got involved with Gardein. I think eating plant-based products is a good alternative to eating meat all the time." David recommended taking a day or two out of your weekly schedule to focus on eating plant-based, if you can. "We're finding it's better for your system to eat more plant-based meals and to eat in a more vegetable-forward way," he stressed. "It's lighter on your body and you actually feel good because of it."
Image Source: Jason DeCrow/AP Images for Gardein