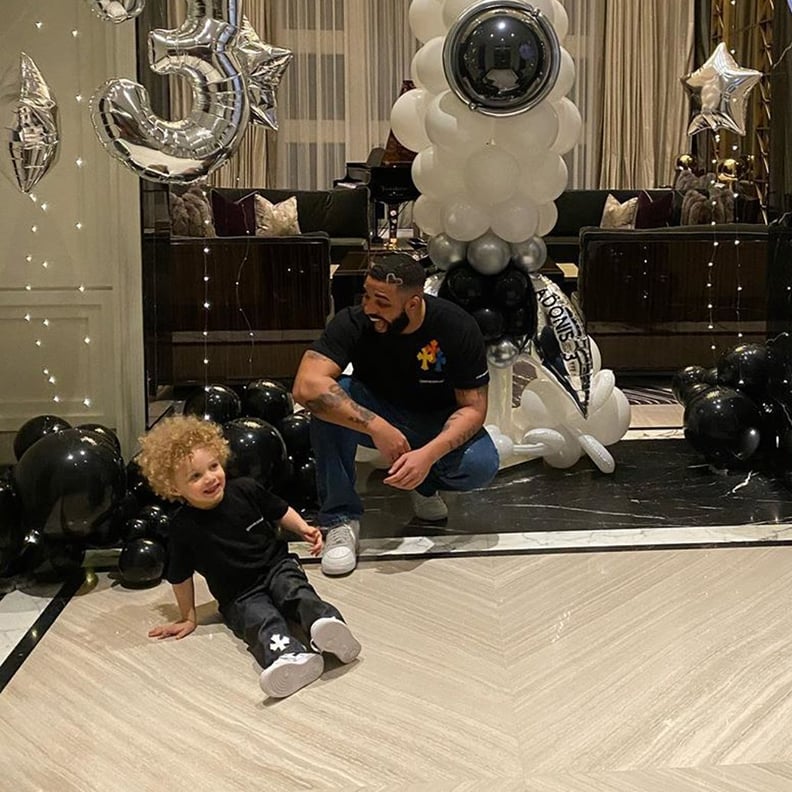 Drake's son, Adonis, is 3! The toddler celebrated his third birthday on Oct. 11 with his dad, his grandma Sandi Graham, and a space-themed birthday party that included a rocket ship made out of balloons. Drake shared a rare photo to Instagram of himself and Adonis among the balloons, as well as two photos on Stories — one similar to the first, another of Adonis and Sandi.
"Young Stunna," Drake captioned his photo, which features a smiley Adonis sitting in front of his dad, staring up at some of his birthday balloons.
Adonis's mom, Sophie Brussaux, also shared photos of her son to Instagram alongside a sweet message. "Joyeux anniversaire mon amoureux!" she wrote. "3 years ago, I was finally meeting you for the first time, after a long 24-hr labour. I'm so proud of the little man you're becoming, I love you more than life. The world is YOURS! We did that @champagnepapi 💝"
Drake doesn't share photos of his son often, so to see so many snaps of the toddler in honor of his birthday is certainly a treat. Keep scrolling to see them all!
Sophie Brussaux's Birthday Message to Adonis