I Tried the Much-Hyped Elvie Wearable Breast Pump — These Are My Thoughts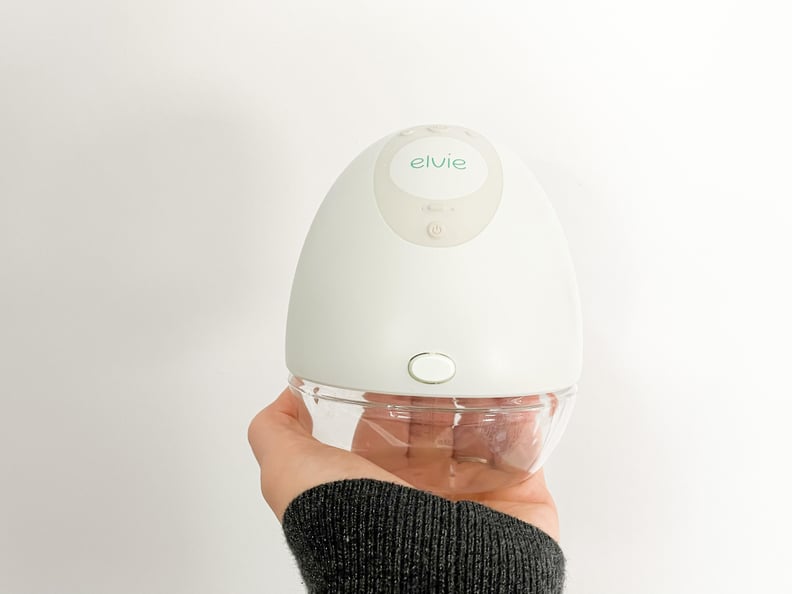 Emilee Janitz
Emilee Janitz
As POPSUGAR editors, we independently select and write about stuff we love and think you'll like too. If you buy a product we have recommended, we may receive affiliate commission, which in turn supports our work.
As an expectant first-time mom, I couldn't go on Instagram without seeing a mom-blogger endorsement for the Elvie breast pump. For those unfamiliar with the product, the Elvie Pump ($279) is a wearable breast pump that fits in your bra and boasts silent pumping technology, designed for women on the go who prefer not to be tethered to a machine to express. As someone who seriously struggles to sit still but who also planned to try breastfeeding to some extent, I knew I would need a pump once my baby arrived and decided to give the Elvie a try.
Now coming up on my son's second-month milestone, the Elvie Pump has been a big part of my postpartum journey. While I exclusively breastfed for the first few days of my son's life, I started pumping and supplementing with formula pretty early on. Everyone's journey is different and this is what worked best for our family.
I should clarify off the bat that I went with a single Elvie Pump. For those interested, Elvie also offers a set of two pumps to be used simultaneously, allowing moms to hit both sides at the same time. This is probably the ideal setup. However, the price point was definitely a factor in my purchasing decision (the two-pump set costs $499). After using the pump every day for the past two months, here are my favorite notable features:
No Wires and No Bags: I love that this pump is wearable. Because of this convenient factor, I haven't had to designate specific time each day for pumping. This in turn means I'm able to spend more time pumping and procuring more food for my baby. I pump while doing laundry, changing the baby's diaper, walking my dogs, etc. The convenience was the biggest selling point for me and it has certainly lived up to expectation. Because there aren't any bags, I also love that you can pour the milk straight into a bottle when you're finished or close the pump container with one of the included caps.
Dishwasher-Safe: Adding to the convenience, all of the pieces are dishwasher-safe. With bottle feeding, I'm already running the dishwasher pretty frequently and it's easy enough to just throw the pump pieces into the bottle rack. If I'm being honest, when it comes to germs, I trust the dishwasher to do a better job than I would cleaning and sanitizing.
Mobile App Compatibility: Aside from being able to control the strength of the pump suction via a physical button on the pump itself, you can also control the pump from a compatible mobile app. In the app, you can also track your pumping sessions and ounces expressed. To be fair, I didn't personally use this feature a lot but I do feel like it's something a lot of people would find handy, especially if you're exclusively feeding your child breast milk.
Of course, no product is perfect and there are definitely a few downsides to the Elvie Pump. The most obvious setback is the price: with a single pump ringing up at $279, it's objectively much more expensive than most pumps on the market. That being said, it is FSA and HSA eligible, which may make the price more tolerable to some. And while the pump is quiet, I wouldn't personally define it as silent. I have no problem wearing the pump around my house or out walking my dogs, but it's unfortunately not quiet enough that I would be comfortable wearing it around the office (that is, unless I wanted to be mistaken for some sort of bionic woman based on the robotic noises coming from my torso). Another small setback I noticed is that when I bend over while wearing the pump, it has a tendency to turn off and sometimes even leak slightly. This isn't a make-or-break situation but it is something to be mindful of when considering a purchase.
There is a lot to consider when choosing a breast pump — especially if you plan to make pumping a major part of your feeding routine. While there are a few hitches with the Elvie Pump, I ultimately recommend it as a tool to be added to the arsenals of busy moms who, like myself, have a difficult time sitting still.