Fun Extracurricular Online Classes For Kids 2021
These Supercool Virtual Classes For Kids Will Let Their Creativity Run Wild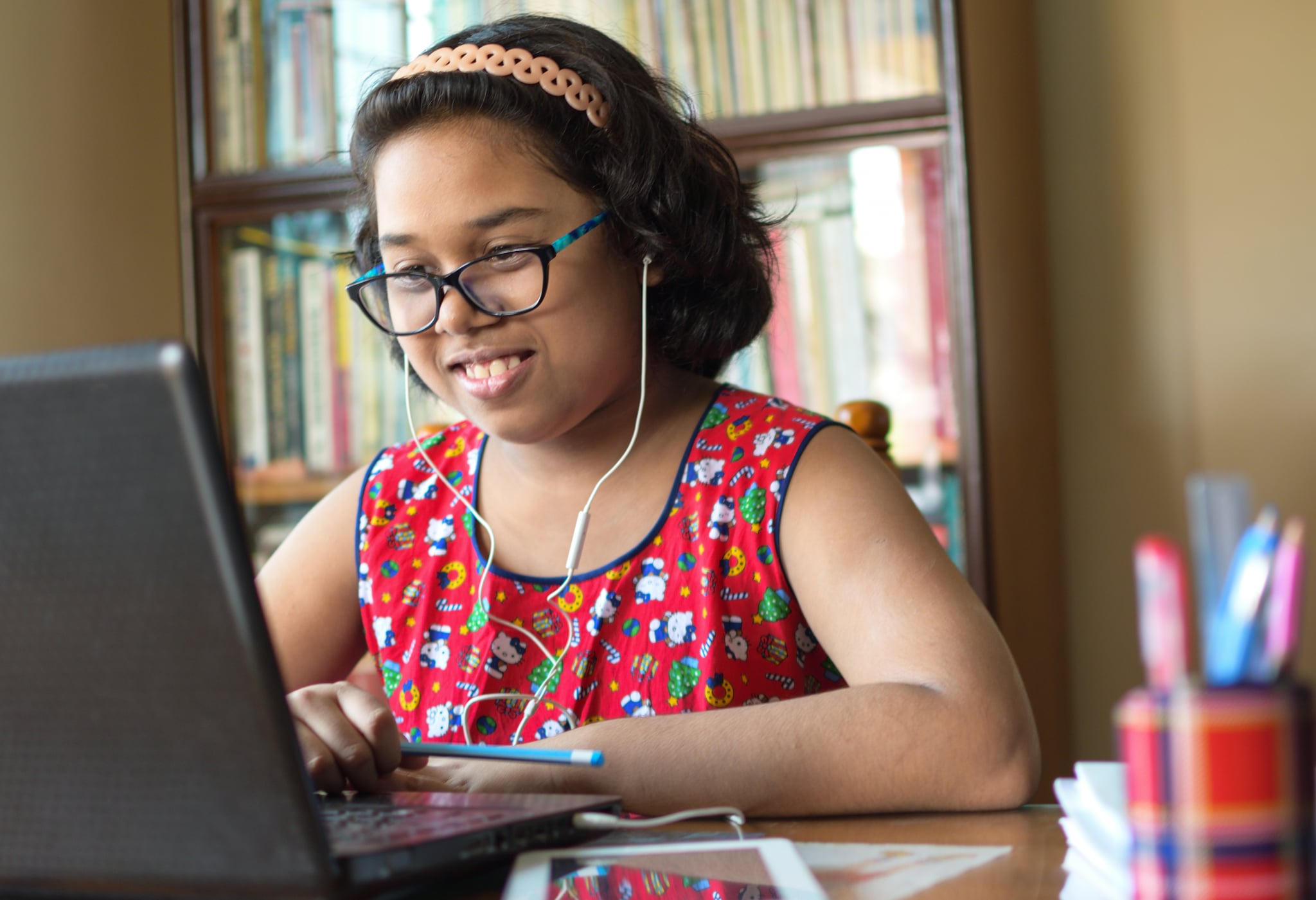 Although being home with the kids for months on end can be stressful in many ways, there are some silver linings. Case in point? The onslaught of incredibly unique extracurricular activities and classes your little ones can participate in via Zoom. From learning how to cook to getting the down-low on the fashion world, these online classes will give kids a fun and creative break from their regularly scheduled virtual learning. Parents who are looking to enroll their kids in something a little different can scroll ahead to get a peek at some seriously cool offerings.
Gotham Comedy Club Kids 'N Comedy Program
Kids ages 10 and up can put their humor to the test in Kids 'N Comedy's Virtual Program, which teaches aspiring comedians how to write jokes and riff off conversational topics. While there are multiple sessions throughout the year, the next round of classes starts in February, so be sure to head to its website to reserve your spot. Eight weeks of two-hour classes are $680.
Broome County Debate Alliance Speech and Debate Club
The Broome County Debate Alliance's Speech and Debate Club is designed for kiddos between the ages of 9 and 14. In each 65-minute session, students will learn "how to write speeches, form arguments, broaden research skills, and think critically while interacting with their peers in a meaningful way," according to its website. Classes are $14 per week.
The Art Studio NY Virtual Class
The Art Studio NY's Weekly Virtual Class is perfect for creative children between the ages of 5 and 8. Picassos-in-training will learn the fundamentals of painting, drawing, and the importance of self-expression in an 11-week course that costs $220 per student. Don't forget to have your paintbrushes at the ready!
Outschool Fashion Design Class
Outschool's immersive Fashion Design Class teaches budding designers ages 9 to 14 all about silhouettes and how to sketch out outfit ideas. This weekly instruction lasts for 60 minutes and costs $15 per session.
The Kids' Table Virtual Cooking Class
Broken down into seasonal sessions, The Kids' Table Virtual Cooking Class allows little ones ages 5 and up to get creative in the kitchen by teaching them how to cook pre-selected recipes and bake delicious treats in weekly one-hour installments. Each five-week program comes with the necessary equipment and ingredient lists ahead of time. Additionally, parents can modify recipes in case their child has any existing allergies or dietary restrictions. A single class is $18 each; the five-week program is $78 per kiddo.
iD Tech Virtual Roblox Class
Kids 7 and up can get their very own private tutor in iD Tech's Virtual Roblox Class, which will teach them how to build out their "own levels with rotating contraptions, dangerous traps, and difficult climbs." And FYI parents: you can have two kids attend the virtual hour-long session — which costs $60 each — for the price of one.
Cinema Kidz The Director's Chair Course
Perfect for movie-obsessed kids who are 8 or older, Cinema Kidz's The Director's Chair Course teaches aspiring directors how film sets work, how to see a movie through from script to production, and how to edit their masterpiece. Prices start at $220 for the multi-week course or $25 per class.
Outschool How To Make A Video Game Class
Kids seven and up who would game all day if they could will get a serious kick out of Outschool's How To Make A Video Game Class. A popular offering that teaches guides children in the process of making their very own video game in six 55-minute classes, we have a feeling this program will be a surefire hit in your household. Sign up today for $220 per child.