Here's Exactly How Kate Middleton's After-Birth Appearances Differed With Each Baby
As the world waits for news of the newest royal baby's arrival, it's hard not to look back on other recent royal baby births. For royal fans and followers, nothing quite topped the excitement of hearing the initial announcement and getting the first glimpse of Prince George, Princess Charlotte, and Prince Louis after their deliveries. And while the enthusiasm and protocol was mostly the same for all three of the Duke and Duchess of Cambridge's children, there were actually some big differences in the days and hours following their births.
After all, any mom of more than one child understands that each birth experience is different. Take a look at how Kate Middleton and Prince William handled the immediate postpartum period as new parents in the public eye.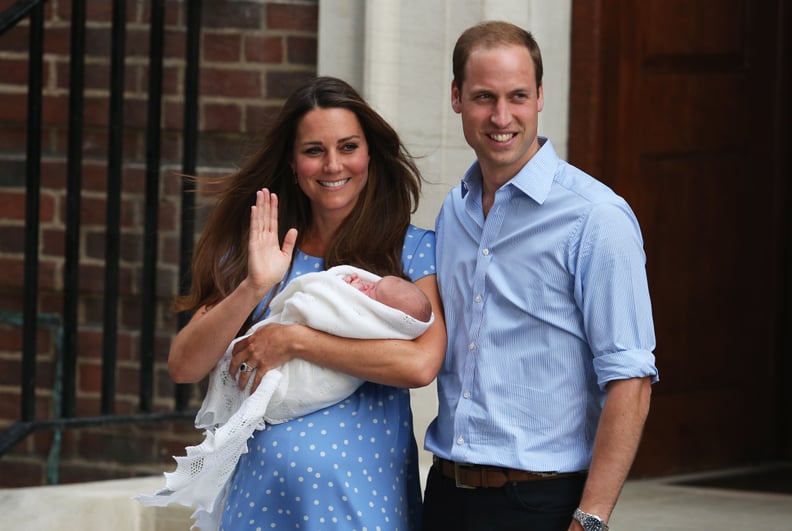 Prince George
Prince George's much anticipated arrival in July 2013 was met with thousands of reporters and fans outside of the Lindo Wing of St. Mary's Hospital in London, along with millions of well-wishers watching around the globe. Just one day after his birth, brand-new beaming parents Kate and William stepped out into the public eye carrying their tiny bundle of joy.
Imagine being a first-time parent and then facing this level of attention! Even though the royals are well-trained at their very public, high-profile roles, it was evident that Kate and William were still getting their bearings (and rightly so!) as they welcomed the world into their early postpartum moments.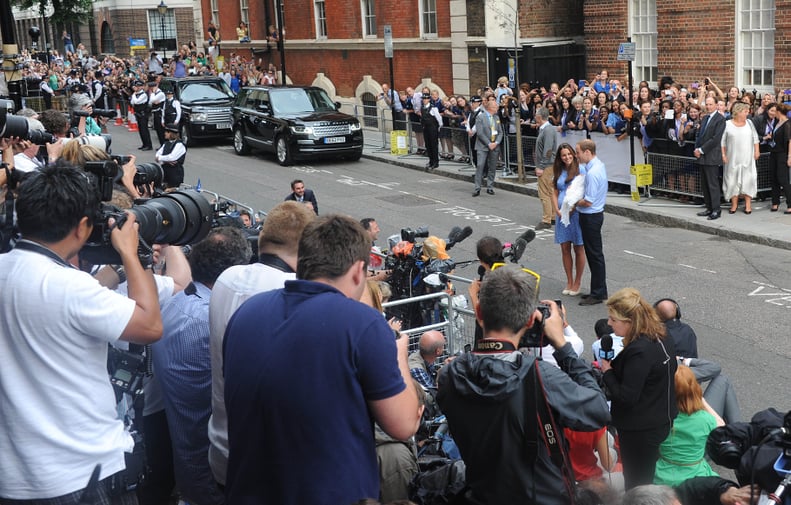 After Kate gave birth naturally, they chose to delay the public birth announcement for four hours because "they wanted to spend a bit of time with their baby first." But once the world knew, they seemed eager to share in their joy.
Because George became third in line for the throne upon his birth, and presumably because it was Kate and Will's first baby, the duo went above and beyond in playing nice with the press — they even gave a short and adorably sweet interview in which William joked that George had Kate's looks, "thankfully!"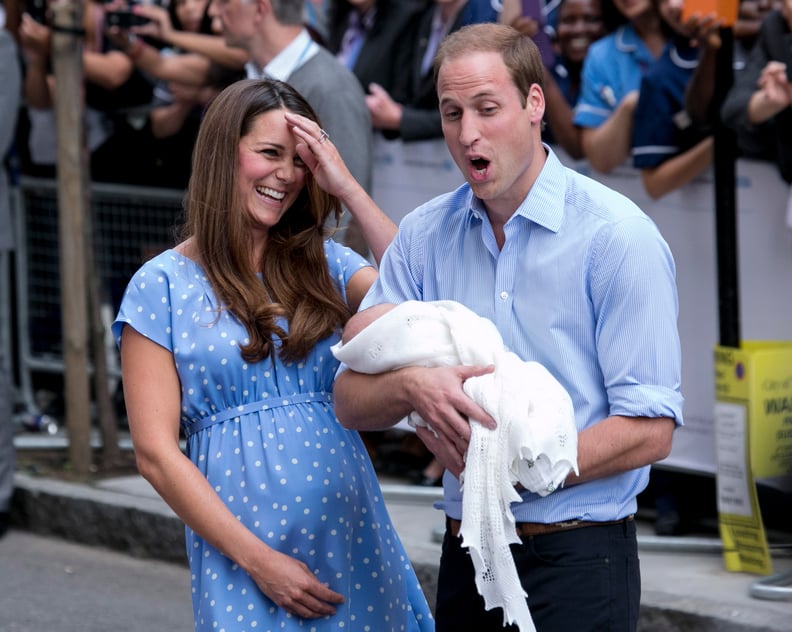 As expected, Kate's postpartum style was a hot topic. She chose a blue polka dot Jenny Packham dress and wedges for her first appearance while William coordinated in a light blue shirt. The playful pattern was taken as a nod to Princess Diana, who wore a dot print when she emerged from St. Mary's Hospital following the birth of Prince William.
What was under Kate's dress was also, unfortunately, discussed. Many praised the young royal for proudly displaying her still round (and totally normal!) postpartum stomach, while others were shocked to discover that just hours after delivering a baby most women do not, in fact, look like Victoria's Secret models. At the very least, Kate's unapologetic appearance sparked an interesting and informative conversation about postpartum realities.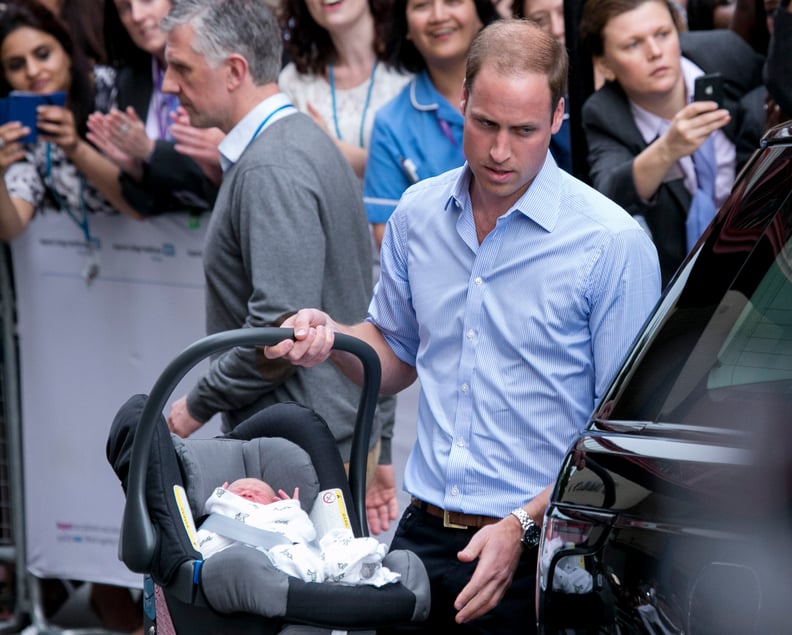 While the pair seemed to handle their first post-baby appearance with ease, it was obvious there were still first-time parent nerves at play. Remember the awkward baby hand-off between Kate and Will? And it's hard to forget the car seat swaddle scandal that further put William in the spotlight.
Looking back, it's endearing to see the duo show a hint of that new parent anxiety that everyone experiences. Their demeanor and confidence is possibly the most striking difference between George's birth and that of their two other children. Of course, parents everywhere know the benefits that come from having a little experience.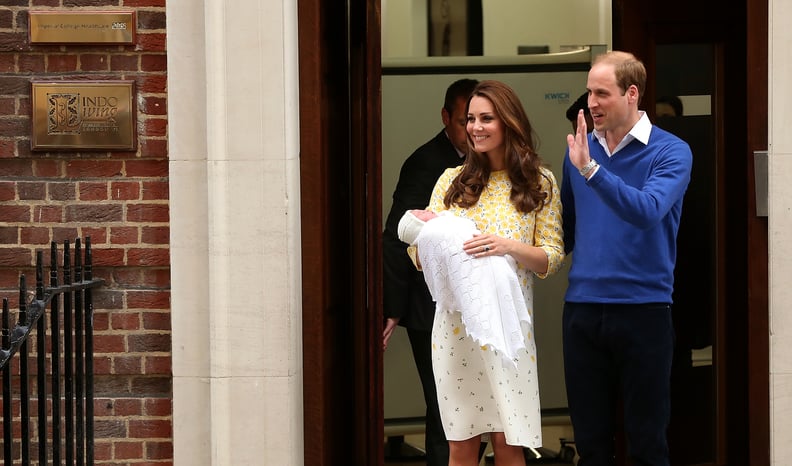 Princess Charlotte
In May 2015, Princess Charlotte's arrival was met with similar enthusiasm, especially once it was revealed that the couple had welcomed a princess! This time, instead of spending the night in the hospital Kate and William left just 10 hours after Charlotte's birth.
Despite the countless pictures of the second time parents on the same steps where they introduced Prince George, they were actually outside in front of cameras for less than two minutes.
They waved and smiled to the waiting crowds and press but didn't walk into the street or answer any questions. In contrast to the same situation two years earlier, this appearance seemed less leisurely and slightly more business-like. It appeared, as seasoned parents might understand, that they were ready to get out of the hospital with their newborn and home to their older child.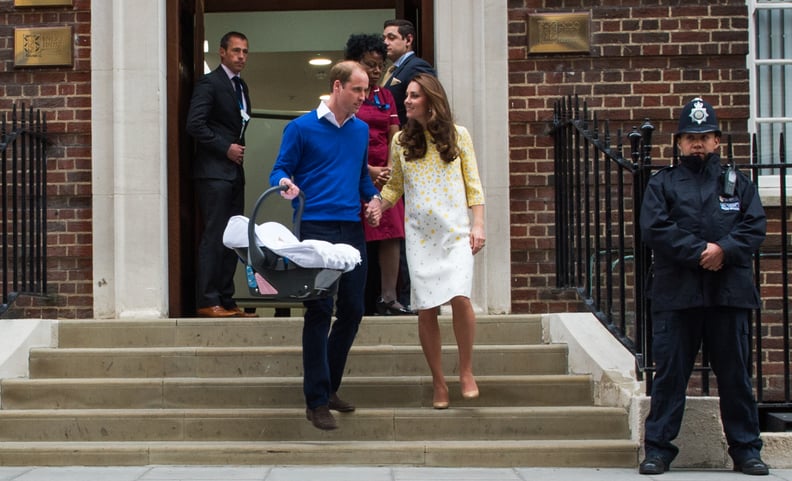 For her second postpartum hospital appearance, Kate again opted to wear Jenny Packham, this time a custom white and yellow floral dress. The look, paired with nude heels instead of wedges, was less casual than her first. The more formal appearance supports the idea that Kate was much more at ease and secure in her role, having been through the process before.
Again her postpartum figure was discussed, but for women who'd experienced childbirth themselves, the biggest shock was the color she'd chosen. Given the realities of postpartum recovery (giant mesh undies, anyone?!) white was a bold choice, and yet another reminder that the royals aren't exactly "just like us."
Both Kate and Will exuded the confidence and calm that often comes with second-time parent status, with William even flashing a peace sign after he installed the car seat with ease. While the pair didn't stop for an interview during their speedy departure, William did share that they were "very, very happy" when he left the hospital solo to pick up Prince George for his first meeting with Princess Charlotte (whose name was still not released at the time).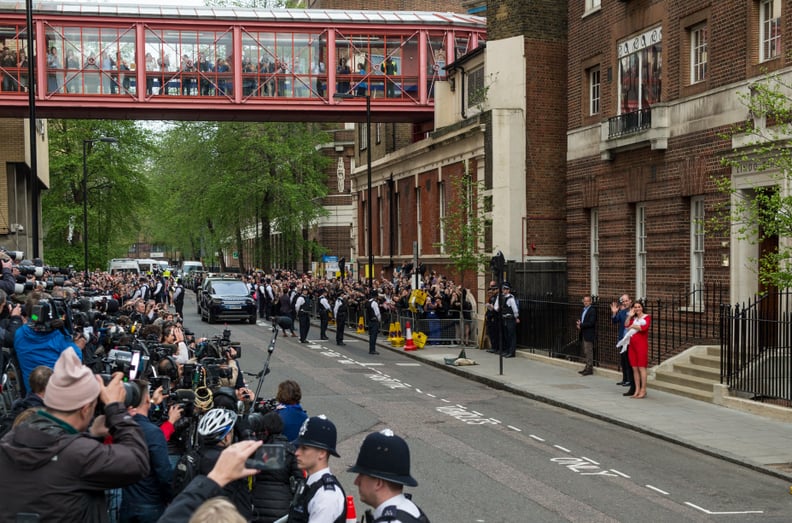 Prince Louis
The crowds were as anxious as ever to see Kate and Will's third baby after his birth was announced on the morning of April 23, 2018. Prince Louis's big debut was brief — just a minute and a half — and came only 7 hours after his birth. The quick turnaround between when Kate gave birth and when she left the hospital paired with her put together appearance hours after childbirth was all people could talk about.
Again, the Duchess received criticism for her postpartum belly and for her "unrealistic" image of new mothers (which was months later highlighted in a essay by actress Keira Knightley). But again, Kate appeared unfazed and confident as a third-time mom.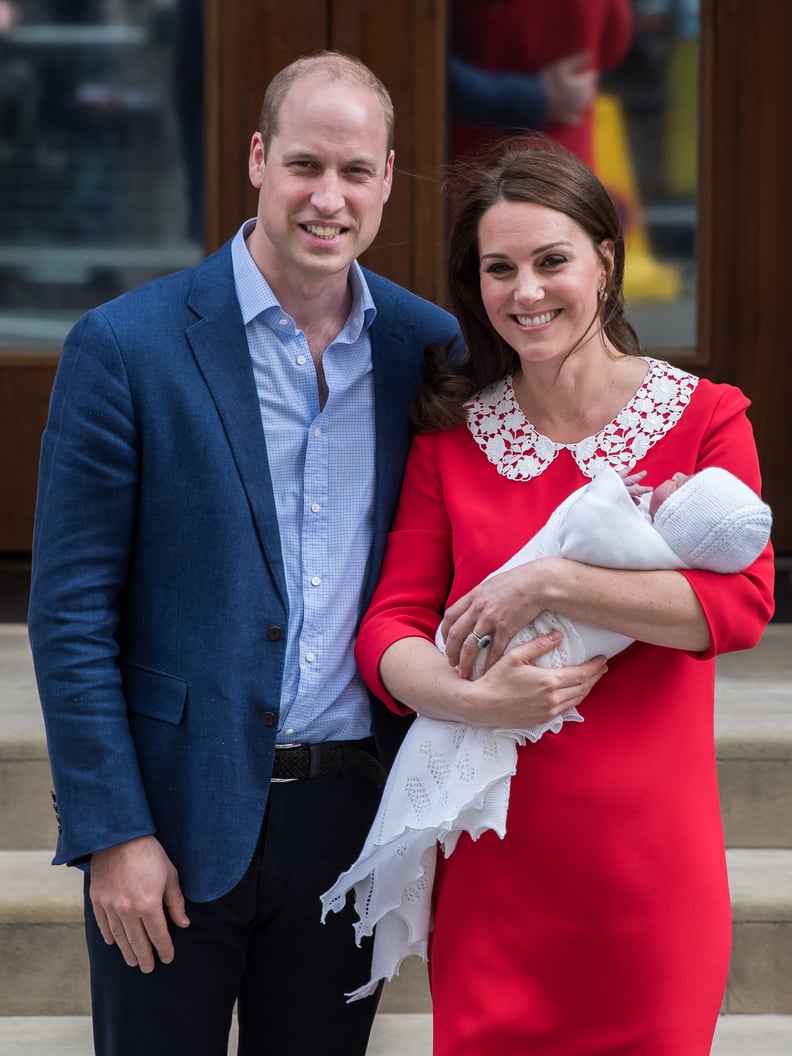 Sweetly, Prince Louis was wrapped in the same knitted blanket that had been used with both of his siblings and wore the same bonnet that Princess Charlotte wore after her birth. But the newborn's "outfit" was second in interest to Kate's. She once again selected a dress by designer Jenny Packham, this time a red shift with a peter pan collar. Immediately comparisons to the red dress Princess Diana wore following the birth of Prince Harry were made, with most assuming Kate's bold choice was an intentional tribute to William's late mother.
If Kate was even aware of the commentary being made about her, she kept her cool and owned her brief appearance outside the hospital, like she did with the others. The third-time mom appeared happy, relaxed, and even more so this time — ready to get back home!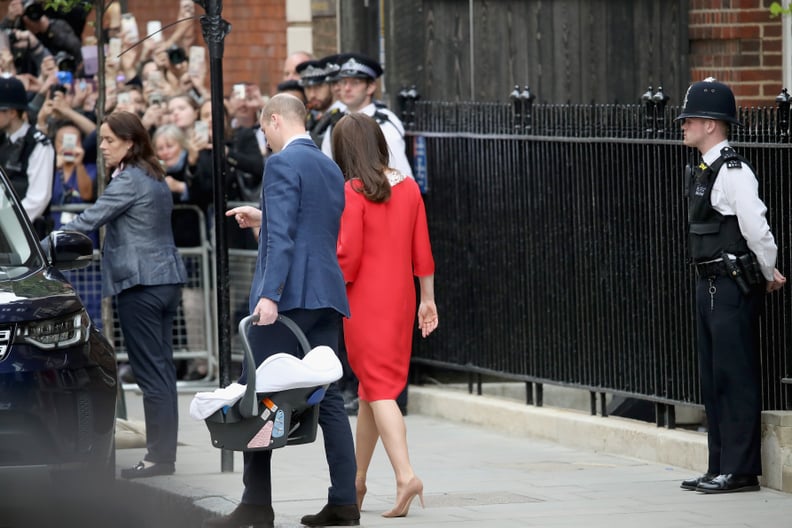 As they had following the birth of George and Charlotte, Kate and William held hands while walking to their car with newborn Louis. They had the confidence of seasoned pros as William held the car seat casually by his side and Kate walked comfortably in heels.
While the pair didn't give an interview outside of St. Mary's, William did comment to waiting reporters that they were "very happy" and "very delighted" joking that they "didn't keep [the press] waiting too long this time." The parents were clearly conscious of how speedy the whole process had been, but unapologetic.