Sarah Drew's Kids Are Siblings and BFFs — Get to Know Micah and Hannah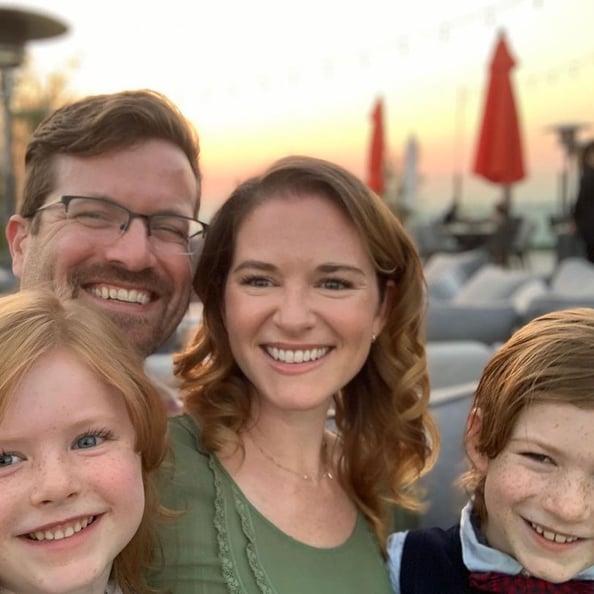 Social media followers of Sarah Drew — known for her role as Dr. April Kepner on Grey's Anatomy — are probably familiar with her two children, Michael Emmanuel and Hannah Mali Rose, whom she shares with husband Peter Lanfer. With a three-year age gap, it's evident from Sarah's Instagram they're stuck together like glue. The last year has been challenging for everyone, but Sarah wrote on Instagram that one of the greatest gifts "has been the ability to see my kids grow in their creativity and in their friendship with one another." The mom of two added: "Without the physical friendships at school, Hannah and Micah have found new intimacy with one another. Their epic fort building games sometimes last for four hours (without bickering!!!) (don't get me wrong- there's still A LOT of bickering). I long for the time when these kids can get back into the classroom safely, but I have been so grateful for this time to be so connected and close." Get acquainted with Micah and Hannah ahead!
Micah Emmanuel Lanfer
Micah Emmanuel Lanfer was born on Jan. 18, 2012, and is Sarah's firstborn kid and only son! A self-declared control freak, Sarah decided to wait until giving birth to find out the sex of their baby, according to People.
As described by Sarah, Micah is extremely tender, loving, hilarious, passionate, and a little engineer in the making. "He is inventive and innovative. He loves reading and building and dreaming up grand extravagant plans for inventions and plays and movies and amusement parks," she wrote in an Instagram birthday post for Micah.
Like his little sister, his favorite movie is The Greatest Showman. He even played Phineas T. Barnum in a neighborhood play. Micah is taking after his mama, showing off his acting skills in short films they made with a green screen during the pandemic.
Hannah Mali Rose Lanfer
Born on Dec. 3, 2014, Hannah Mali Rose Lanfer is the couple's youngest child and only daughter. Grey's Anatomy fans may remember when Sarah was pregnant with Hannah and went into labor almost a month earlier than expected, resulting in an 11-day stay for baby Hannah in the NICU. "It's the worst thing in the world because you go into the hospital and you expect to leave with your baby. We didn't know how long she would have to be there," Sarah told People.
Nowadays, Hannah is a healthy 6-year-old who loves animals, riding her scooter around the block, and hanging out with her big bro. "Hannah lights up every room she walks into. She's emotionally in tune with all the humans and animals around her (and deeply deeply emotional herself)," the mom shared in a sappy birthday post on Instagram. Likewise, she also mentioned Hannah loves to laugh, sing, and dance, and is currently obsessed with The Greatest Showman.