Your Kids Can Get Their Hair Cut at Disney World, and It's Just as Magical as You'd Expect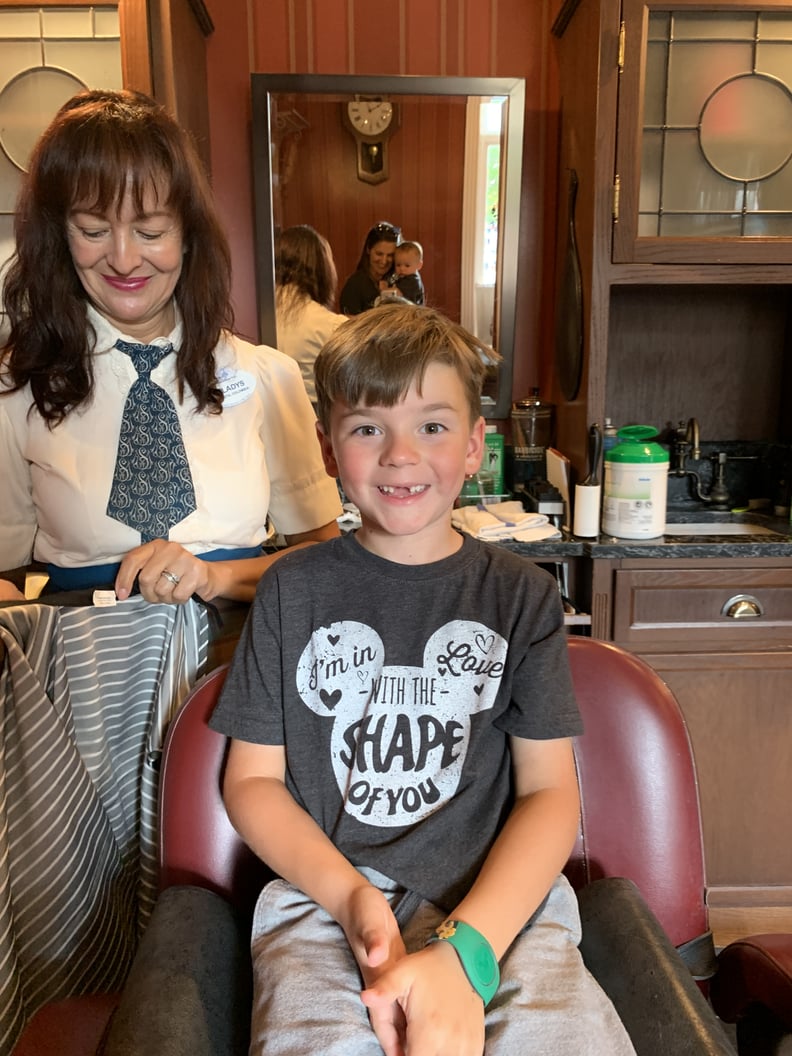 Tarah Chieffi
Tarah Chieffi
My family and I travel to Disney World at least once a year (yes, we are one of those families), and while I'm always grateful to be able to make the trip, I'm also always on the lookout for new experiences that will help us max out those magical Disney memories. I'd always known that kids could get their first haircut at Disney World, but on every one of our trips, my three kids were all too young (and bald) or too old to qualify.
After doing a little research, however, I realized that anyone can get their hair cut at Disney World! I was even more surprised to find out that the cost is comparable to what you would pay for a haircut anywhere else, but the experience is so much more magical! Here's what you need to know if you want to make this special touch a part of your next vacation.
Where can my kids get their hair cut at Disney World?
Magic Kingdom's Main Street, U.S.A. houses various gift shops, candy stores, and places to get coffee or a bite to eat, but the Harmony Barber Shop is a real, working barbershop. Tucked into a corner between the Emporium gift ship and the Firehouse, it's easy to walk right by it, so you've got to be on the lookout.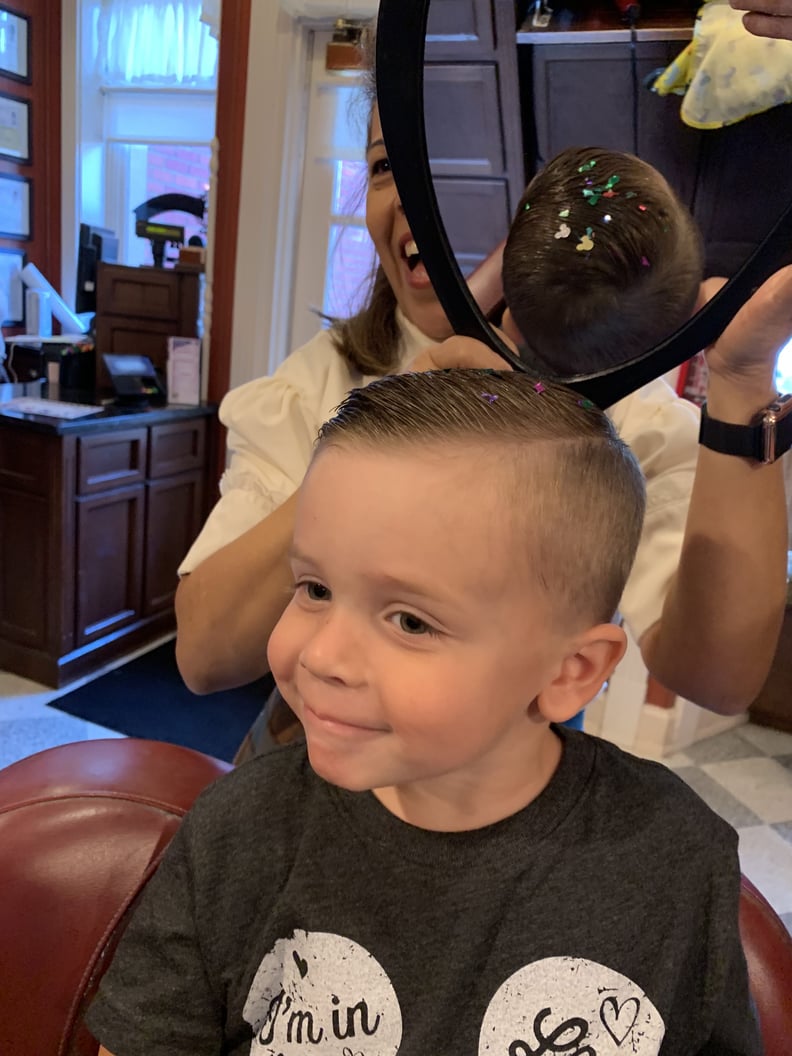 How much does it cost for my kids to get their hair cut at Disney World?
Children under 9 can get their hair cut and styled starting at just $18 plus tax. My boys both have fairly short hair, so the stylist sprayed their hair to wet it, trimmed everything up nice and neat, then styled their hair with gel. Before they hopped down from the chair, the stylist offered them a sprinkle of "pixie dust" and we were on our way.
If you are looking for the full first-haircut experience, prices start at $25 plus tax, which includes a haircut, a keepsake lock of hair, a commemorative certificate, and a Mickey Mouse Ear Hat. These prices do not include gratuities, which are much appreciated. Adult haircuts are similarly affordable, starting at just $19 plus tax.
How can I make an appointment for my kids to get their hair cut at Disney World?
Making an appointment to get your hair cut at Disney World is easy. Reservations can be booked directly through Disney World's website or by calling 407-939-7529. There is a $10 fee for no-shows or cancellations within one day of your reservation, so keep the contact information handy in case you need to make any changes.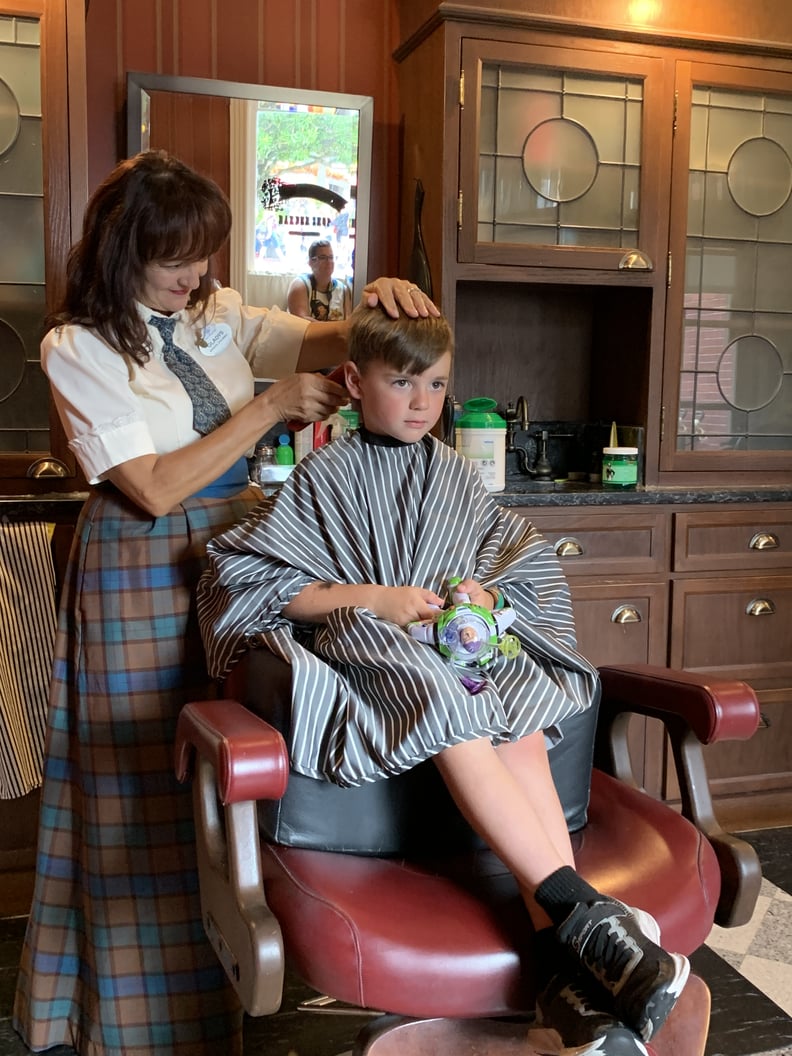 What makes a Disney World haircut so magical?
Did I already mention the pixie dust? Seriously, though, stepping into Harmony Barber Shop was like stepping back in time. The early-1900s decor, the striped barber pole, and the friendly stylists in their old-fashioned uniforms made this haircut extra memorable for our family. They even gave the kids toys to play with during their haircut to keep them from fidgeting too much in the chair.
As the barbershop is located just next to the end of the parade route, we were even treated to a front-row view of the parade floats and performers as they exited the park. My kids even got a wave from Chip (or was it Dale?) and Goofy as they passed by. To me, that's worth so much more than the price of a haircut.