15 Magical Facts About Cinderella's Castle in Walt Disney World
Image Source: Kathryn Mayer
When you think of Walt Disney World, the first thing that probably pops into your head is the iconic Cinderella's castle. The enchanting landmark, which pays homage to Disney's 12th animated film, was built in 1971 for the opening of Walt Disney World and sits at the end of Main Street, U.S.A., in the Magic Kingdom. While it's a hugely popular photo spot, what else is there to know about it? Turns out, plenty. From an exclusive suite inside to the castle's status as a coveted yet costly wedding location, here are 15 fascinating facts about the castle that towers above the most magical place on Earth.
There's a luxurious suite inside. The castle has an ultra-exclusive suit inside that overlooks the Magic Kingdom. It was supposed to be an apartment for Walt Disney and his family when they visited Orlando, but he died before it was completed. It then served as a storage spot for decades before being officially opened as the Cinderella Suite in 2006 for the "Year of a Million Dreams" promotional campaign, during which Disney gave away a limited number of one-night stays. The only downside? A stay isn't available for purchase (not even for celebrities with big bucks to spend). The only way you can get into it is by winning a contest or being gifted the experience by Disney.
There's a princess boutique inside. The Bibbidi Bobbidi Boutique is a beauty salon inside the castle where kids are turned into princesses and knights by their Fairy Godmothers. Packages include hairstyling, makeup, costumes, and more and vary in price.
It looks bigger than it really is. Disney Imagineers used forced perspective on Cinderella's castle to make it look larger than it really is. The windows and blocks on the upper level are actually smaller than those on the lower levels — details used to trick the eye into seeing the upper levels as much higher than they really are.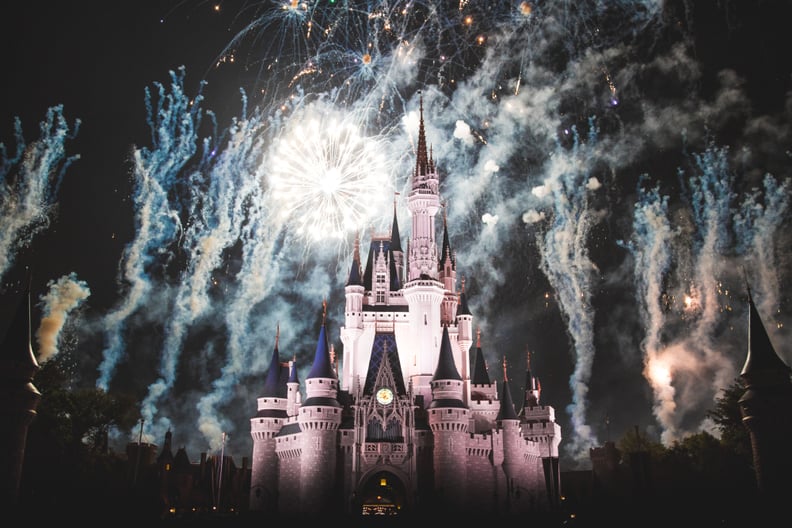 You can get married in front of the castle. There are lots of places in Walt Disney World where diehard Disney fans can get married through Disney's Fairy Tale Weddings. But the one venue that really embodies the magic? The East Plaza Garden in Magic Kingdom, which is right in front of Cinderella's castle. It's gorgeous, but it will cost you: prices for the ceremony start at $25,000.
There's a top-notch restaurant inside. The castle houses Cinderella's Royal Table, a fine-dining restaurant that also involves a character dining experience. It's delicious and beautiful, but be warned: reservations are difficult to come by, so plan very far ahead.
It's actually not the tallest structure at Walt Disney World. You might think the castle is the tallest icon at all the parks, but that title actually belongs to Expedition Everest at Animal Kingdom and Tower of Terror at Disney's Hollywood Studios. Those attractions are 10 feet taller.
Only one other Disney castle looks like it. Despite the fact that there are six Disney parks around the world, there's only one other Cinderella's castle outside of Walt Disney World, and that's Cinderella castle's at Tokyo Disneyland.
It's inspired by Neuschwanstein Castle in Germany. The historic Neuschwanstein Castle is located in Bavaria, Germany, and features a white limestone facade and blue turrets, so it's rumored to be the inspiration for Cinderella's castle.
It's extra magical during the holidays. Cinderella's castle is beautiful all year, but it's especially breathtaking during the holidays. Disney decorates the castle in shimmering icicles and uses about 200,000 lights to make the castle a holiday dream come true.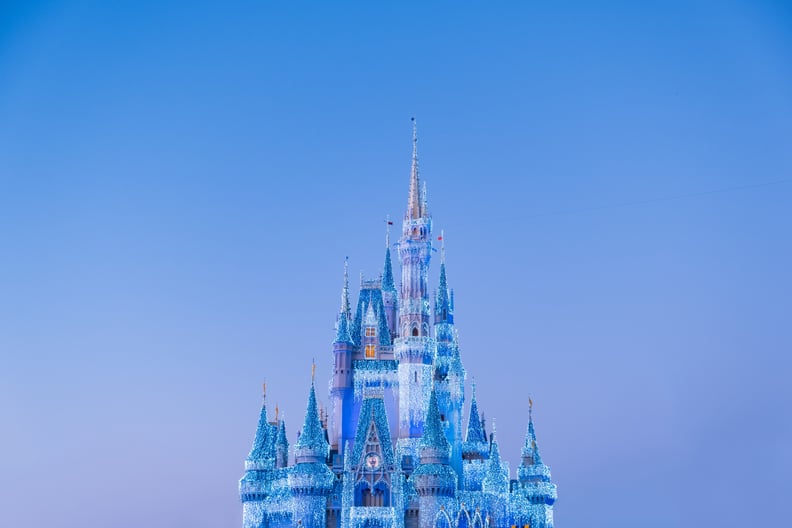 It's not the tallest Disney castle. It's the second tallest! The first is the Enchanted Storybook Castle at Shanghai Disney Resort, which is the largest Disney castle at 197 feet tall.
It gets kissed goodnight. About 30 minutes after the park closes, the castle gets a "kiss goodnight." It consists of a recording of Roy Disney's dedication speech of the Magic Kingdom accompanied by special lighting effects and ends with "When You Wish Upon a Star" followed by the castle going dark.
Tinker Bell flies around the castle nightly. As part of a nightly fireworks show, Tinker Bell flies (aka zip lines) out of the castle. There's speculation that once ready for flight, Tinker Bell climbs up a ladder inside Cinderella's castle and takes off.
There's a reason for its specific height. The castle clocks in at 189 feet. Why not 190 feet? Because any structure 190 feet or more would have to have a flashing red aircraft beacon on top of it, which would look less than magical.
The castle pays homage to Disney "royalty." There are more than 40 coats of arms on display inside Cinderella's Royal Table, each referring to someone who has played a significant role in the heritage and history of the Walt Disney Company. Some of the noteworthy people whose family names are represented include Roy Disney Sr., Diane Disney Miller, John Hench, Dick Nunis, Marty Sklar, and Card Walker.
It's a lot bigger than its counterpart in Disneyland. Cinderella's castle is more than 100 feet taller than Sleeping Beauty's castle in Disneyland in California.