How to Raise an Activist Child
The World Needs More Activists — Here's How Your Child Can Be One of Them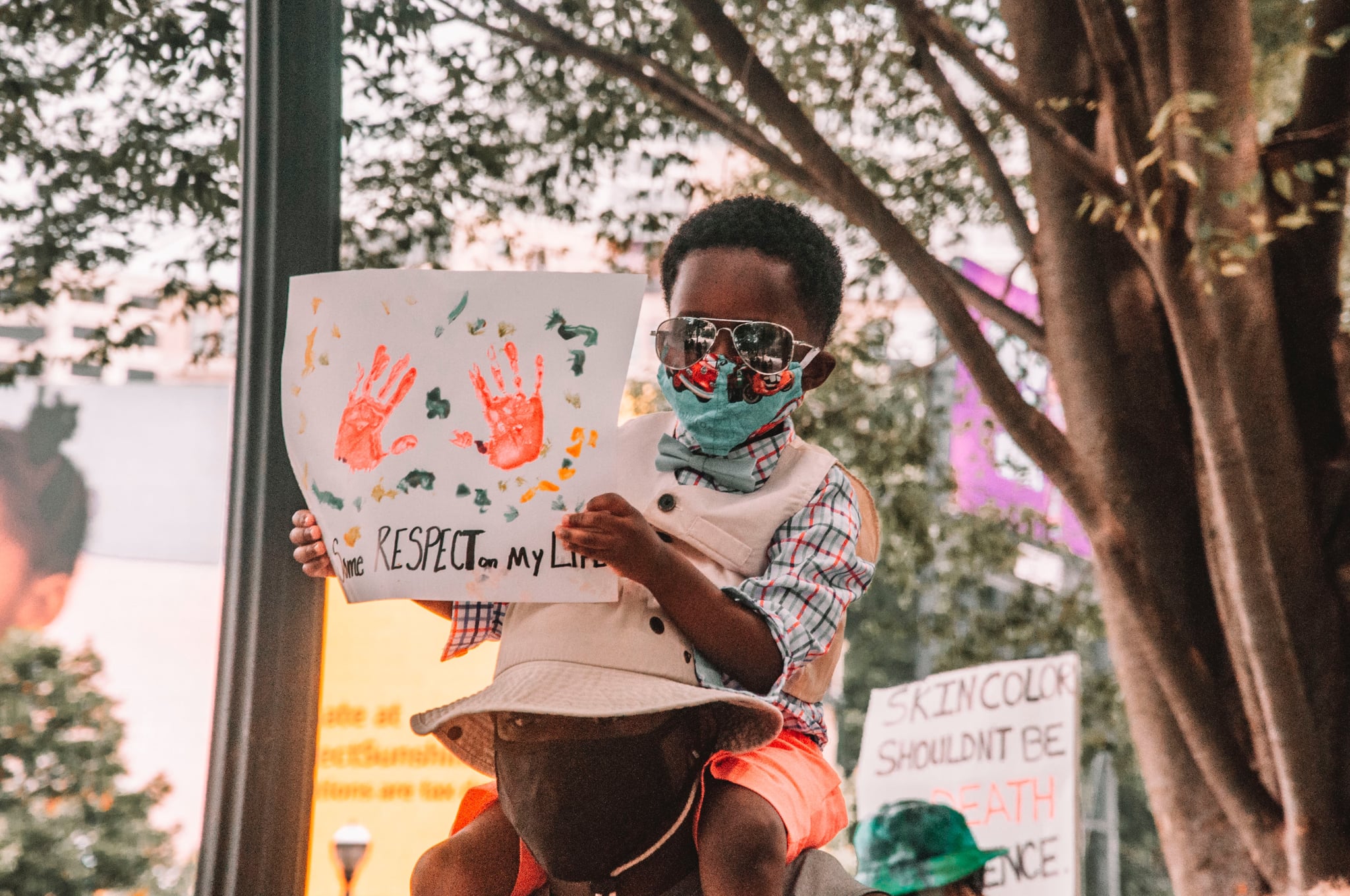 Children grow up glorifying heroes, be it cartoon characters fighting for justice, supernatural beings using their powers to defeat evil, or friends and family with admirable strength; people who stick up for others, stand up for what's right, and actively call out injustice when they see it — the traits of a modern activist.
As parents, there's always some hope that these role models will help kids develop a few heroic qualities of their own. But with so much cruelty and inequality in the world today, we can't rely on our kids to accidentally pick up activist traits. Children should know that "good-guy" behavior is not contained to fairytales, and it starts by teaching them how to become better allies and upstanders in their daily lives. For parents looking to teach their kids how to be activists, the following are expert-approved steps and resources that can make the learning process easier and more effective, even for little ones.
What Are Some Qualities of a Good Activist?
Before you take off talking to your children about activism, it's a good idea to establish what values and behaviors you intend to teach. According to Paul Hokemeyer, a licensed marriage and family therapist and author of the book Fragile Power: Why Having Everything Is Never Enough, good activists are people with compassionate hearts and enough resilience to overcome setbacks.
Tovah Klein, Ph.D., director of the Barnard College Center For Toddler Development, added that activists can also be explained to children as proponents of fairness. "Children know fairness and want fairness," she explained. "So being an activist means working to make a situation more fair and a desire to act when you see that something is not right, or not fair." Other important qualities Dr. Klein identified include the capacity to look out for others and the understanding that other people's needs matter — simple concepts that children are absolutely capable of learning.
What Can I Do to Teach My Child Activist Behavior?
With a topic as powerful as activism, it can be tempting to tell your child exactly what to do and say. However, according to experts like Hina Talib, MD, an adolescent medicine specialist at Children's Hospital at Montefiore/Albert Einstein College of Medicine, it's actually more important to allow your children agency when learning how to be a good activist.
To do this, Dr. Talib said to let kids participate in protests and other cultural events instead of trying to "protect" them from seeing anything. Dr. Klein added that parents can also give kids agency by focusing on topics they're passionate about. As an example, "If a child worries about how animals are treated, you can help them speak out about it, whether that is by writing a letter or explaining to their peers why it's important to be kind to animals," she said.
For younger children, another good first step is to model activist behavior yourself. "If a child sees their parent contributing to advocacy work [or] standing up for the marginalized, it teaches them empathy," said Anandhi Narasimhan, MD, a double-board-certified child, adolescent, and adult psychiatrist. Dr. Talib also advised parents to show their children what activism looks like through actions like voting, protesting, and calling local representatives.
Other activist activities parents can do with their kids include posting supportive messages on social media, fundraising to support activist organizations, designing protest signs, or creating care packages for protestors. These ideas and more can be found in this Instagram graphic designed by Dr. Talib and Dr. Kevin Simon, a child and adolescent psychiatrist.
Another powerful strategy for raising activists, as suggested by Charesha Barrett, a diversity practitioner and owner of CHARP Education Consulting, is to refer to history. "There are a lot of white kids who don't know anything about their past," Barrett said, which can make it difficult for them to develop the kind of empathy necessary in a good activist. To combat this, she encourages kids go to a history museum and read honest accounts of historical events.
Additionally, if children aren't living in particularly diverse environments, Barrett emphasized the importance of cultural events and service learning, which involves volunteer work and helping others. She added that older kids should also be motivated to diversify their media and listen to various perspectives before forming an opinion.
"Parents have to be willing to allow their children to become independent thinkers," Barrett said. "There are so many different things that people can do so they can start building bridges, but exposure is the first thing."
When Should I Start Teaching My Kids to Become Activists?
As Dr. Klein said, children start learning important activist concepts, such as empathy and kindness, from birth. However, Dr. Hokemeyer explained that around the age of 5 or 6, kids really start to develop a working relationship with emotions like compassion. "At this developmental stage, children become more aware of their emotions and begin to see how others experience emotions," Dr. Hokemeyer said. This is when parents can begin to talk about social issues, like those shown on the news or within your own community, on a slightly deeper level.
To do this, Dr. Klein suggested going back to the concept of fairness, which kids tend to understand. "As children get older and have better language skills, parents can talk about fairness in situations that come up for the child in their daily lives," she said. Try questions like "Is it fair if one of you gets more cookies than the other?" or "How did you feel when another child didn't let you play?" Conversations like these help kids establish a sense of right versus wrong, which is what makes them want to see others treated fairly as well.
For toddlers, Dr. Klein said that another useful teaching method is to listen to them when they ask questions or challenge authority (things like, "Why can't we stay up later?"). "Rather than shutting them down, try to listen, give them a place to advocate for something different, value their opinions, even if you decide not to make a change in that situation," Dr. Klein said. "When children learn that they can use their voices to push back against things that feel wrong to them, they will realize that they can change the external world." A necessary realization for any good activist.
Are There Any Resources That Can Help?
Children's books are a great way to start educating kids on what activism looks like and why it's necessary. As Dr. Narasimhan said, "I remember doing a project on Sojourner Truth when I was little. I thought to myself 'I want to be like her!'" showing just how inspiring reading about activists can be.
Some of Dr. Hokemeyer's favorite picks for young activists-in-training include We're Different, We're the Same, which unpacks the concept of race, And Tango Makes Three, which teaches about LGBTQ+ families, and I Am Malala for older kids who need empowering role models. For young children and toddlers, Dr. Klein also recommended A Is for Activist and ABC What Can She Be?. More books for teaching young children about activism, diversity, and anti-racism can be found here.
According to Barrett, some good books currently being used to teach older children about activism and anti-racism include The Hate You Give and Dear Martin. However, if parents are serious about teaching their children, they might also want to consider reading a few books themselves. Barrett suggested How to Be an Antiracist by Ibram X. Kendi and A People's History of the United States by Howard Zinn. Additional books can be found here, but ultimately the most important thing is the willingness to learn alongside your children and the commitment to growth. No hero work necessary.