I Deeply Relate to This 4-Year-Old's Viral "I Want You to Leave Me Alone" Song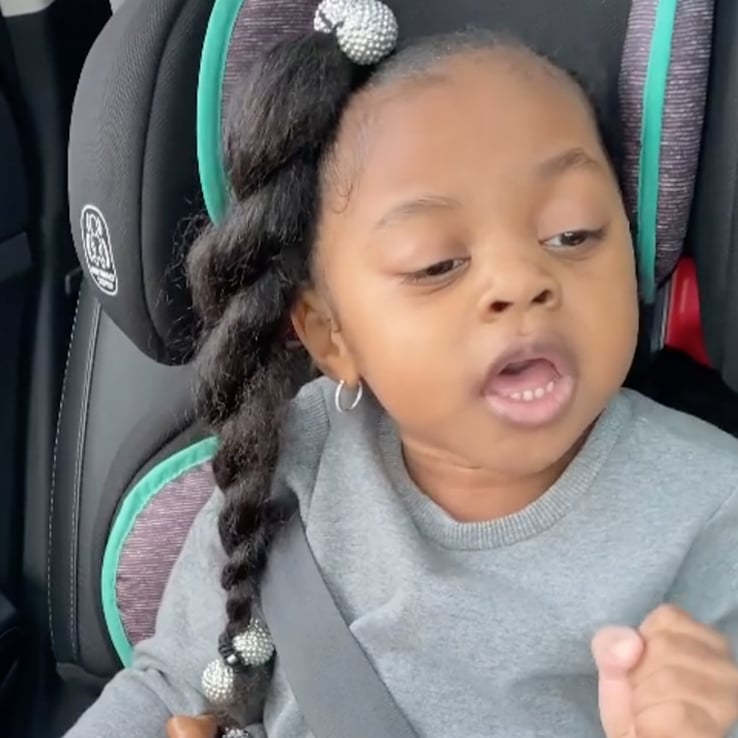 Mark my words: Milan Marie is a Grammy winner in the making. A 4-year-old with an impressive voice and infectious personality, Milan boasts more than 300,000 Instagram followers who garner daily entertainment from her hilarious singing videos. Her latest made-up song — one in which she repeats "leave me alone" at varying pitches while seated in her carseat, seen above — is the be-all and end-all of relatable moods, so I touched base with Milan's mom, Jovan Phillips-Lloyd, to learn more about her daughter's knack for crafting random tunes on the spot.
Although the aforementioned clip is what first introduced me to Milan, she's no stranger to going viral, having landed on the radar of stars like Gabrielle Union, SZA, Viola Davis, Elizabeth Banks, and more in the past. The adorable tot "has been singing since she's been able to form sentences," Jovan told me, with "Happy Birthday" being the first song she really made her own. "She's always added her own melody and sang with so much heart," she said. "When she turned 3, I began to see a change in her made-up songs where she would add more of her own lyrics, and you could tell she actually knew what she was trying to say and sing."
"I have no idea where she gets the soul and harmony from, but while it's here, her family will enjoy every bit of it."
When she's not playing with her collection of dolls and Barbies, Milan is likely belting out lines about her love of Target or feeling annoyed by one of her brothers or simply crooning random notes without words. "Milan actually sings from sunup to sundown," her mom said. "I can say a word, and she will immediately follow up with a whole song that she made up. I have no idea where she gets the soul and harmony from, but while it's here, her family will enjoy every bit of it."
And her followers will continue enjoying it, too! Jovan said many of Milan's followers often reach out to share how her videos have lifted their spirits and provided a much-needed escape during an otherwise tough year. If you're on the hunt for some day-brightening content to fill your newsfeed, be sure to follow Milan on Instagram, and enjoy a selection of her ringtone-worthy bangers ahead.
Presenting "I Want You to Leave Me Alone," aka *the* Song of 2021
I Sense an Icon in the Making
I Urgently Need to Hear More Lines From This Bop
As Someone With 2 Brothers, I Feel So Seen by This Video
Here She Is Teaching Her Brother How It's Done
And Here's Another "Happy Birthday" Rendition, For Your Viewing Pleasure
That "OooOoO" at the End Really Spoke to Me
Live Footage of Me All 2020 Long
The Talent Truly Jumps Out
The Finger-to-the-Ear Moment Sent Me Over the Edge
Do Yourself a Favor and Watch This One Till the Very End
The Denim! The Swing! This One's a Full-Fledged Production
Watch This in the Morning If You Need a Pick-Me-Up
Oh, and She Raps, Too — I Love This Lil' Jill of All Trades!
Mason Ramsey, Who? She's Got the Yodel Down Pat