As POPSUGAR editors, we independently select and write about stuff we love and think you'll like too. If you buy a product we have recommended, we may receive affiliate commission, which in turn supports our work.
Sunscreen isn't just for summertime — and with back-to-school season in full swing, it's time you stock up on the goods. If you're not sure which type of sunscreen your kid needs, most experts recommend that little ones start with a mineral sunscreen over a chemical one. The former sit on top of the skin to block UV rays, while the latter are absorbed.
"I usually advised avoiding [the chemical sunscreen ingredient] oxybenzone for kids due to the risk of allergic reactions, concern of hormonal disruption, and environmental concerns," says Viktoria Kozlovskaya, a double-board-certified dermatologist who treats adults and children at Dermatology Circle PLLC. Meanwhile, mineral sunscreens — including zinc- and titanium-based ones — "are considered safe for use on infants after six months," she says.
The problem with mineral sunscreens is that they often leave a thick white cast, which can feel heavy or uncomfortable in the heat. So we rounded up kid-friendly mineral sunscreens that go on clear (or close to it, according to reviewers) and are loved by kids and parents alike.
But even if you find an SPF you love on this list, a word of warning: "Sunscreen should not be relied upon as the sole method of sun protection," Dr. Kozlovskaya says. "Seeking shade and sun-protecting clothing is a must." So pair the sunscreen of your choice from this list with additional UV-blocking measures for a truly skin-safe school year.
01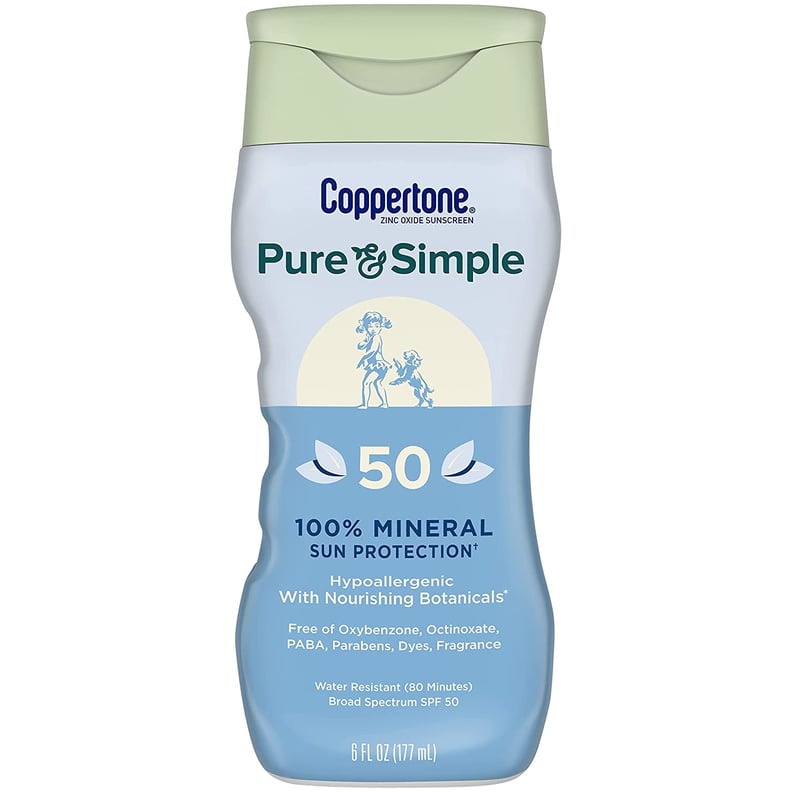 Best Budget Mineral Sunscreen For Kids
Coppertone Pure and Simple Zinc Oxide Mineral Sunscreen ($9)
Some of the options on this list may feel a little pricey. But Coppertone, a mainstay in the sunscreen market, has a mineral-based sunscreen that comes in six-ounce bottles for under $10. The gentle, hypoallergenic formula comes without dyes and parabens and still offers broad-spectrum, water-resistant protection.
Reviewers were split on the white cast. One who identified as darker skinned had this to say: "It does apply white, as to be expected, but once it dries the white film is much less noticeable — tolerable even!" They also offered the pro tip of using lotion before applying the SPF to help it spread more evenly on the face.
02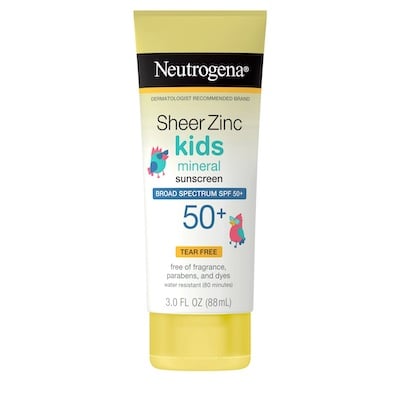 Best Tear-Free Mineral Sunscreen For Kids
Neutrogena Sheer Zinc Kids Mineral Sunscreen Lotion ($12)
Neutrogena's Sheer Zinc Kids Mineral Sunscreen is free of parabens, fragrances, dyes, and residue possibilities — it goes on sheer. The gentle, tear-free formula also makes the application less of a struggle. The sunscreen's active ingredient is 100 percent mineral zinc oxide.
"I love the full coverage this offers for our little boy," one reviewer said. "We do a ton of boating in the summer and really wanted something that was a mineral-based sunscreen that provided a lot of sun protection and was water-resistant. This is always in the diaper bag."
03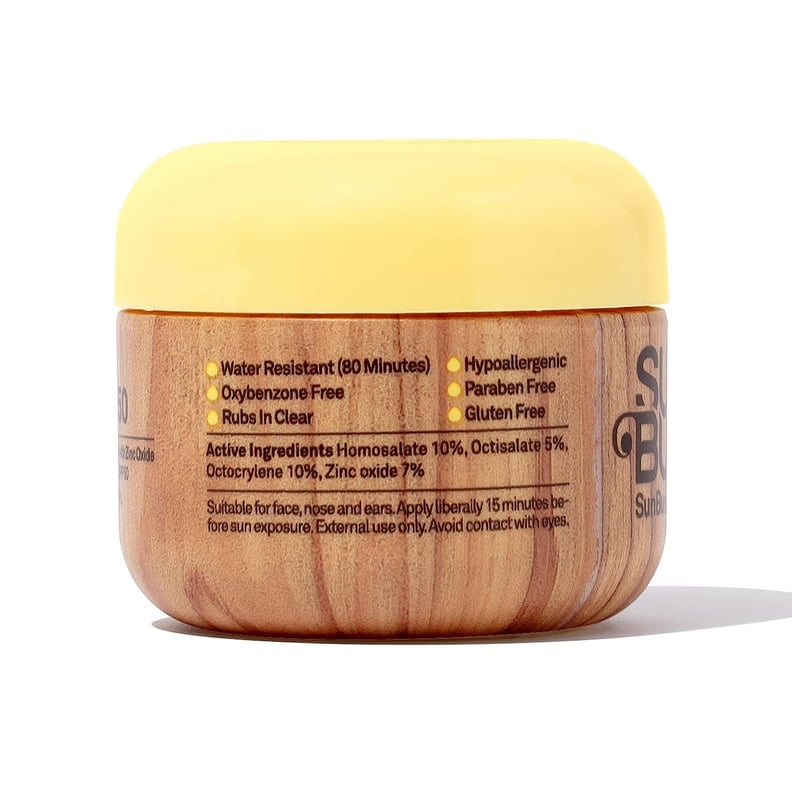 Best Clear Mineral Sunscreen For All Skin Types
Sun Bum Original SPF 50 Clear Face Sunscreen With Zinc ($11)
It's rare to find a mineral sunscreen that truly goes on clear-clear, but Sun Bum's does. It's also oil-free and water-resistant, and reviewers say it won't bother sensitive skin — although it can leave you looking greasy.
"It is clear and goes on so lightly," a reviewer said. "I have such sensitive skin, and I have had no problems with this product . . . If you have children, I really recommend this product . . . They can swim or boogie board all day, and it does not sweat or bother the eyes." (Just don't forget to reapply!)
04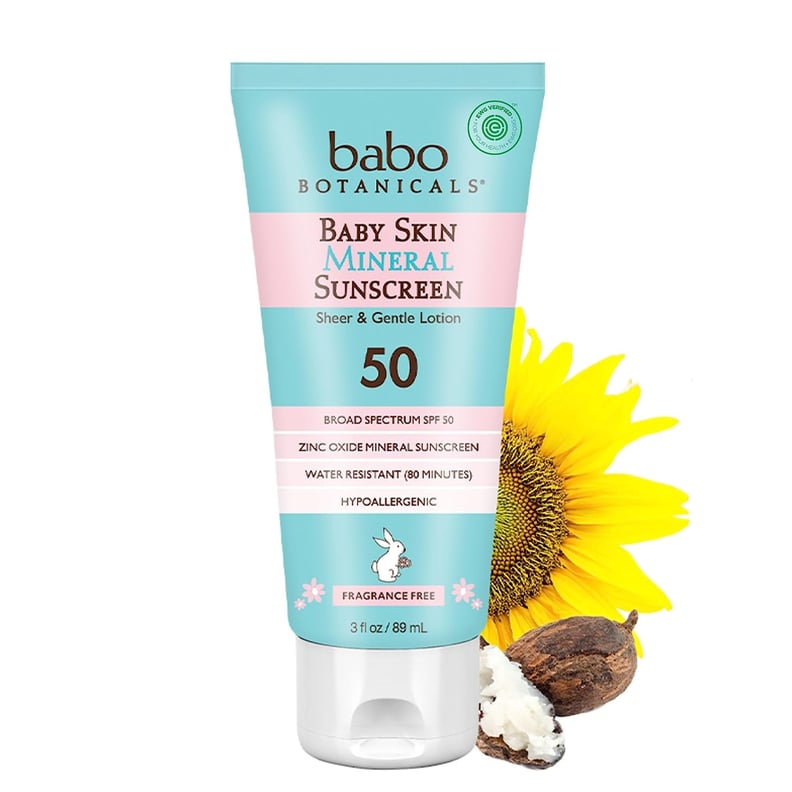 Best Lightweight Mineral Sunscreen For Kids
Babo Botanicals Baby Skin Mineral Sunscreen, SPF 50 ($18)
Cake by the ocean? Delicious. Feeling like you have cake on your face? A common sticking point people have about sunscreen, kids included. Babo Botanicals' ultrasheer lightweight formula still offers a ton of protection by being broad spectrum and SPF 50.
"All-time favorite," a fan raved. "[I] have used it for two babies and will never stop — no issues with sensitive skin. It does leave a white cast like all mineral sunscreens do but nothing worse than the others. No heavy scents, super gentle."
"Easy to apply, matte, and quite sheer," one person wrote, later adding, "It comes out of the tube thinner, and it's easily spread."
05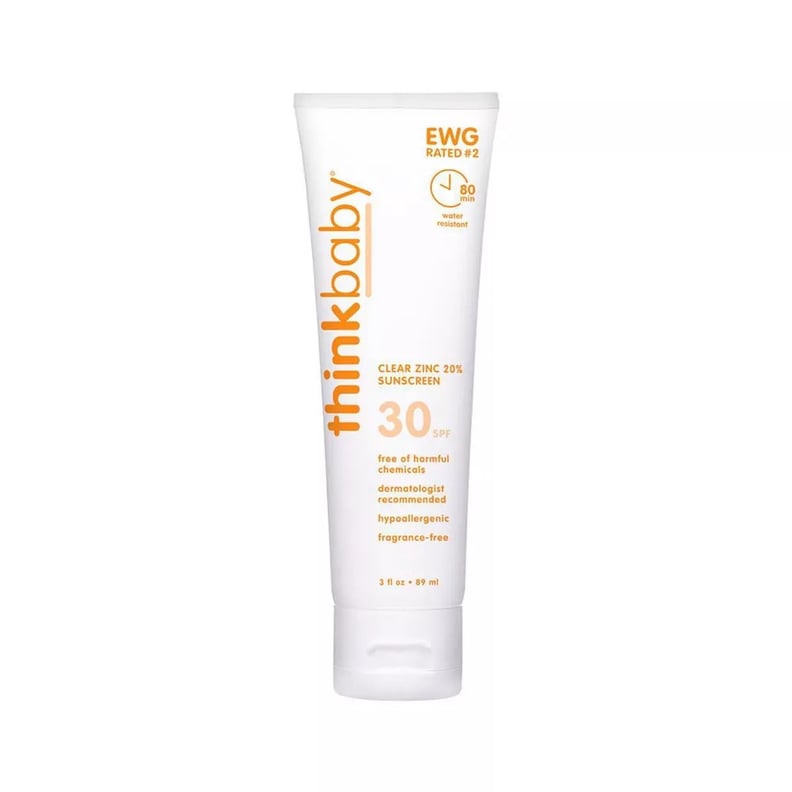 Best Water-Resistant Clear Mineral Sunscreen For Kids
Thinkbaby Kids Clear Zinc Sunscreen ($10)
Real talk: if you want to avoid any trace of white, you have to spend some time rubbing in this option. But it's still a top choice for reviewers, because it's water-resistant and nongreasy. (Pro tip: dermatologists like Dr. Kozlovskaya suggest reapplying sunscreen after waterplay, even if you applied just before taking a dip.)
"My son has sensitive skin, and this does not irritate his skin," one happy customer wrote. "It's a little on the thick side but will not leave a white cast if you blend it properly."
06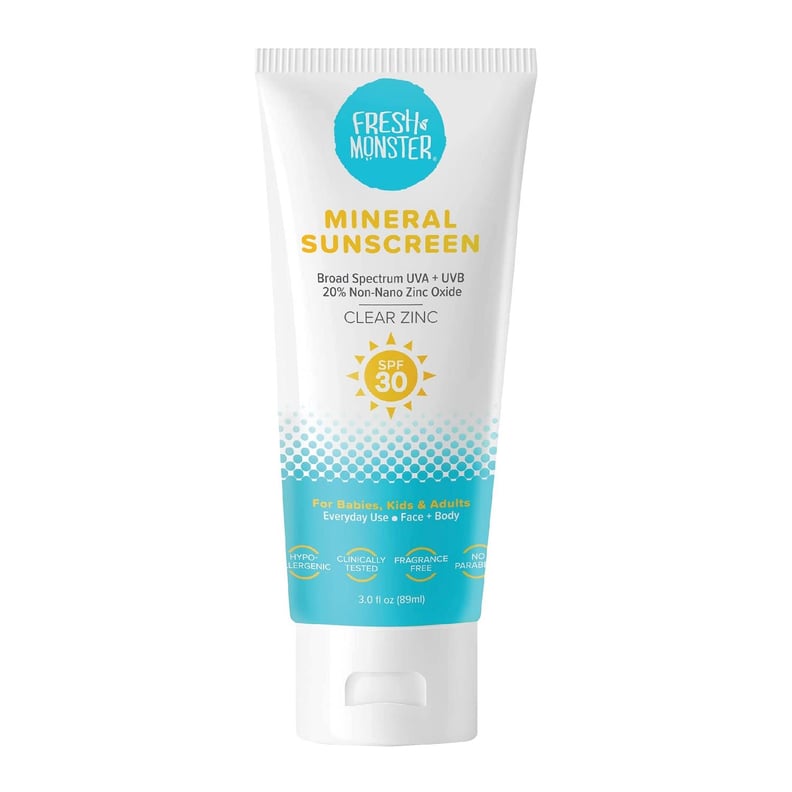 Best Natural Mineral Sunscreen For Kids
Fresh Monster Daily Kids Sunscreen ($15)
Fresh Monster's broad-spectrum mineral sunscreen uses a 20 percent concentration of zinc oxide to protect from UVA and UVB rays. You'll find recognizable, plant-derived vegan ingredients on the bottle, including organic chamomile and organic green tea extract designed to nourish and repair the skin barrier from other environmental factors like pollutants.
The reviewers agreed that this SPF left little to virtually no whiteness behind, too. "No white streaks," one customer raved. "We have been using this sunscreen for our little ones for the last three summers. It is so good! The best mineral kids' sunscreen out there! I even use it for myself because it goes on so well."
07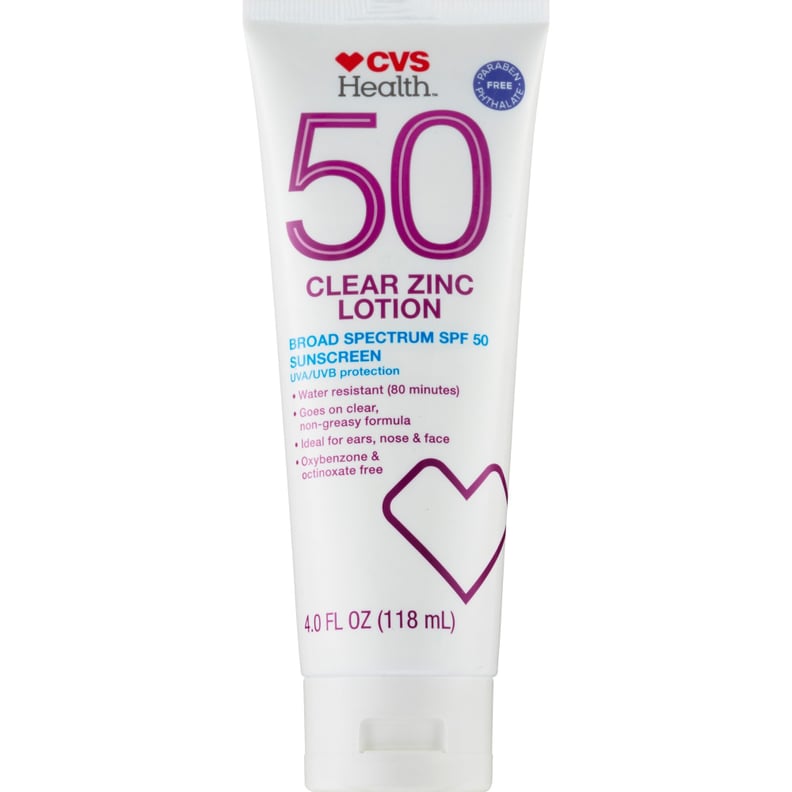 Drugstore Mineral Sunscreen For Kids
CVS Health Clear Zinc Broad Spectrum Sun Lotion SPF 50 ($9)
The sunscreen space is more crowded than Disney World in July, with new options and brands popping up. But don't discount tried-and-true drugstore brands, which often come at a fraction of the cost. Exhibit A: CVS Health's clear mineral sunscreen. It's another option that goes on pretty close to clear, as long as you're OK with spending some time rubbing it in.
"This sunscreen is protective and sheer," one person wrote. "It's not sticky but not easy to find. It always seems to be out of stock [in stores], but you can order online as well. I play a lot of sports, and it works great."
08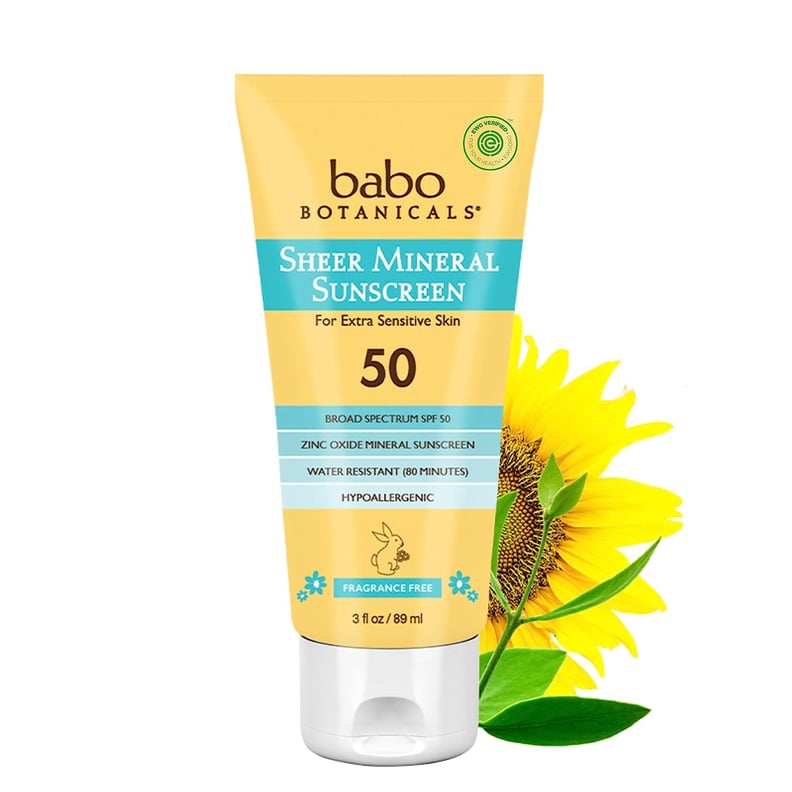 Mineral Sunscreen For Extra-Sensitive Skin
Babo Botanicals Sheer Mineral Sunscreen Lotion For Extra-Sensitive Skin ($20)
Sensitive skin types love this hypoallergenic formulation of Babo Botanicals. The non-nano zinc oxide formulation is free of oxybenzone and octinoxate and contains an organic Nutri-Soothe Complex that's gentle on the skin.
"I am a very pale human, and I burn quickly," one reviewer said. "I bought this for a trip to Hawaii, knowing I'd be outside a lot, and I did not burn. It goes on smoothly and doesn't leave a white [cast]. It doesn't smell very good, but that's minor." (Though this reviewer was an adult, Babo says the sunscreen is safe for babies and kids.)
In the reviews, customers who say they have dark skin tones also attest to Babo's clear formula — while you might notice lingering whiteness at first, it fades to something nearly unnoticeable with a little time.
09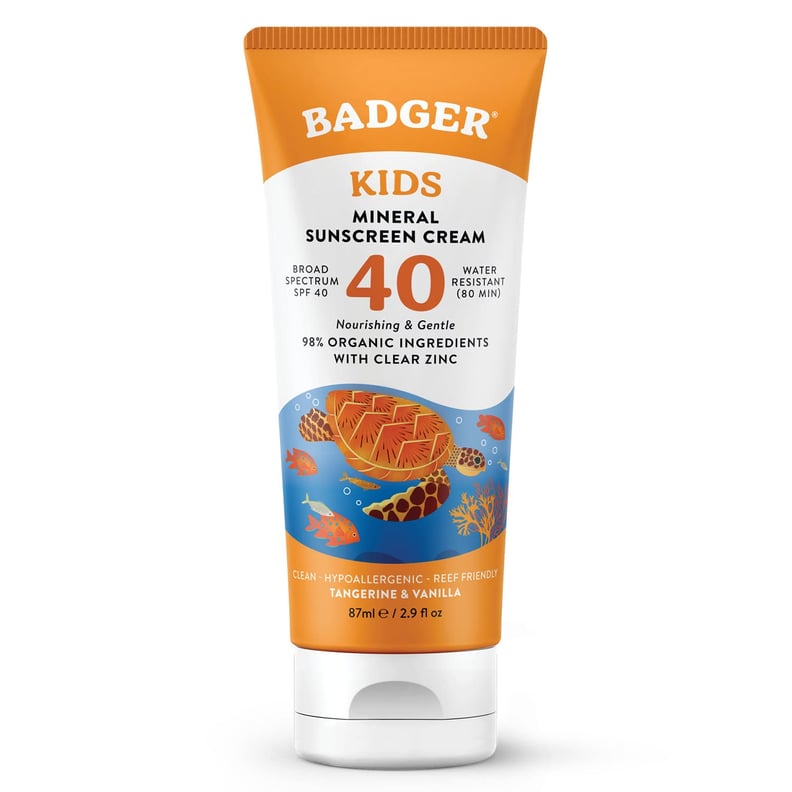 Best Sports Mineral Sunscreen For Kids
Badger Kids Sunscreen Cream ($15)
Badger's water-and-sweat-resistant formula makes it ideal for active little ones who plan to dive into summer fun head first. It's made with simple, organic mineral ingredients, including uncoated clear zinc oxide, making it less whitening upon application and easier to blend.
"My children spend a lot of time outside during the summer, and this is our new must-have," one reviewer said. "It is thick but spreadable, and a little goes a long way."
10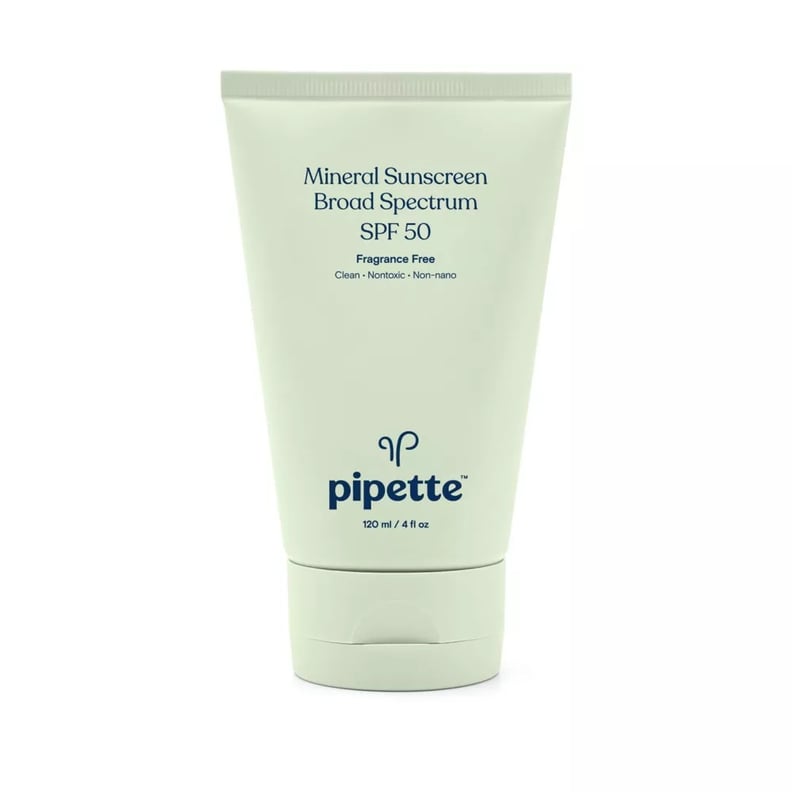 Best Mineral Sunscreen For the Whole Family
Pipette Mineral Broad Spectrum SPF 50 Sunscreen ($14)
Let's be honest: it's easier when the whole family use the same sunscreen. Pipette is baby-friendly, but the plant-derived ingredients and fast-absorbing formula have parents applying it to their skin, too.
"[I] love this sunscreen," a fan wrote. "I originally bought it for the baby, but it's so lightweight that I use it myself, too."