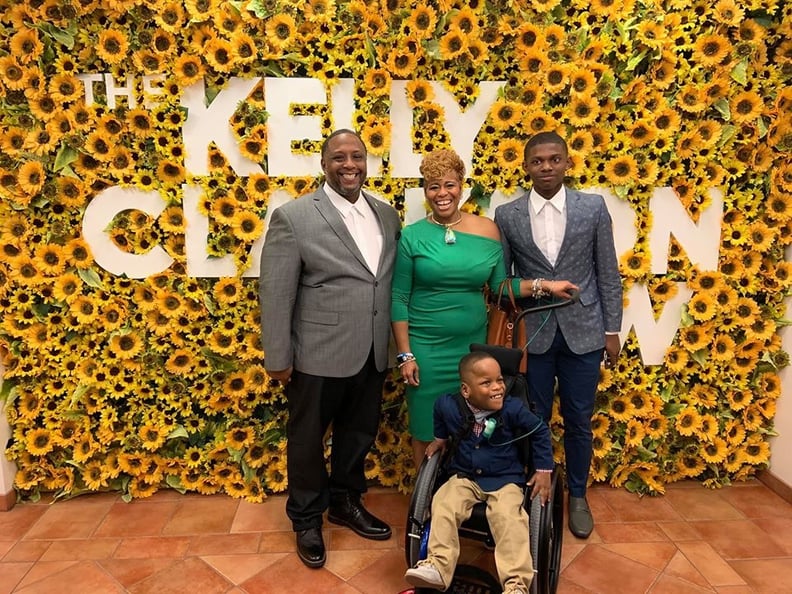 Dana Griffin-Graves
Dana Griffin-Graves
Dana Griffin-Graves, a mom from Virginia, had always wanted children with her husband, Arkell. However, at the beginning of their marriage, Dana experienced several miscarriages. Determined to have a brood of their own, she and Arkell adopted their now-17-year-old son, Keelyn, at birth. Several years later, Dana got the news of a lifetime: she was pregnant. We spoke with Dana about her fertility journey, giving birth to her son Kaleb, and his time spent in the NICU, as well as what it's like to care for a child with special needs.
"I was pregnant in 2000, and I carried the baby until I was about 24 weeks," Dana told POPSUGAR. "I ended up going into preterm labor, and we ended up having a stillborn son. I didn't have any complications or anything. Shortly after that, I tried again, because they told me there was really nothing wrong, and I ended up having a miscarriage, and then another miscarriage, and so we found out that we had an incompetent cervix."
In total, Dana was pregnant five different times. "As the baby would grow, my cervix would open up, and I was not able to carry the baby without some type of assistance," Dana explained. "Then we ended up having some surgeries. Whenever I would get pregnant, they told me that I would just have to get what they call a cerclage — or a treatment for cervical weakness — to keep my cervix closed."
Despite trying multiple times to get pregnant, Dana and Arkell just couldn't catch a break. And because social media wasn't prevalent like it is now, Dana felt incredibly alone throughout her fertility journey.
Then, in 2015, she noticed her body starting to swell and immediately consulted her mom, who's a nurse. Looking back, Dana admits she was initially nervous she was having complications from her blood pressure medication, not expecting to be pregnant, which she found out when she saw her doctor.
"When the doctor told me the news, I was like, 'Yeah, well, I must be about 12 hours along because I have absolutely no idea what you're talking about.'"
"We had no idea. We were on vacation all Summer long. I wasn't paying attention to my body, but I had lost a lot of weight because I knew that we were going to be on vacation," she shared. "I was walking with a group of ladies in my neighborhood so after things calmed down, I was like, 'Hmm, I don't remember having a cycle, but I don't know.' All of a sudden, I started seeing my fingers swelling, and my legs were swelling, and my ankles were swollen, and I was like, what is going on? When the doctor told me the news, I was like, 'Yeah, well, I must be about 12 hours along because I have absolutely no idea what you're talking about.'"
In fact, she was a full 18 weeks along, and though Dana was utterly shocked, she was also ecstatic. Nervous to get Arkell's hopes up, she didn't tell him right away. Rather, she surprised him with a then-viral "Bun in the Oven" announcement. Unfortunately, Dana's situation took a turn for the worse once she hit the 21-week mark.
"I was on my way to my appointment and my blood pressure was at stroke-level," she explained. "The doctor did not want to even see me for the appointment that I had. She told me that she wanted to admit me to the hospital so they could monitor my blood pressure because it was so high."
Eventually, Dana was able to go home, but she was put on bedrest. "I was calling my doctor every single morning and evening to give them my blood pressure reading, but I was very sick," she said. "People were contacting us about the announcement video, but I could barely talk because I was sick and didn't know how sick I was."
At a follow-up appointment, Dana received the news she'd been dreading: she needed to stay in the hospital's ICU due to congestive heart failure and was told by doctors that to protect her own life, she should consider terminating the pregnancy. But for Dana — whose life was now in jeopardy — terminating the pregnancy just wasn't an option.
"The doctors told me that I really needed to consider termination because I could try again," she recalled. "And I'm thinking, 'No, I'm 40 years old. I can't try again. This is it.' Regardless of what happened, I knew that I was going to have my tubes tied because I didn't want to put everybody through this emotional roller coaster. I felt spared that I found out about the pregnancy so late. God just did not want me to be in a state of worry during that time. So for me to get through almost halfway of the pregnancy and not know about it, I felt like I couldn't end the pregnancy."
Despite the fact that Dana's pulmonologist was literally on her knees begging her to reconsider, Dana remained steadfast. "I was very scared," she said. "But for whatever reason, I had so much faith that we were going to both make it. I really believe that there was truly a purpose to all of this. There was a reason why the video went viral."
Dana and Arkell's son Kaleb made his debut in October 2015, a full 16 weeks before his due date. The smallest baby born in Virginia at the time, he weighed a mere 13 ounces. While the Graves family was overjoyed at their new addition, Kaleb had a long health journey ahead of him and spent more than a year in the NICU undergoing four different surgeries.
"Every single day you go into the NICU holding your breath because you don't know what to expect," Dana explained. "You don't know what type of report you're going to get, especially at the beginning. The first night, he seemed to be OK. I wasn't able to go to see him because of my condition, but Arkell did."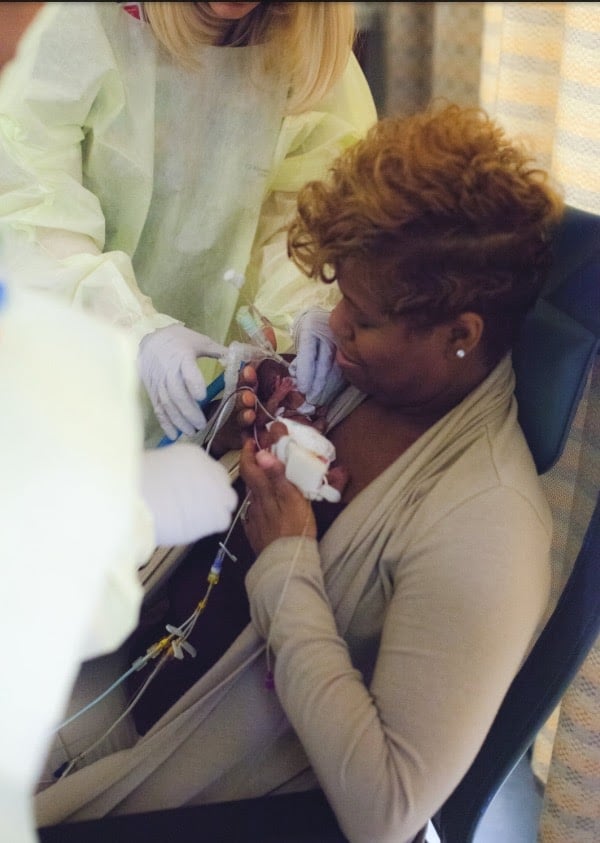 By the second night, doctors feared the worst. Kaleb had nine different medications being pumped into his umbilical cord. And though Dana wasn't fully healed, they invited her to the NICU to say goodbye to her son. "They told me he probably wasn't going to make it through the night," she said. "I told them they needed to do any and everything possible to keep him here."
It took 11 medical professionals to get Kaleb into Dana's arms. She spoke and sang to him for a half hour before saying goodbye. "I told him that this was not going to be the last time that he heard my voice, and I just still believed — even though they told me that he was not going to make it — that he was going to make it through the night," she said.
After asking for prayers on their social media channels, Kaleb miraculously survived the evening. In fact, his condition improved so much throughout the night, doctors were able to pull him off two medications. "They said, 'He's not out of the woods, but he's better than where he was,' and I was just thankful for that," Dana said.
"If we're going somewhere as a family, we're going as a family. If we're going to the mall, he's going to the mall. If we're going to church, he's going to church. When we went on a cruise, Kaleb went on a cruise."
Kaleb spent 356 days in the hospital in total. "There were so many times that I saw the doctors revive my baby," Dana said. "He would literally die, and they would have to bring him back to life. There were many times when the doctors would meet us at the door to give us some type of bad news, what critical state we were in, or something else that they were going to try."
Eventually, Kaleb was allowed to go home for the first time, but it wasn't without challenges. Since he was diagnosed with 14 different illnesses and special needs — including cerebral palsy, tracheomalacia, and lung issues — the Graves family had to adjust to their new life, which they were more than happy to do.
"Of course people will look at him," Dana said. "At first, when we came out of the hospital, I said, 'I'm not going to isolate him.' We have nurses in our home, but if we're going somewhere as a family, we're going as a family. If we're going to the mall, he's going to the mall. If we're going to church, he's going to church. When we went on a cruise, Kaleb went on a cruise. We took his nurse with us, but we definitely want to just make sure that he's interacting in our everyday life. We want to ensure he's exposed to things."
Dana said that every time they left the house, they needed to bring along roughly 85 pounds of equipment — including six different machines — but that wasn't the most difficult part. "In the beginning, it would make me feel bad when people would stare, but then it gave me an opportunity where I could educate people. I had to be comfortable with that. It was truly hard to accept the reactions of other people when they saw him."
Regardless of some of the initial challenges, Dana and Arkell are grateful for their now-4-year-old son, who recently began attending preschool three days per week. "Kaleb has the biggest and best smile ever," Dana gushed. "He laughs at everything. You can tell he's really coming into his own with his personality. He loves music. He loves dancing. Kaleb brings a lot of light to people."
In the years since Kaleb's birth, Dana and Arkell started a nonprofit called Baby Buns 4 Life Network, which helps parents who have children in the NICU. To keep up with the Graves family, follow them on Facebook.