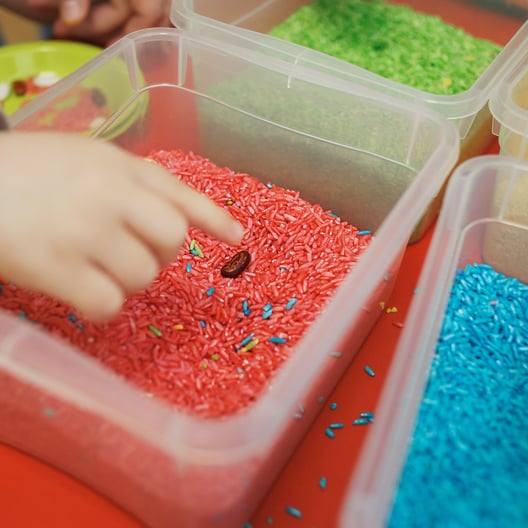 An Activity For Teaching Kids About Animals
Parents can teach children which animals swim and which ones roam the land with this fun sensory-play activity.
An Activity to Teach Kids How to Count
Use felt balls and a dice to help children learn to count.
An Activity to Teach Kids About Patterns
Gather some dot pens and a few strips of paper to teach kids the simplicity of patterns. We have a feeling they'll get the hang of them in no time.
An Activity to Teach Kids About the Sounds Letters Make
Help kids isolate the sounds that words make by using dictation, a tried-and-true method that's perfect for little ones.
An Activity to Teach Kids About Mixing Colors
Your children will adore learning about the art of mixing colors. All parents have to do is provide their kids with blue, yellow, and red water along with a few empty glasses.
An Activity to Teach Kids About Numbers
Fill a sensory bin with beans or rice and plastic numbers to help little ones learn what order numbers go in.
An Activity to Teach Kids About Transportation
This fun activity will teach toddlers if boats, cars, planes, and trains belong in the air, at sea, or on the road. We love how Sole uses cotton balls to depict the clouds!
A DIY Calculator Activity
Help children build their very own calculator using cardboard, clothespins, wooden numbers, and colorful pom-poms.
An Activity to Help Kids Learn to Read
Toddlers will love engaging in this prereading exercise that involves small plastic toys, a sensory bin, and a list of words. They'll enjoy matching the toy with the word and learning about how to blend sounds.
An Activity to Teach Kids About Sorting Colors
Have toddlers use a pair of kid-friendly chopsticks to match colored toys with their respective cupcake wrapper.