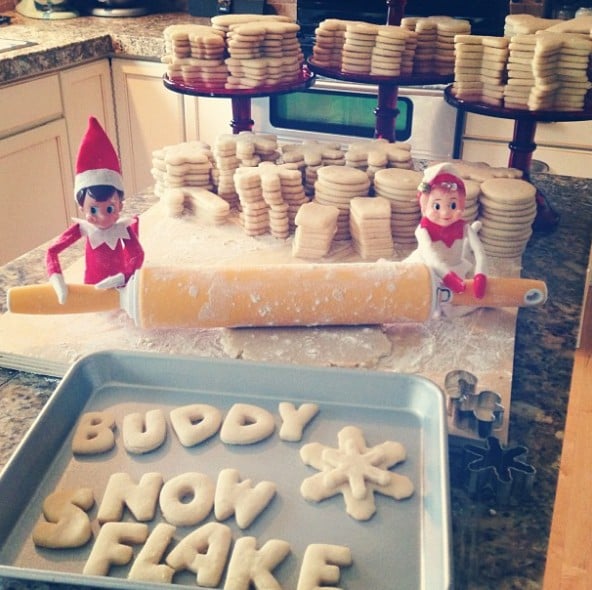 It's that time of year again! Stockings are hung by the chimney with care, presents are tucked safely under the tree, and Elf on the Shelf (aka you) cause mischief at night when your kids are asleep. The elf, which can be named a number of cute, holiday-themed things, becomes a part of your family every year to help Santa Claus keep tabs on everyone's good behavior. While not every parent is thrilled with the idea, so many people go all out with creative and hilarious scenarios for their kids to wake up and find.
You can do quick and simple things to ignite your child's imagination, like having your elf make snow angels in baking flour or drink maple syrup out of the container with a straw, or you can go snowballs to the wall if you have the time (and energy). Things have become slightly easier in recent years with all the cute Elf on the Shelf accessories you can buy, but there's still so much detail that goes into planning and executing the ideas. Keep reading for some of the more elaborate Elf on the Shelf ideas to really step up your game.
01
Up, Up, and Away
This idea might seem simple at first, but when you need to make sure the dog doesn't get it or it doesn't float toward a sharp corner, you need to plan, plan, plan.
02
Hot Air Balloon Tightrope
Anything that happens in midair is tricky, even for a magical Christmas elf.
03
Pillow Fight
You can use some of your kids' other toy accessories to set this one up, but just make sure you have a few feathers on hand.
04
Stranger Things
Take your kids to Hawkins, Indiana, with this cool (and slightly creepy) Stranger Things setup.
05
Gumdrop Village
Putting together a gumdrop tree is pretty easy, but those tiny gingerbread men with wraparound arms? Work.
06
Lemonade Stand
Missing Summer? Take your kids back to those hot and sticky days and have your elf run its own (insanely detailed) lemonade stand.
07
Minecraft
These pixelated details are perfect for the video game-lover in your life.
08
Kiss the Cook
Minibiscuits and doughnuts? Wow.
09
Macy's Thanksgiving Day Parade
This re-creation of the Macy's Thanksgiving Day Parade in New York City is so clever and fun.
10
A Concert
Turn your elf into a major celebrity by throwing a candy cane-infused rock concert.
11
Birthday Party
Re-create your kids' favorite birthday party, but on a much smaller scale this time.
12
Dog Cupcakes
Have a beloved family dog? Let your kids know their elf loves their furry friend too with these spot-on cupcakes.
13
Texting Santa
Sure, this one doesn't include an elaborately staged set, but you still have to get someone in your photo to agree to be Santa and text back and forth about your kids' good and bad behavior.
14
A Work of Art
You can probably buy little drawings online, but why not channel your inner artist and try to do a portrait yourself?
15
The Voice
Your kids will definitely turn their chairs around for this hilarious re-creation of The Voice.
16
Christmas at Home
If you're enjoying a heavily decorated and festive house, why not do the same for your elf? Everything from the tiny stockings to the opened present boxes makes this one come to life.
18
Swinging Into Christmas
Get the handy person in your life to build an elf swing.
19
Under Elf Watch
This one is for a whole classroom of students, but you could easily re-create this in your own living room.
20
Baking Up a Storm
Wait until your kids are asleep to bake a huge batch of festive cookies, and pop in an elf or two before you hit the hay.