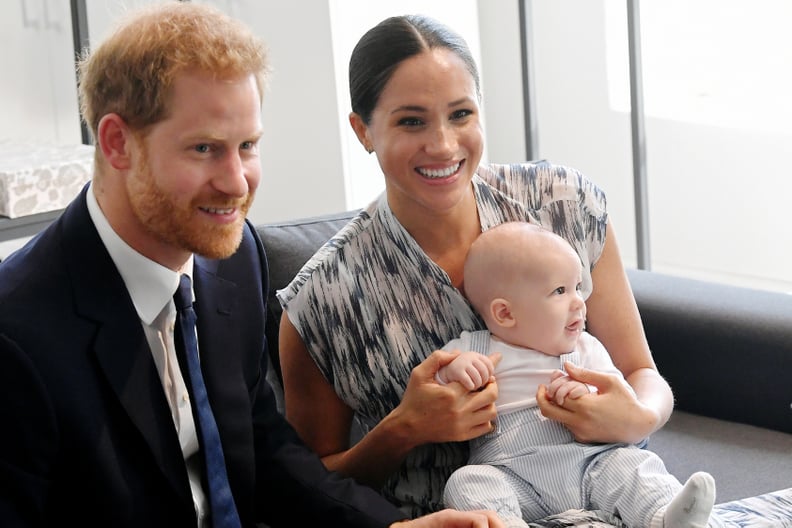 Prince Harry and Meghan Markle want to soak up every moment with their son, Archie, in private! According to the new royal biography, Finding Freedom by Omid Scobie and Carolyn Durand, the pair wasn't keen on having live-in staff after Archie was born.
"Harry and Meghan had agreed they didn't want their home filled with staff," wrote Scobie and Durand. "Harry had seen that situation at William's home (the Cambridges had a live-in housekeeper and a full-time, live-in nanny), and didn't want the same for his own family."
Understandably, the couple wanted to spend as much time with their newborn as possible without any outside interference. "He and Meghan liked the idea that when they went to bed at night, it was just the three of them in the house," the authors explained, adding that the couple wanted to feel "cozy and private."
Initially, Harry and Meghan opted to hire a night nurse, however, she was let go on her second evening with the family for "unprofessional and irresponsible" behavior. "The new parents hired a second night nurse, who did a good job, but due to the incident with the first nurse, neither of them felt comfortable getting a full sleep at night without going to regularly check on Archie," the book reads. "After a few weeks, they decided to take the nights themselves and completely deprived themselves of a night nurse."
Recently, the family moved into a nine-bedroom, $14 million mansion in Santa Barbara, CA, with plenty of room for 1-year-old Archie to explore. "Archie is really happy, and he has space to run free," a source told People. "The house came with a play structure that he'll be climbing in no time. They're excited to be there and to become part of the community. It's a really happy time for them as a family."