Questions Pregnant Women Ask Doctors During Coronavirus
5 Questions Pregnant Women Should Be Asking About Their Birth Plans During the COVID-19 Outbreak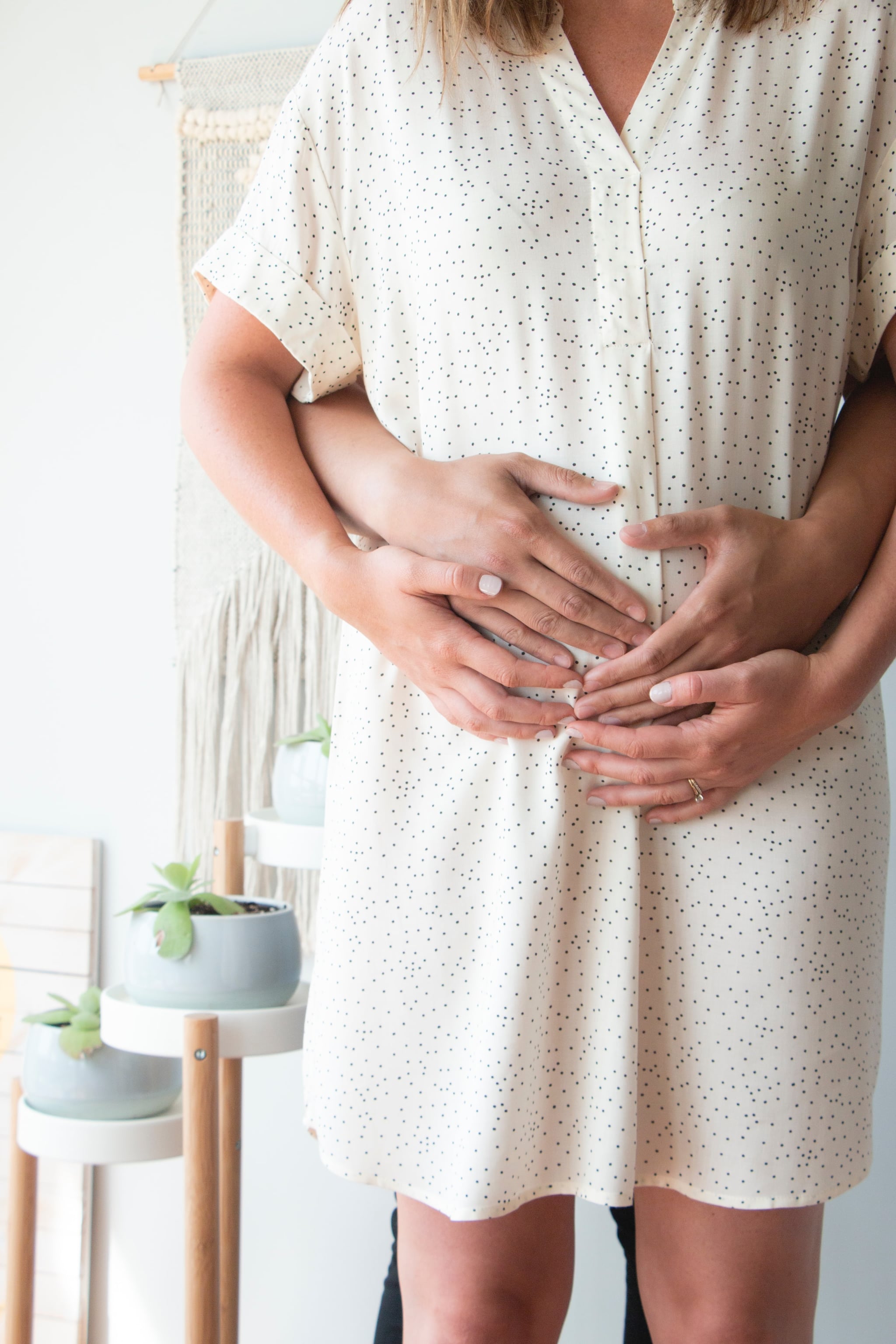 For families who are bringing a new baby into the world any day now, navigating the birth process during the COVID-19 outbreak can be incredibly stressful. With guidelines and recommendations seemingly changing daily as far as social distancing goes, it's perfectly normal for women to have questions about their birth plan and how the process will go once they're admitted to the hospital. We spoke with medical experts ranging from ob-gyns to nurse-midwives about what questions women should be asking health professionals about giving birth.
1. How is my birth plan going to change amid the COVID-19 outbreak?
The biggest concern for most soon-to-be parents is understandably how their birth plan is going to change. "First and foremost, ask your doctor what — if any — changes in your prenatal care will occur based on the COVID-19 pandemic," Dr. Michael Cackovic of maternal and fetal medicine at The Ohio State University Wexner Medical Center told POPSUGAR. "For example, we are trying to streamline some nonessential early visits to reduce potential exposures to patients. Also, consider asking if there are changes or protocols in the hospital that will affect you during labor and delivery."
Dr. Megan Gray, an ob-gyn at Orlando Health Physician Associates in Florida, agrees that because hospital procedures are ever-changing right now, it helps to be as flexible as possible.
"They should confirm with their physician the protocols in place at the hospital where they plan on delivering."
"The American College of Obstetricians and Gynecologists recommendations for pregnant women have not changed," said Dr. Gray. "Women should understand that this is a novel virus — meaning it is a brand new strain of the coronavirus family — one which no one has encountered before until now. The data is limited, and recommendations can change quickly as we acquire more information about how the virus affects pregnant women, fetuses, and babies.
As far as Dr. Gray is concerned, women shouldn't hesitate to reach out to their doctors. "If women have any questions about their health during pregnancy, they should always call their physicians first to receive guidance over the phone for next steps in management," she said.
2. Should I labor at home for as long as possible amid the COVID-19 outbreak?
Emily Neiman, a certified nurse-midwife at The Ohio State University Wexner Medical Center, encourages women to use their best judgment when it comes to laboring at home.
"Our goal is to limit exposure for everyone — including families and staff — so if women can labor at home until they are in active labor, it will likely reduce their potential exposure," she explained. "Obviously, this shouldn't stop women from going to the hospital if they are in severe pain, can't feel their baby move, or are concerned about their bleeding. We are trying to discharge women and babies (who have had an uncomplicated birth and are low risk) to home at 24 hours postpartum. Again, this is to try to minimize the potential for exposure and to encourage social distancing."
Dr. Cackovic also says it doesn't hurt to call your ob-gyn while you're laboring to see whether or not you should make your way to the hospital if you're unsure. "A good rule of thumb is to first call your obstetrician to see if it is necessary to come into the hospital," he suggested, adding that keeping the exposure rates down is key. "Perhaps they can answer a question as opposed to your coming in and potentially being exposed."
Should I pack anything different in my hospital bag?
Dr. Gray and Lorraine Parker, a labor and delivery patient care administrator at Orlando Health Winnie Palmer Hospital for Women & Babies, want to remind new parents that hospitals will still have the basics.
They agreed that: "Most everything a new mom will need the first few days after delivery are supplied at the hospital, such as pads, a perineal bottle, medications, ice packs, soap, and gowns. Right now, we would recommend packing the essentials that you are willing to dispose of at the hospital before leaving to avoid bringing them home with you. These items would include things like a toothbrush, toothpaste, shampoo, conditioner, flip-flops, socks, and a comfortable gown or PJs." Additionally, Parker suggests bringing a laptop and charger, so you can video chat with family members who can't visit.
4. What should I be asking while I'm in the delivery room?
Neiman encourages soon-to-be parents to believe that no question is truly off limits in the delivery room. "It would be good for women to familiarize themselves with what the policy is for their specific place of birth," she said. "Are there any changes with how mom and baby are cared for? Is there a chance of the baby being separated from mom? What is the policy if mom is COVID-19 positive or under investigation?"
5. How should I stay calm if my birth plan changes?
Dr. Gray encourages new moms to keep an open mind about the labor and delivery process as much as possible. Even without a COVID-19 outbreak, the way a baby comes into the world is always subject to change.
"Just like life in general, labor and delivery can be unpredictable, events can change quickly, and no experience is the same," explained Dr. Gray. "Discuss the idea of a birth plan with your physician several weeks prior to your due date. Your physician will be able to give you the best advice on what to expect from the labor and delivery experience to help you best align your expectations. If you go into the experience with the mindset that your team is there to help you have a safe, successful and well-supported delivery, despite any changes that may arise throughout the process, it will be easier to stay calm if everything does not go exactly as planned."
"With COVID-19, it's pretty likely that families may need to change their birth plan."
Neiman agrees that birth is unpredictable under the best of times, so if things don't go your way, don't fret. "A plan is always just that, and not a guarantee," she said. "With COVID-19, it's pretty likely that families may need to change their birth plan. Again, being flexible is key. If one thing needs to change, brainstorm with the support team about what things on the birth plan can still be accomplished. Changing one aspect does not mean that the whole plan needs to be thrown away!"
POPSUGAR aims to give you the most accurate and up-to-date information about the coronavirus, but details and recommendations about this pandemic may have changed since publication. For the latest information on COVID-19, please check out resources from the WHO, CDC, and local public health departments.