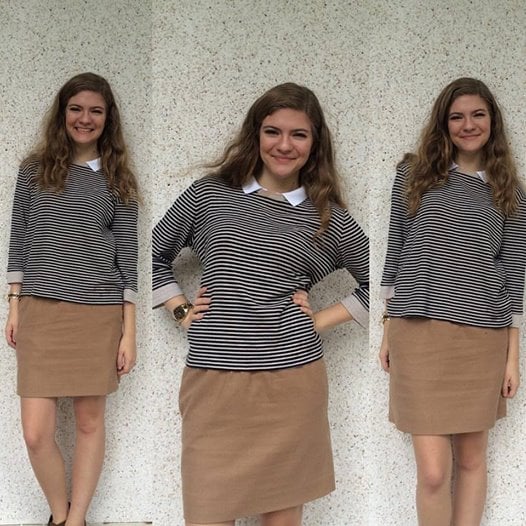 Facebook | Casey Burgess
There were a lot of things that got the Internet going in the last 365 days, but it's safe to say that discussing and arguing over school dress code policies was something that consistently put peoples' opinions front and center this year.
From letters home about appropriate dress at events to actual photos of outfits that caused students to be sent home and suspended, these 10 dress code controversies made everyone's blood boil in 2015.
01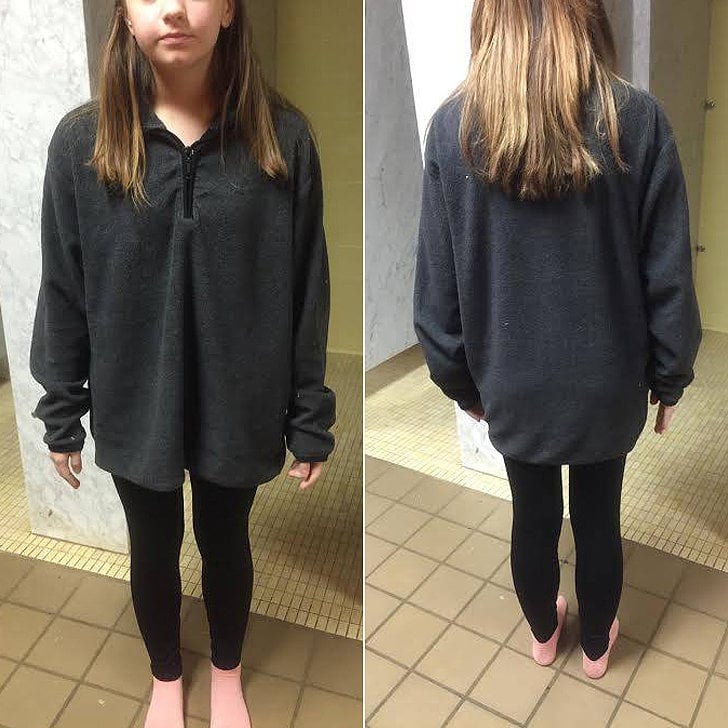 Lose the Leggings
Back in September, Deanna Wolf took to Facebook to air out her frustrations with school dress code policies after her daughter — a sophomore in high school — was kicked out of class and placed in in-school suspension for improper dress. Her outfit of black leggings and an oversize fleece pullover was said to be inappropriate, as according to the school, leggings are not permitted to be worn as pants themselves because they're too "revealing" for the classroom.
02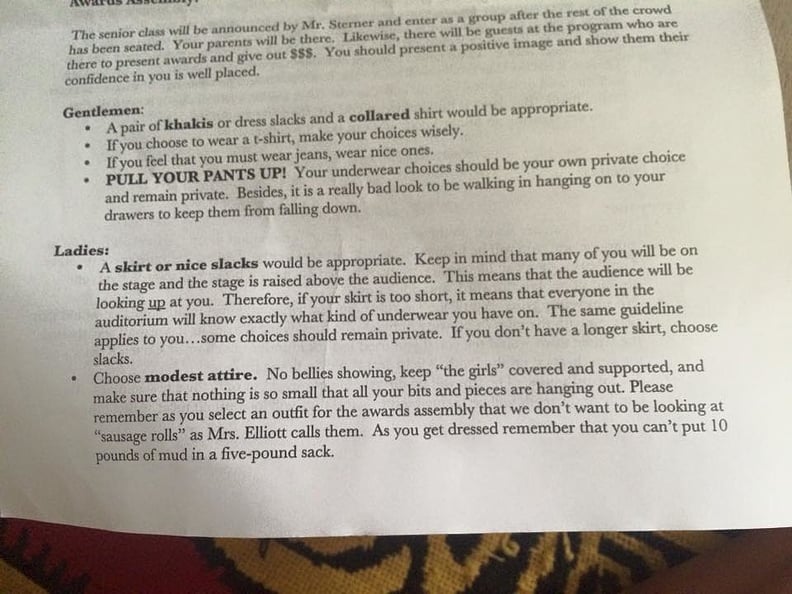 Please, No "Sausage Rolls"
As Biglerville High School in Pennsylvania was gearing up for senior graduation last May, the faculty sent a letter home detailing dress code expectiations — it was so offensive, it was hard to find a line that didn't make you raise your brow. Yikes.
03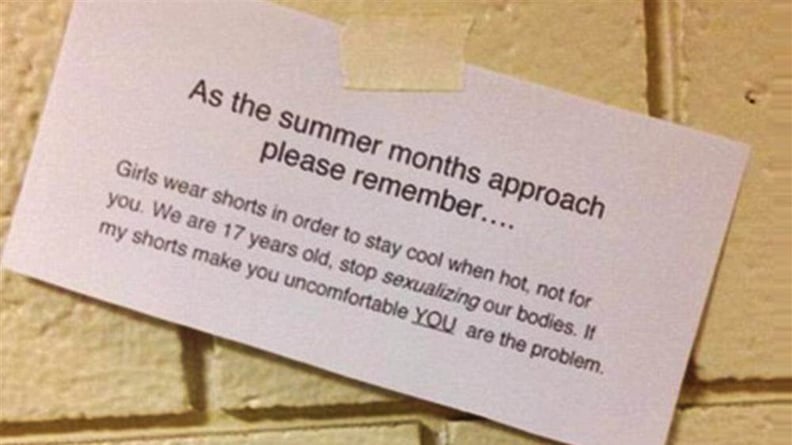 Students Fight Back
In one school, female students went so far as to print out notes and tape them to the school's walls to combat a dress code rule applying to girls' shorts. The notes read, "Girls wear shorts in order to stay cool when hot, not for you. We are 17 years old, stop sexualizing our bodies. If my shorts make you uncomfortable YOU are the problem."
04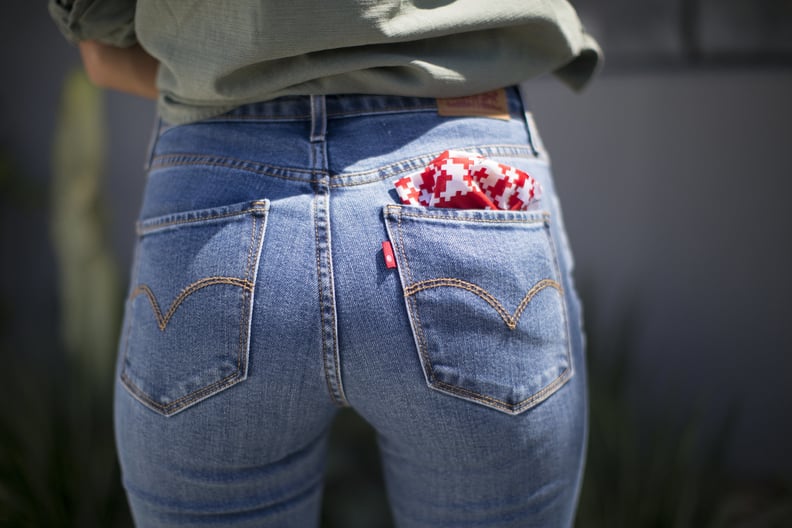 Tight Policies For Tight Pants
The administration of Trentham High School in Staffordshire, UK, surprised the Internet when it made a decision to ban tight pants because of their potential to distract the school's male teachers.
05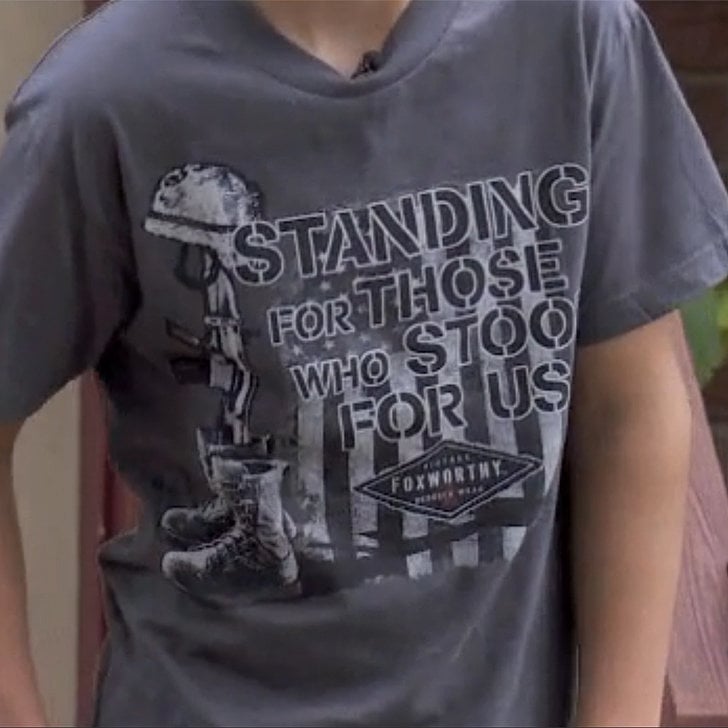 Support the Troops, but Not With Your Clothes
Alan Holmes, an eighth grade boy, was suspended for wearing a patriotic t-shirt to school in support of the troops — mainly his older brother, a Marine. The issue with the shirt was an image of a gun pictured alongside the words "Support Our Troops." Holmes said at the time, "I was heartbroken. My brother, he means everything for me. Just being able to help and give back to the people who fought and died for us it just makes me feel good."
06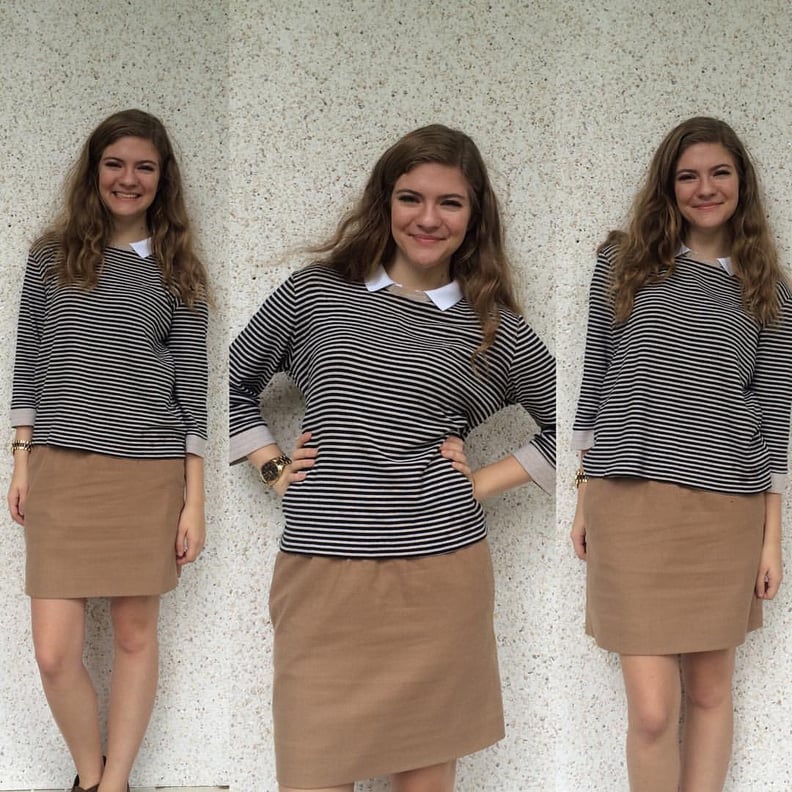 Doesn't Matter If You're the Student Body President
In a post to Facebook back in October, Casey Burgess, student body president at Beaufort High School in South Carolina, shared three photos of herself in a loose three-quarter-sleeved top with a nonformfitting skirt that came a few inches above the knee, alongside a story about how she got suspended for the outfit — a fashion choice that many would deem "modest."
07 Leopard Locks
Forge Valley School in the UK sent 13-year-old Lauren McDowell home on the first day of school due to her leopard print hair (similar to the photos above), and her mother was outraged: "As far as I'm concerned it's a breach of my daughter's human rights. She had the hair cut about a week before she went back to school. No one has the right to tell someone what to do with their body."
08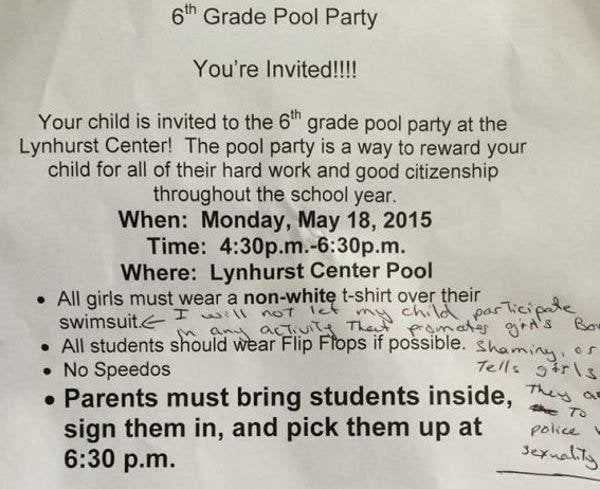 Pool Party Poopers
When Jennifer Smith received an invite to her son's school pool party — in which female students were being asked to wear white t-shirts over their swimsuits — she immediately posted it to a feminist Facebook page, sharing the original note that included her scribbled response to the school. "I will not let my child participate in any activity that promotes girls body shaming," she wrote. The school made wearing t-shirts optional after Smith brought the issue to their attention, and her son reported that not one female student wore one.
09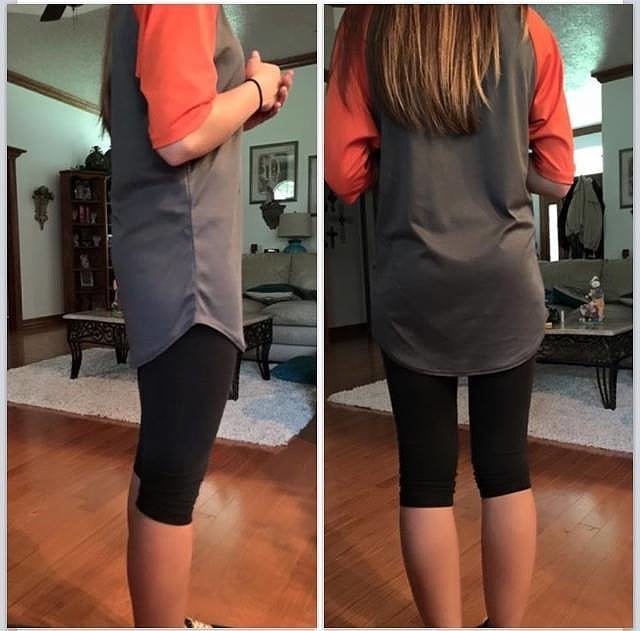 Sisters Standing Up For Each Other
Macy Edgerly, an honors student at Orangefield High School in Orange County, TX, was sent home for wearing cropped leggings and a long, loose baseball tee, which prompted her sister Erica to post to Facebook in outrage.
People wonder why women feel insecure about their bodies or what they wear . . . And it's beause you're told your clothing is inappropriate when you're completely fully clothed, even when you're not showing cleavage or anything. . . . Bottom line, girls cannot go to school in comfortable clothes THAT COVER EVERYTHING because school systems are afraid that hormonal boys won't be able to control their eyes and minds.
10
No-Hawk
Jakobe Sanden was sent to the principal's office at Arrowhead Elementary School in Utah over a hairstyle — a traditional mowhawk, which represents Jakobe's Native American heritage. At the time, his father said, "I told the superintendent I was in no means going to cut his hair because it's a symbol of who we are," and eventually was able to get his haircut approved (after jumping through several hoops!).
What do you think of this year's craziest dress code controversies?