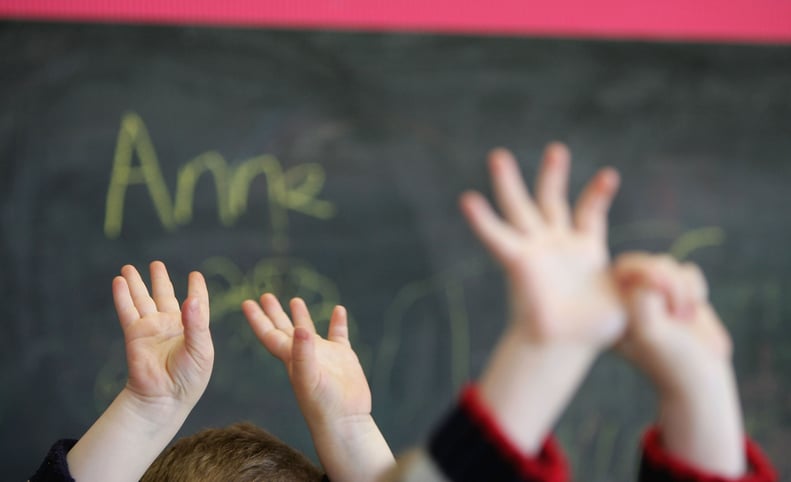 Christopher Furlong | Getty Images
Christopher Furlong | Getty Images
*Names appearing with an asterisk have been changed and/or last names have been withheld at source's request.
Fifth Grade Teacher, Nebraska
Mary*, a fifth grade teacher in Omaha, NE, said her school district is starting the year with a "3:2 plan," meaning half the class will attend school in person for three days a week before switching over to distance learning for the remaining two days. The following week, groups will swap. Unlike many of the teachers POPSUGAR spoke with, Mary's district is requiring masks to be worn at school and sending an iPad home for every student.
Still, she said she's been frustrated to hear parents and lawmakers without education credentials float the notion that schools are "leaving children behind by not returning as normal" during the pandemic. In-person classes right now can't possibly be "normal" anyway, Mary said. Students are experiencing frightening changes that are difficult to grapple with, and those changes don't simply disappear inside school walls. "It's not 'normal' to have to potentially cope with the death of a classmate, teacher, or parent due to COVID-19," Mary said.
She also noted her school's zip code as one with the highest number of cases in the state, a fact that compounds her back-to-school anxieties. "Every year I get sick within the first three months of the school year," she told POPSUGAR, "and I don't think this year will be an exception."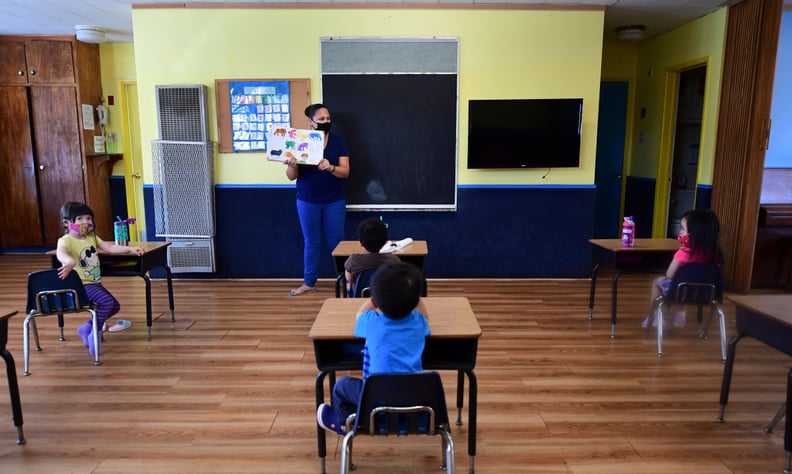 Sixth Grade Social Studies Teacher, Georgia
Sixth grade social studies teacher Jennifer* said her Georgia school district missed a crucial opportunity to open schools safely. "We could've made our schools socially distanced activity centers and partnered with the YMCA and churches," she explained. "Instead, we are giving out fortune cookies and hoping none of them say 'COVID death.'"
Jennifer said her school "gave parents the option to go digital or in person" for the upcoming year, a choice that was made "based on a survey conducted mid-June that showed moderate support" for in-person attendance. The catch to the option her district put forward, she explained, was that the district "made it clear" they would not supply all students with computers. "In a county with extreme economic diversity, this is the equivalent of saying, 'Poor kids are screwed.'"
Beyond a lack of necessary technical resources, Jennifer outlined several reasons why she fears the year ahead could be disastrous. "Masks are required, but many parents are saying their kid can't or won't wear them" to school, she told POPSUGAR. "Our classrooms can only hold eight students when socially distanced. We will have 24-32 in each room at a time, and they will eat in the classroom." In a county she described as having "the highest number of cases in the state and the largest school system," she is worried COVID-19 could easily spread in her school.
"I value my roll in the mental, emotional, and social wellbeing of students," Jennifer said, "but when does mine matter? I give my students everything joyfully, but not my life or my family's."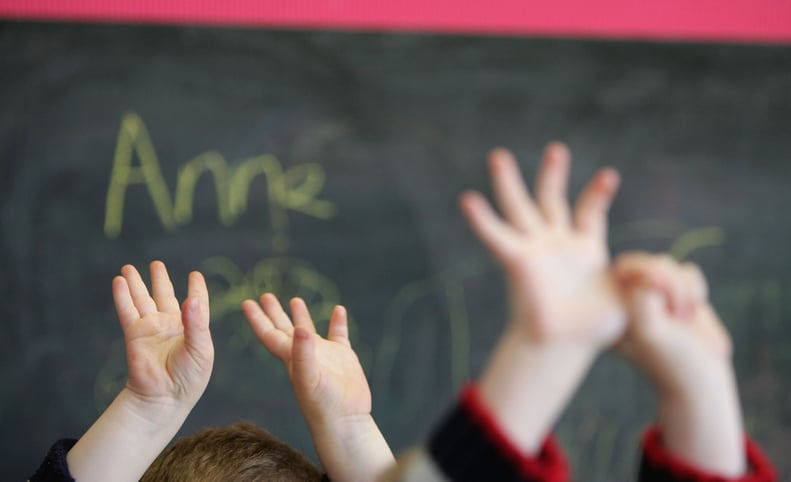 First Grade Teacher, Sioux Falls, SD
As a newly pregnant first grade teacher, Jane* told POPSUGAR she's concerned her school district is proceeding with the school year "like normal." The little instruction she said she's received via email from administrators outlines a plan that will not enforce the wearing of masks.
"I think masks should 100 percent be a requirement to open normally," she said, adding that she's "very concerned" about the overall lack of preparation."It feels like many people in my city and state are in denial of the severity of COVID," she explained.
Though some educators have reported considering leaving the profession altogether over safety concerns, Jane said that isn't an option for her family right now. "I need the income and ability to take maternity leave," but she is also worried that she won't be able to do her job well under such stressful conditions. She told POPSUGAR it's been especially frustrating to feel like South Dakotan educators lack support from their own community. "People keep saying '[young] kids don't get sick,'" she explained, "and it feels like no one cares about staff and students who are immunocompromised."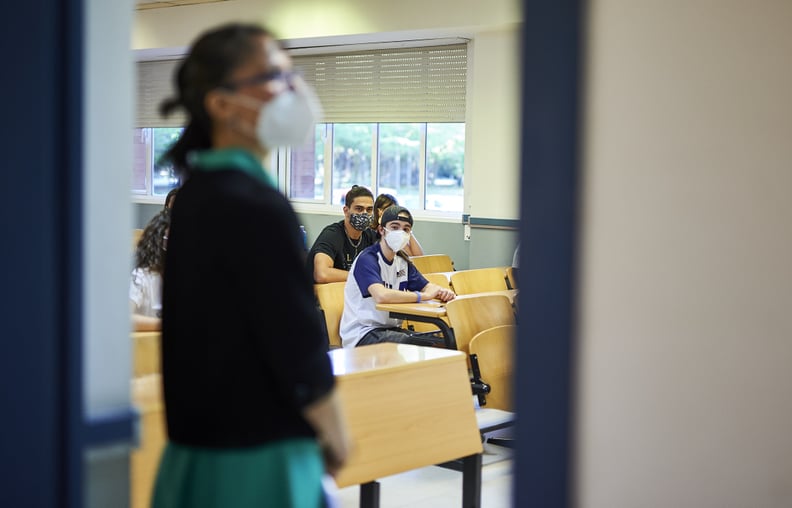 Prekindergarten Teacher, New York
Joanne*, a pre-kindergarten teacher at a private school in Manhattan, is still waiting to hear what the year ahead has in store for her job. She said she's not aware of any specifics yet, only that her school "will be following Department of Health's guidelines" and the New York City public school system's lead.
For now, she said she'd be hesitant to return to her classroom in part because she fears her 3- and 4-year-old students aren't developmentally prepared to socially distance themselves. "My young students are just learning about hygiene and I'm sure they will be coughing and sneezing on each other as usual," she told POPSUGAR.
Joanne said that teachers are already asked to do so much with scarce resources during a regular school year. In the midst of a pandemic, she said many teachers are being asked to sacrifice even more than usual. "We take financial hits with pay that is not proportional to our work, we take physical hits with being overworked, and I just don't think that we should take a health risk. When is enough, enough?"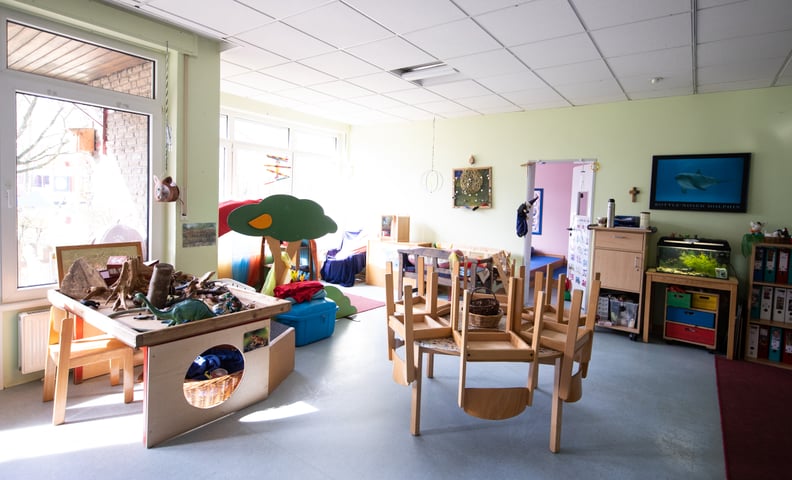 Special Education Paraeducator, Connecticut
Kendall Euler said she's "somewhat comfortable" returning to her Connecticut school in the fall. A special education para-educator, she said she misses "the hugs, the smiles, and the laughs" of her students. Though she described the school district she works for as "very supportive and accommodating" of its staff, she's worried about returning to an in-person setting. "There are a lot of 'what-ifs' to consider," she explained, "and until September comes, we won't know what to expect."
In the meantime, Kendall said she wants parents to know teachers are just as nervous as they are about the future. "It's a really difficult situation that nobody seems to know how to handle, but we are going to do our best to provide a safe and effective learning environment for their children."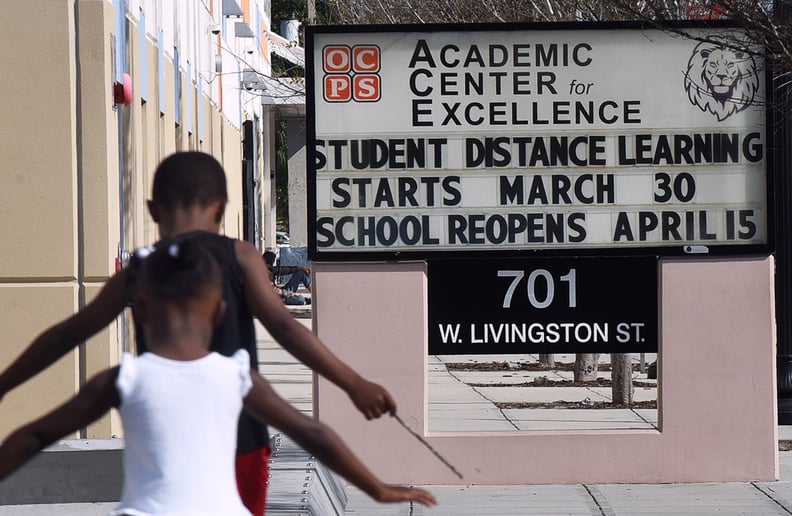 Elementary Art Teacher, Nebraska
On a scale of one to 10, with 10 being completely comfortable returning to in-person school, Nebraska-based art teacher Audrey* rates her current comfort level at a five. "I am lucky to work for a very progressive and well-organized district," she said, but with information around the pandemic being "so fluid," it's hard to feel entirely confident. What teachers are being asked to do, she told POPSUGAR, seems both "dangerous and not realistic."
"Of course, teachers and everyone that works within the school system want what is best for every student," she told POPSUGAR. "We want them to be safe and to be spared any long-lasting trauma that may come from being out of school," but it feels like an unreasonable ask. "No teacher, no matter how much they care," Audrey explained, "can realistically carry out the plans that I have seen."
With public educators already grappling with dwindling resources, Audrey feels like educators are being pushed beyond their limits. "My school's budget was cut by 25 percent this year. Teachers are being forced to spend their own low earnings to purchase materials to keep themselves and students safe," she said. "How much can possibly be asked of teachers?"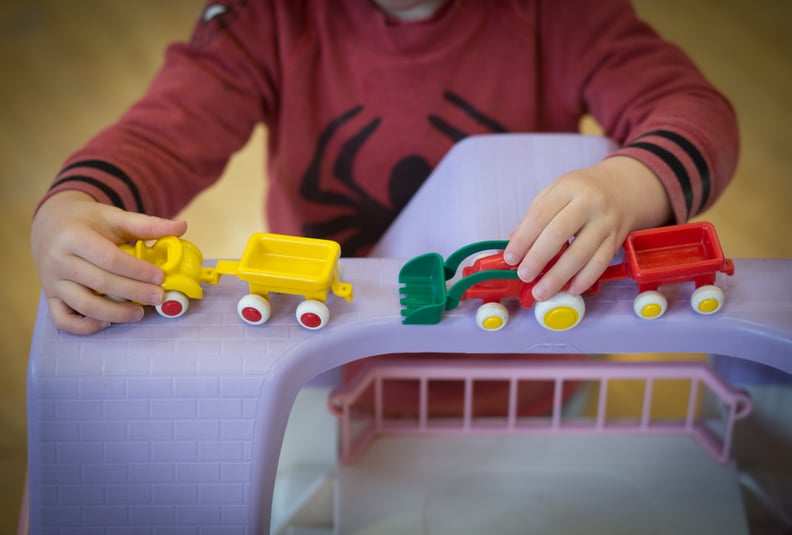 Kindergarten Teacher, New Jersey
Brooke* said planning for the upcoming school year makes her feel "stuck in the middle" between two less-than-ideal options. "I know school is the best place for students to learn, but I am unsure if it is the safest space for them to be just yet." She is also worried for the health and safety of her own two school-age children.
For now, she's waiting for her school's reopening committee to release its plans on Aug. 1. She's encouraged that the New Jersey district she works in has been open to the idea of alternate plans for those staff members who are uneasy returning to the classroom setting so soon.
No matter what happens in the fall, Brooke told POPSUGAR that speaking positively to children at home about school — no matter what school looks like come September — is "the only way this will work."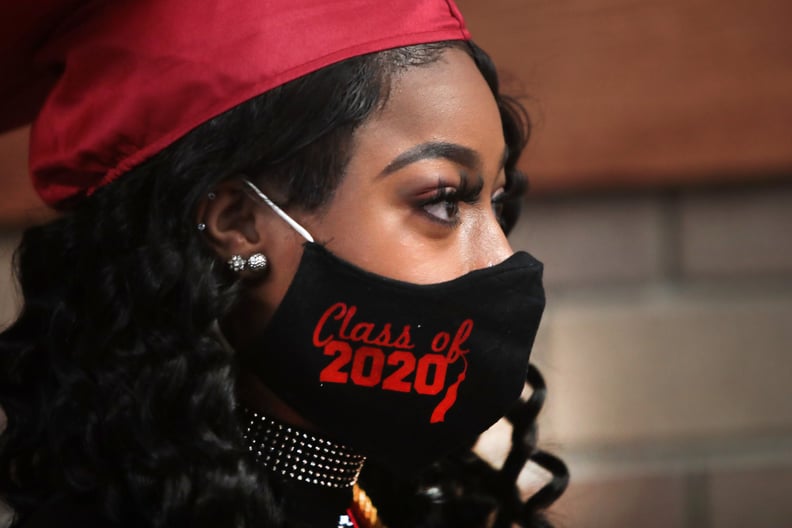 12th Grade American Democracy and Economics Teacher, California
Madison*, a 12th grade American democracy and economics teacher in California, just learned of her school's plans to continue distanced learning this fall. Though it's a relief not to be forced back into the classroom, she said she wishes the decision had been made earlier. "As teachers, we need time to make this massive pedagogical shift and summer planning sessions are needed," she told POPSUGAR.
Madison explained that many of her students already faced significant challenges outside of school before the pandemic hit, and those challenges have only been exacerbated in recent months. "Too many of our students lack WiFi, food, and other supports," she told POPSUGAR. Right now, she said educators in her district "need help serving our students," connecting them with the appropriate technology for distance learning and advocating for school funding. Above all, Madison wants people to focus on connecting young people with the resources they need to navigate education during a pandemic. "There are children in your communities who need your support right now."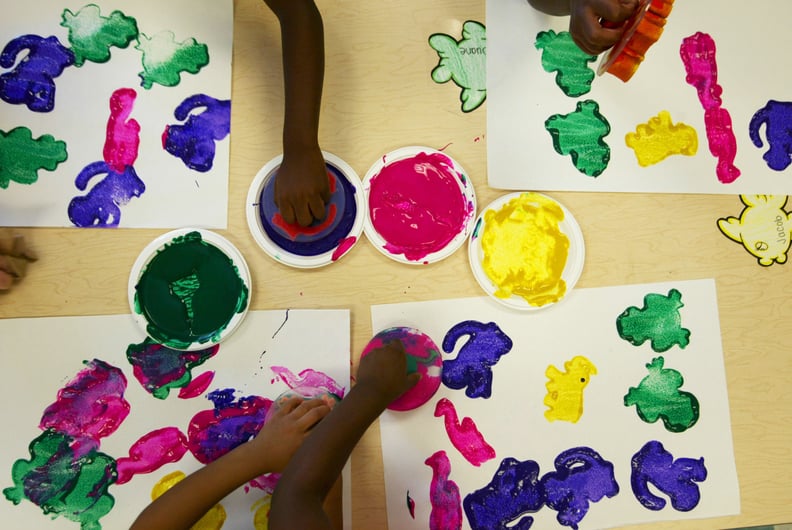 Art Teacher, California
Stephanie Maples, a kindergarten through fifth-grade art teacher in California, said she's pleased she won't be forced back into the classroom this fall. She knows not all educators will be so fortunate. "Some teachers are expected to teach in person, which seems complicated for teachers with children," she told POPSUGAR. "What happens when a student or teacher is diagnosed? How will the district handle health benefits and sick leave and covering substitutes? Will exposure mean [workers'] compensation?" The list of questions without solid answers is endless for a constantly evolving situation without modern-day precedence.
Maples, who has three children of her own, said she would feel "not comfortable at all" working in close proximity with every student in her school. For her, it all comes down to a lack of information. "We don't know enough about this virus to subject our kids to it."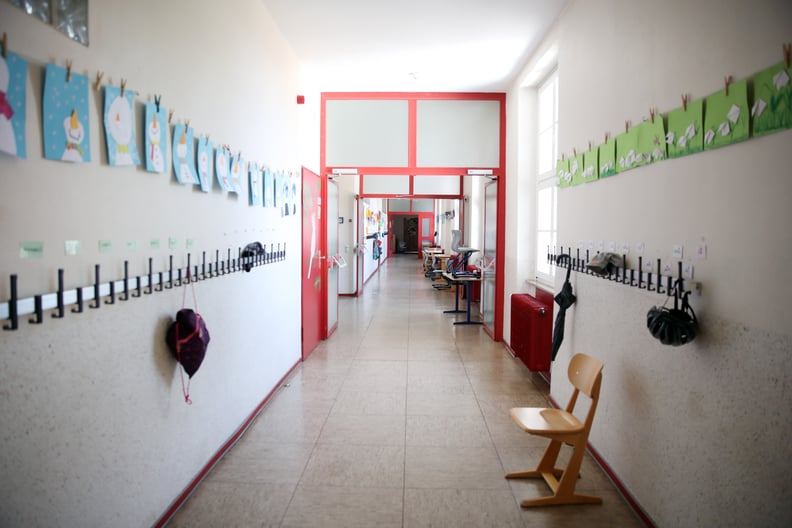 Special Education Teacher, Texas
As a special education teacher and single mom, Kay* said it's rare for people to see her visibly stressed out. But with the first day of school rapidly approaching and a pandemic rapidly spreading across her state, that's no longer the case.
Most parents at Kay's school are able to choose between in-person attendance or two types of distance learning. "Since I teach SPED, the virtual classes do not apply. But SPED teachers have not been notified [regarding] updates or revisions" to those guidelines.
While she said her school district plans to take daily temperature scans of all students and teachers before entering the building, "nothing has been said about what happens if there are any positive cases 'after the fact.'" For now, Kay said she feels "nervous" about returning to work and confused about the plans put in place in her district. "I'm not sure why we are proceeding with a plan to open with this many cases, especially since we closed [schools] when there were hundreds of thousands of less cases."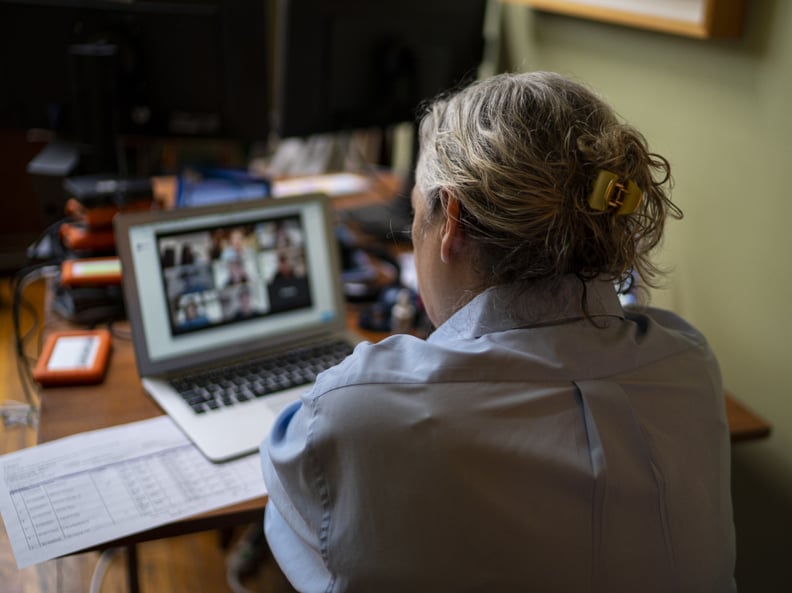 Accelerated Literacy Teacher, San Francisco
Mariela Ramirez said she's "satisfied" with her San Francisco-based school's decision to continue distance learning in the fall. Still, she feels "unsure" about how well students can learn and teachers can teach under such stressful conditions. She wants frustrated parents to know she understands their pain. "I am also frustrated with teaching online and understand it is a lot to navigate," she told POPSUGAR. "But I will try my best to make learning engaging and rigorous."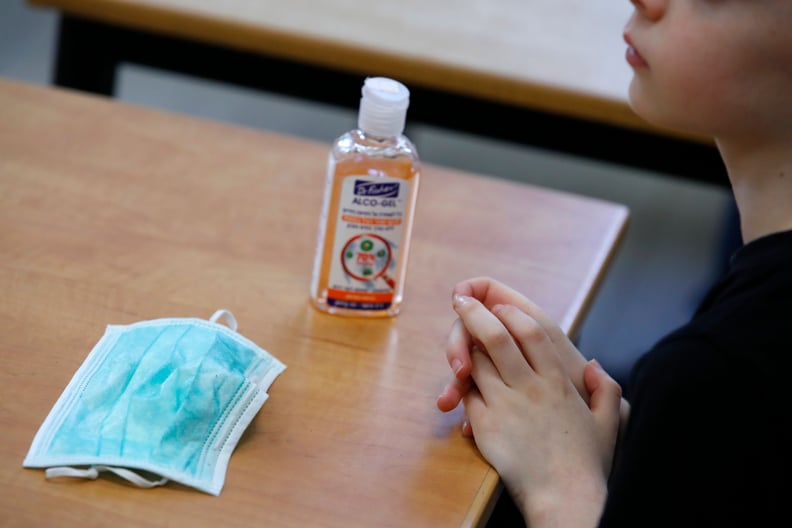 Seventh Grade Spanish Teacher, South Dakota
Seventh grade Spanish Teacher Ivanna* said she's "not comfortable at all" with her school's plan to return to in-person classes in the fall. But she wouldn't necessarily want to share that information with her students' parents. "I don't want to cause additional worry," she told POPSUGAR.
She noted her school's reluctance to demand students wear masks as a concern. It's an especially confusing policy for Ivanna considering schools in her state closed earlier this year when there were very few COVID-19 cases, but are reopening without enforcing masks while the disease continues to spread more rapidly across the country. Still, she said she has no plans to leave her profession despite the health risk, telling POPSUGAR, "I love what I do."