Darius Wagner, a Black 15-year-old student at St. Mark's School in Southborough, MA, is determined to go into politics one day. As the head of the Black Lives Union at his school, he is dedicated to broaching difficult conversations regarding race as well as building unity within the student body.
Highly motivated and a self-proclaimed history and literature buff, Darius excelled as a young student at Uncommon Schools Excellence Boys Charter School in Brooklyn, NY, before being admitted to St. Mark's. Because the charter school mostly caters to Black students, Darius was thrilled when Jermaine Isaac, a Black first-year, seventh-grade history teacher, walked into the classroom.
"Mr. Isaac gave a lot of good advice on how to be successful in this world, especially because he came in teaching history," Darius told POPSUGAR. "He definitely tied the conversation from the past back into the present, which was beneficial. Mr. Isaac also allowed for open space discussions within the classroom based on current events."
Darius found Mr. Isaac's methods inspiring, especially when the topic of Black history was discussed. Seeing how race and history are intertwined in the US made Darius eager to learn even more. "The conversation about the Civil War definitely played into a lot of modern realities for African Americans across the country," Darius shared. "Especially how systematic racism still plays effect in damaging our economy as a whole."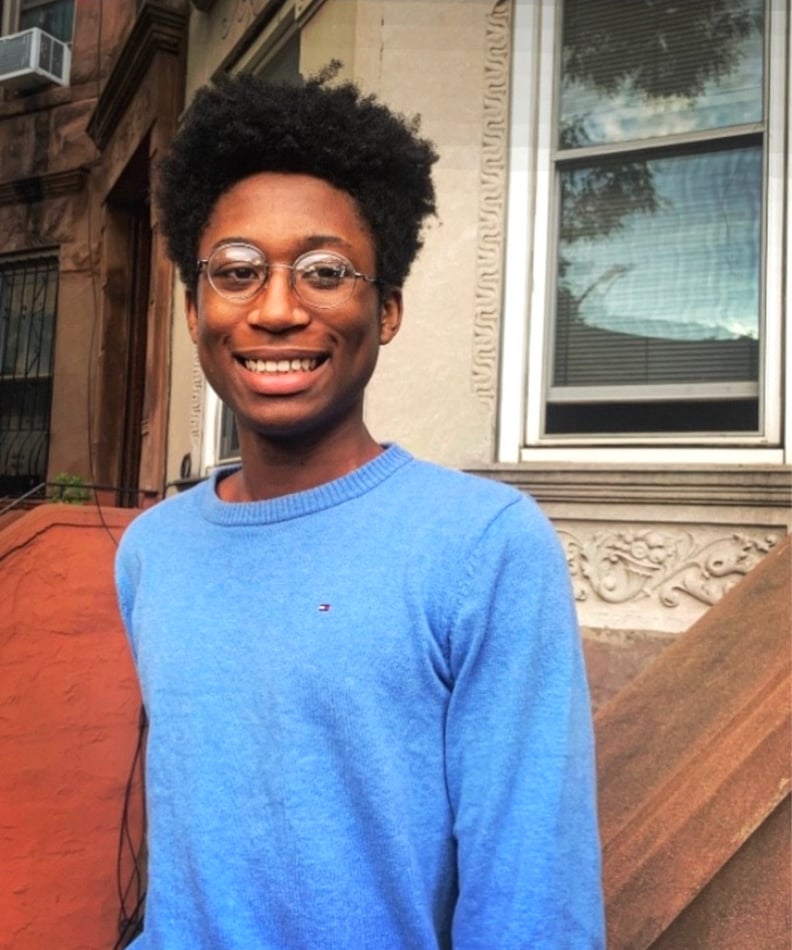 Darius has had mostly white female teachers starting at a young age, so his experience in Mr. Isaac's classroom sticks out in his mind. Although he readily admits he learned a lot from most of the educators he's come across, Darius believes that having more Black teachers in the classroom can only benefit other students.
"Putting better resources into communities that are resource deserts is where we can truly implement change," Darius explained. "In certain classrooms, having a teacher of color could be important for students who might have a harder background or upbringing. Additionally, having more Black instructors in the later stages of education — like in junior high and high school — would likely make a big impact on graduation rates."
How Many Black Teachers Are There in the US?
According to research released by the Department of Education in 2016, people of color make up only 18 percent of teachers nationwide. And of that number, only two percent are Black men. This is particularly problematic given the racial and ethnic backgrounds of students enrolled in US public schools. In fall 2017, 48 percent of public school students identified as white, 27 percent as Latinx, and 15 percent as Black.
Teaching is unquestionably a profession dominated by women. (Overall, 77 percent of American educators are women). But unfortunately, adequate racial and ethnic representation in the classroom is still lacking. Demographic and economic trends play a large part in where teachers work.
According to the National Center for Education Statistics, in the 2015-2016 school year, 31 percent of teachers in city schools were nonwhite, compared to 18 percent of teachers who taught in suburban schools and 11 percent of teachers who taught in rural districts. Additionally, the percentage of minority teachers in suburban schools was higher than the percentages in town and rural schools. Also notable: nonwhite teachers accounted for 29 percent of total educators in public charter schools. In traditional public schools, nonwhite teachers only accounted for 19 percent of educators.
Do Students Benefit From Having Black Teachers?
Darius is onto something when it comes to the benefits of having more teachers of color in classrooms — but these benefits start at an even earlier age. In fact, having a Black teacher early in their educational years can positively impact Black children's futures. According to a 2017 study from Johns Hopkins University, low-income Black students who have just one Black teacher in elementary school are "significantly more likely to graduate high school and consider attending college."
After studying 100,000 Black students who attended North Carolina public schools between 2001 and 2005, researchers found that having at least one Black teacher between third and fifth grade reduced the chance of a Black student dropping out of school by 29 percent. For Black boys who specifically identified as low income, the figure jumped to 39 percent.
"Black students matched to Black teachers have been shown to have higher test scores."
"Black students matched to Black teachers have been shown to have higher test scores but we wanted to know if these student-teacher racial matches had longer-lasting benefits," coauthor Nicholas Papageorge of Johns Hopkins explained. "We found the answer is a resounding yes. We're seeing spending just one year with a teacher of the same race can move the dial on one of the most frustratingly persistent gaps in educational attainment — that of low-income Black boys. It not only moves the dial, it moves the dial in a powerful way."
Certainly, the Johns Hopkins study is illuminating. However, David Kretschmer — a professor of education at California State University, Northridge, and a director of the Future Minority Male Teachers of California Project — put it quite simply: "Kids do better when they're taught by teachers who look like them. That's just the way it is. That's why we need more men of color in American classrooms, period."
The issue of discipline also comes to a head when discussing the number of white teachers teaching Black students, and it may have to do with ingrained prejudice. The rate of exclusionary discipline — or when a student gets sent away from his or her classroom due to a behavioral issue — is higher for Black students, particularly males, when they're being taught by white teachers.
"Seeing teachers of color as role models or in positions of power will benefit kids in the long run."
According to a 2015 study by Stanford social psychologist Jennifer Eberhardt, students with "Black-sounding" names, like Darnell or Deshawn, were more likely to receive a harsher punishment compared to their white counterparts if they were being taught by a white educator.
Anecia White, a Black third-grade educator from Minneapolis, MN, who teaches in the same school district she attended as a child, believes that all students — regardless of their race — would benefit from having more Black teachers. Although she works with predominately Black children, she thinks white students would benefit from diversity in the classroom, too.
"We need more teachers of color so students are getting information from more authentic sources," she told POPSUGAR. "Even outside of my school, seeing teachers of color as role models or in positions of power will benefit kids in the long run. Currently, we see more white people in positions of authority and power. Having students see people of color in those roles will build a different type of respect at a younger age, and it will make them more open to building relationships with other people of color."
Why We Need More Black Teachers, According to Black Teachers
Fabiene Boone, a fourth-grade teacher with a love for math who recently won the Harriet Ball Excellence in Teaching Award, knows firsthand the important role that Black educators play in students' lives. Growing up in Bloomington, IN, he attended public schools with predominately Black and Latinx students and has had roles in the educational system in both Texas and New York.
"I had predominantly white teachers growing up," Fabiene told POPSUGAR. "I had a handful of Black female teachers. I didn't have my first actual Black male teacher until I was in middle school, and he was an art teacher. The students in my elementary and middle school were predominantly Black, but the teaching staff was overwhelmingly white."
Because Fabiene is raising a 15-year-old daughter of his own, he strongly believes there needs to be more Black teachers in classrooms.
"It allows kids to see Black teachers in a different light, especially when it comes to men."
"I think the diversity brings another perspective," he shared. "It allows kids to see Black teachers in a different light, especially when it comes to men. Having that Black male figure for little girls to see in real life is important. Most of the time when we see Black males on television or in movies, they're depicted as big, aggressive men who are selling drugs or in jail. Having teachers of color break down those stereotypes that are often seen within media."
In retrospect, Fabiene believes he would've benefited from having more Black teachers, too. "I didn't have a lot of male teachers growing up at all," he said. "I had always found it difficult to trust men as I got older. I don't know my father either, so I didn't have that male figure in my life. The first time I was able to really trust the men around me was when I joined a fraternity in college."
Garrett Johnson, a high school biology teacher at Pelham Memorial High School in New York, agrees, saying he has reaped just as many benefits working with students of color throughout his career.
"There were certain relationships that I've had with students of color that were beneficial for both parties."
"Prior to teaching in Pelham, I worked at charter schools in Harlem and the Bronx where it was predominantly students of color," he told POPSUGAR. "There were definitely relationships that I was able to create because I am a male teacher of color. Honestly, I'm not sure the relationships would've been fostered without that connection."
After getting a teaching job in his hometown of Pelham — which is 63 percent white — Garrett believes being one of the few Black teachers on staff has given him a unique outlook.
"There were certain relationships that I've had with students of color that were beneficial for both parties," he explained. "Having my students being able to see a teacher of color in this role and being able to relate to me — especially because I was a student of color in that high school — is a big piece of the conversation as well. I can relate to them."
In Anecia's experience, having Black teachers will also positively influence the curriculum as well as students' career paths.
"I love to teach African-American history because it's often not taught in any of our textbooks," she said. "I like to bring in a lot of outside resources into the classroom. For example, there are tons of Black inventors that students probably don't know about. I try to go beyond just the regular Black History Month topics year-round. Our history doesn't start with slavery. We come from kings. We come from queens. I'm big on driving that home. If Black students knew where they come from, they'll have a better idea of where they want to go."
She noted that there aren't many Black role models for kids to look up to in the media beyond athletes. "We're not seeing a lot of Black doctors, lawyers, or inventors," she said. "We need to show them that these people exist! Many of my young male students want to be professional athletes — and that's great — but what other options are there?"
What Are Some Challenges Black Teachers Face in the Classroom?
Of course, attracting teachers of any race has been challenging thanks to budget cuts and low salaries. However, Fabiene believes the lack of Black teachers is rooted in a deeper issue: how the education system in the US is perceived.
"The title of an educator or teacher is not on a pedestal as high as that of a doctor or a lawyer," he shared. "It has a lot to do with how the public views the teaching profession. Many people see it as a bridge to get them where they want to go into their real careers. That's a problem. As a whole, as a country, we don't put education on the forefront."
"As a whole, as a country, we don't put education on the forefront."
Furthermore, Fabiene noted that his day doesn't stop when he leaves the classroom, which many people who lack a background in education overlook. "I've had to have talks with students' families," he told POPSUGAR. "I'm dealing with their struggles and issues, too. We're not just juggling kids' emotions. We're juggling parents, grandparents, aunts, uncles, essentially whoever is taking care of the student at the moment. It takes a village. I don't think a lot of people see what teachers do behind the scenes."
Unfortunately, Black teachers have also felt othered in the teaching space as a whole. Rann Miller — a former teacher who taught high school history and social studies in Camden, NJ, for six years — explained that his colleagues often defaulted to him for disciplinary issues.
"There tended to be a heavy reliance on me with respect to discipline because I am a Black man," he told POPSUGAR. "They were just like, 'Oh, he can get them to listen. So let's lean on him to do that.' In reality, I earned the cooperation from my students by engaging them in the classroom and treating them with respect. These are two things that any teacher can do. I didn't have any special strategy. I just did those two things. But there tended to be a heavy reliance on me, regardless."
Understandably, he felt pigeonholed into the role of strict disciplinarian, despite his other strengths on the education spectrum. "People didn't come to me for content knowledge," Rann said. "Maybe they didn't necessarily think that it was my strong suit. I think that they looked at me as someone who was the children-of-color guru because I am Black."
"This is just one example of how my Blackness was weaponized in an attempt to get the kids to do what the school wanted them to do."
After being promoted to a more senior position within the charter school, Rann found himself in an uncomfortable situation when the school announced a slight schedule change.
"The kids were used to walking out at like 3:50 p.m., and now they couldn't leave until it was 4 p.m.," he explained. "The principal at the time was having a tough time getting kids to listen to her. There was security there, but the students weren't listening to them, either. They were just walking out. After a couple of days, I was called upon to stand by the door and make sure the students wouldn't leave. There were a bunch of students at the front door, and I was the only person there. I was the only thing holding these kids back. This is just one example of how my Blackness was weaponized in an attempt to get the kids to do what the school wanted them to do."
Anecia echoed this sentiment, noting that while she teaches in a school district that's overwhelmingly Black, only approximately 30 percent of the teachers on staff are people of color. Furthermore, in the entire state of Minnesota, Black educators make up an underwhelming five percent of the teaching population.
"Our teacher's assistants and most of our support staff are generally people of color," Anecia said. "Sometimes, I feel isolated as one of the few Black educators. It may be because I'm a person of color or being a minority or because I'm only 26 years old — but I definitely feel alone sometimes."
How Do We Get More Black Teachers in the Classroom?
Although it may make sense to implement more training programs for white teachers at first, given the ongoing demonstrations across the US, Rann believes it's going to take more to truly change educational institutions.
"I'm starting to get off of this train of we need to train white teachers and that'll help," Rann explained. "I honestly don't know if that's going to help. For example, police officers who have been trained against using excessive force have still been using excessive force. It's going to take school districts declaring that they're antiracist and actually implementing antiracist policies to truly effect change."
"The problem isn't that there aren't enough of them out there. The problem is that districts aren't necessarily seeking them out."
He noted that school districts need to come to terms with the fact that its institutions are often stacked against teachers of color. "There has to be an acknowledgement that schools have historically been and continue to be white institutional spaces that feed off of anti-Blacks," he said. "When schools can come forth and say that — and then pledge to reverse it with new policies — everything else will fall into line."
Lastly, Rann said that in order to hire exceptional Black educators, schools need to find them. "There is certainly a shortage of Black teachers, especially men," he said. "The problem isn't that there aren't enough of them out there. The problem is that districts aren't necessarily seeking them out."
A great first step would be starting with students who attend historically Black colleges and universities. "Districts expect for everyone who wants a job to come see them," he said. "They don't think that they have to go out and look for the candidates that they want. But if there's a commodity that you're looking for, you can't expect it to come to you. If districts really want to hire Black teachers, they can do that. There's money to do that."