We could only ever imagine Meryl Streep and Nicole Kidman in fully sequined and sparkly outfits helping us with our promposals, so we'll live this experience vicariously through Emma (Jo Ellen Pellman) in The Prom. The film has enough razor-sharp wit for adults to enjoy, and it's also full of positive messages and Broadway glam for the entire family. The film follows Emma, an out lesbian teenager who wants to take her girlfriend to prom, but finds her dream squashed by an intolerant PTA committee. Lo and behold, that's when a group of glittery Broadway veterans dash into her little town in Indiana to lend her a (jazz) hand.
The Prom is brought to us by none other than Ryan Murphy, one of the head honchos behind the acerbic wit of American Horror Story and Glee. But while many of Murphy's projects have a dark and twisty vibe to them, The Prom is actually quite family-friendly. Its PG-13 rating is pretty fair — you've got rude humor, mild language, and jaded adults. Still, it's mostly a feel-good treat, especially for a year that hasn't been quite so feel good. Ahead are a few points to consider as you watch The Prom with your kids.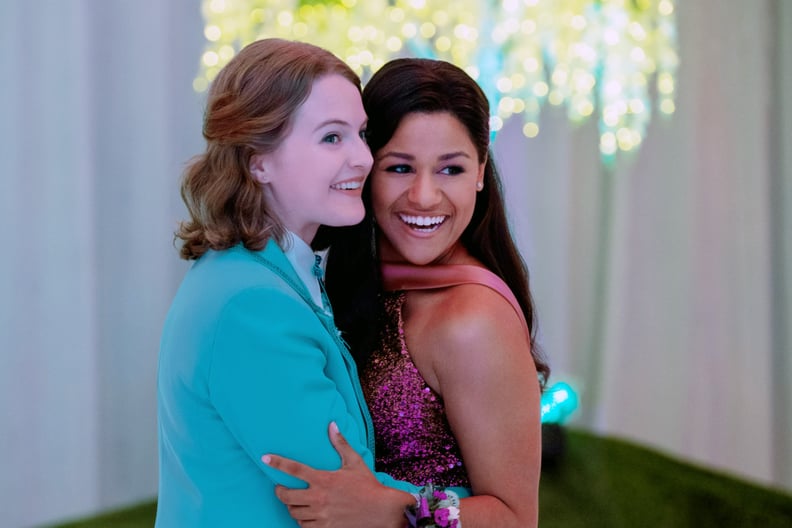 The Protagonist Is a Positive Role Model
While it's usually the kids who have something to learn in the movies, here, it's the cynical adults who have a lot to learn from Emma, the movie's brave and level-headed protagonist. The washed-out Broadway stars take her lead and grow into kinder human beings who stand up for what's right. By the end of the movie, Emma also creates a prom where LGBTQ+ kids can feel safe and included.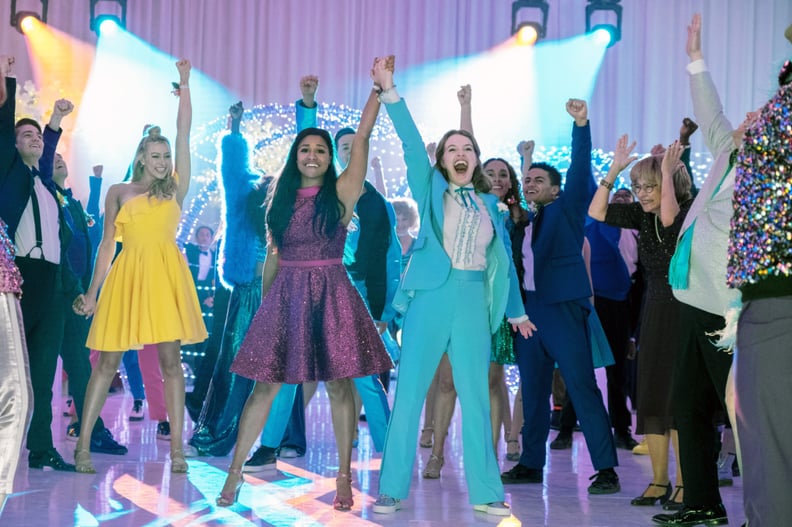 The Movie Is Full of Uplifting Messages About Acceptance and Growth
With maybe the exception of the principal (Keegan Michael-Key), the adults in The Prom are pretty flawed, using rude, cynical humor as an exterior shell. In fact, they're downright opportunistic at the beginning, using Emma's story to get good press. But nobody's too stubborn to grow; Dee Dee (Meryl Streep), for example, learns to put others' interests above her own. In addition to meaningful character growth, the movie's story is all about love and acceptance.
While the film celebrates the LGBTQ+ community, it allows Emma to be her own character. Emma stands up for what's right, but, as she sings, she doesn't want to be a symbol or trailblazer — she just wants to dance with her girlfriend. Speaking of her girlfriend, the moment that Alyssa (Ariana DeBose) comes out to her mother (Kerry Washington) is truly triumphant.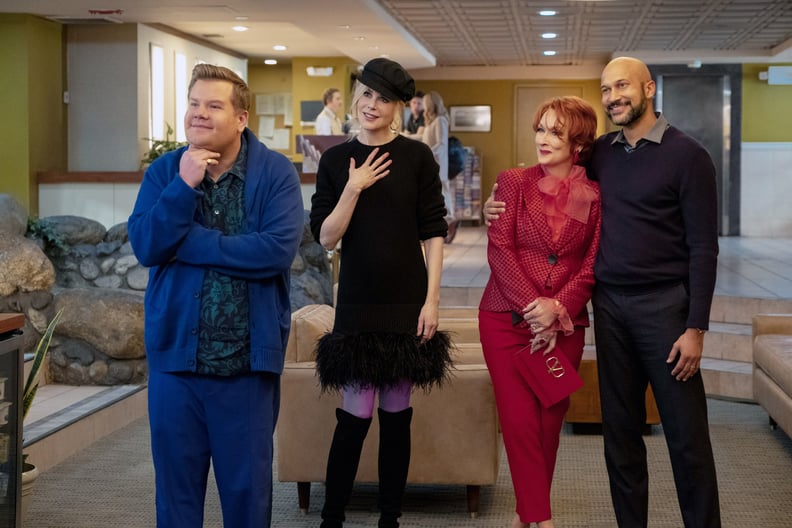 There's Mild Language
The Prom includes gems such as apesh*t, b*tch, and hell, but there's no excessive cussing in the movie.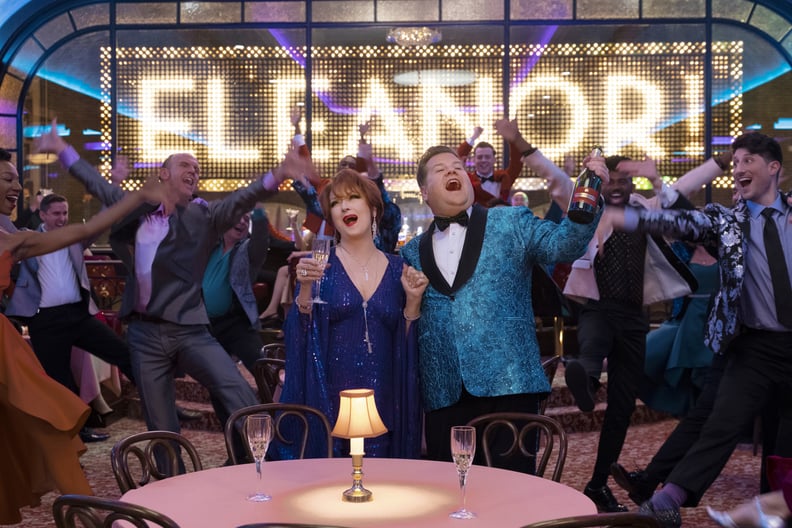 There Are Some Depictions of Drinking
The adults, such as Angie, lean on alcohol, half-jokingly, to forget about their daily anguishes. There's also a moment where Angie and Trent share prescription pills, but instances like this are relatively far and few between.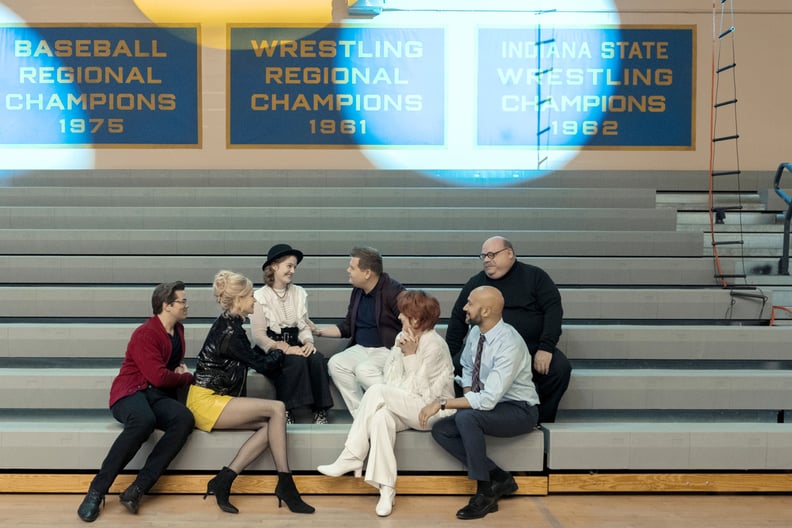 The Story Deals With Heavy Themes
We learn pretty early on that Emma's parents rejected her when she came out and that she now lives with her grandmother. In the spirit of Glee, there's also some schoolyard bullying against Emma — some girls, for example, leave teddy bears in a suggestive position in her locker. The movie gets even heavier when the whole school creates a separate prom, forcing Emma to go to an empty school gym all by herself. Not only do her classmates bully her, but it's also her community that rejects her. Along with Emma's story, we see how her new Broadway godparents (especially Dee Dee and Barry) grapple with their regrets and insecurities as well.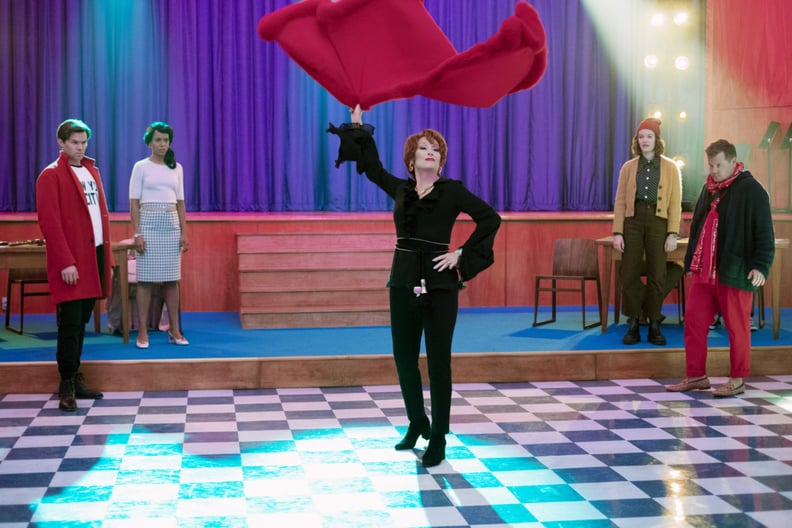 The Movie Is Relatively Long
The runtime is two hours and 12 minutes, but because the film is funny and full of catchy, zazzy, showstopping numbers, it actually goes by quickly. Plus, since The Prom is on Netflix, there are plenty of opportunities to pause and rewind!