Tips For Camping With a Baby
I Took My 1-Year-Old Camping, and Boy, Do I Have Some Advice For You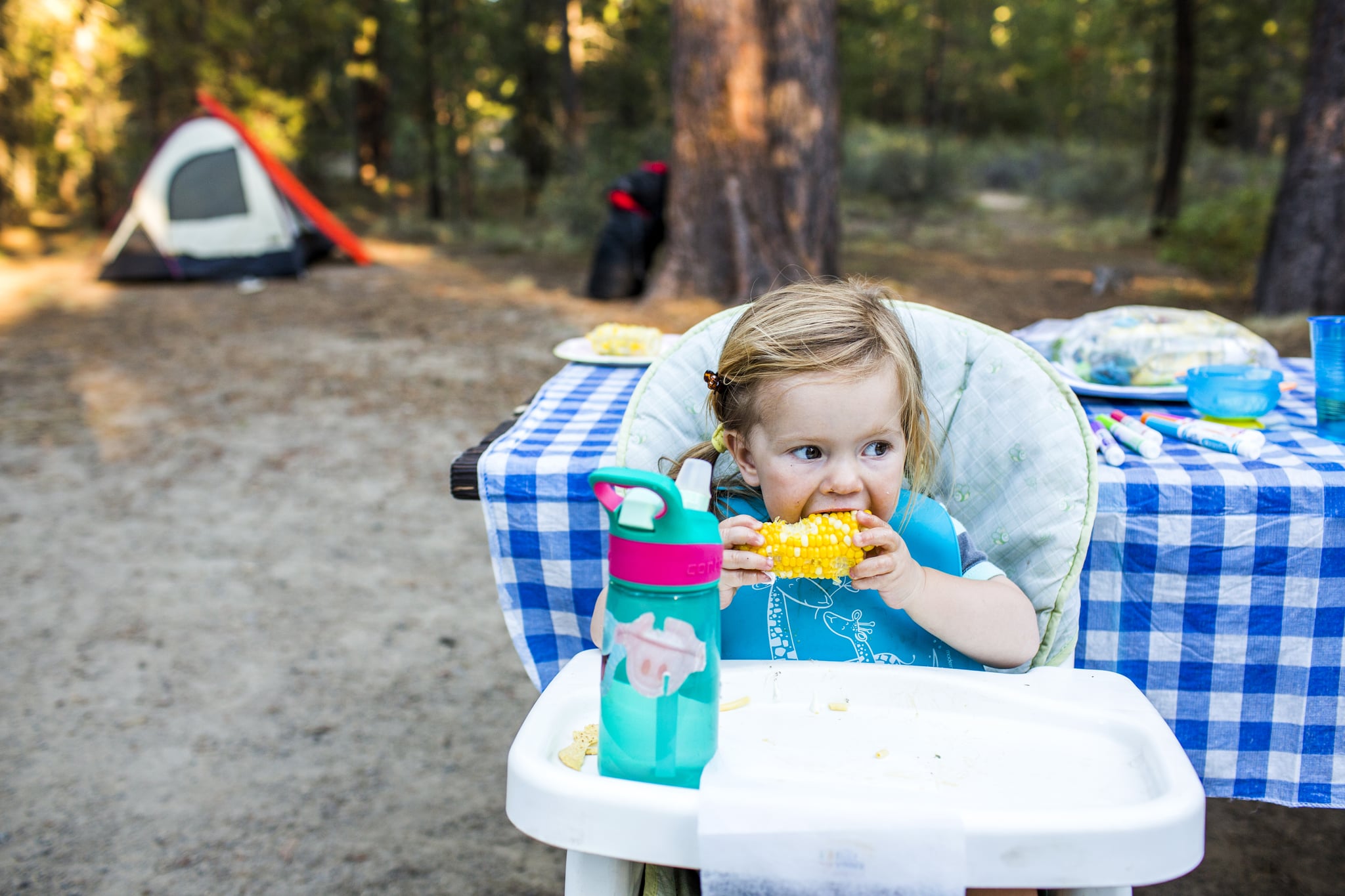 I'm not much for the outdoors, but somehow I decided that taking my 1-year-old daughter camping would be tons of fun. After two nights in the wilds of a very nice campsite in Oregon, I can report back that damn, camping with a baby is way more difficult than anticipated. "But Maggie," you say. "What made you think camping with a baby would be easy?" I didn't think it would be easy! In fact, as a Type-A individual, I overprepared for the trip and still found myself doing breathing exercises in a tent next to a tiny, banshee-like human. If you're considering going camping with your little one, heed my warnings before reserving that creekside spot.
Packing lists are everything: There are numerous sites with extensive packing lists for those taking baby camping. Read them, print them, check those items off. OK, you might not need bear spray, but better safe than sorry, right?
Bring easily accessible foods: No one wants to chop up a peach on a hike. Bring handy fruits like blueberries and grapes. If your baby is picky, cut those bigger fruits at home. Our baby survived on string cheese, hard-boiled eggs (best protein ever), Goldfish crackers, and Lil Crunchies from Gerber.
The more support you have, the better: If you're able, invite friends or relatives. My husband and I brought our dog with us, and that meant that one of us was on dog duty while the other was on baby duty every minute of every day. Thankfully, we had a few friends who could hold her when we needed to prep dinner or go the the restroom. If it were just the two of us, it would have been rough!
Prioritize their sleep environment — then leave them alone(ish): We bought a used pack-and-play from Facebook Marketplace as a makeshift crib that could get dirty, invested a minimal amount of cash into a portable sound machine because she sleeps with music at home, and brought her favorite stuffed animal to cuddle. Annoyingly, our two campsites weren't right next to each other, so I ended up staying with the baby while everyone else huddled around the campfire 30 yards away. As it turns out, my baby didn't want to sleep with me right next to her. She wanted to play! Despite my best efforts to immerse myself in the sci-fi book on my husband's Kindle (side note: remember to bring your own reading material), she wanted to play until 11 p.m. The second night, we brought the group to our campsite and with me now outside the tent, she fell asleep in a mere 30 minutes.
Maybe don't get a campsite right next to water: I love being near running water, but the anxiety that came from having a young child next to a creek was not worth those soothing background sounds. LOL, I couldn't hear those anyway because of the crying baby.
A high chair — or just something to sit in — is key: When my husband and I were both tied up and our friends were busy, we put baby in her lil' high chair with some snacks. Had I thought of it earlier, I would have gotten a washable booster seat, but our convertible high chair worked just fine.
Aside from the obvious — bring a cooler for milk, don't stress-buy portable bottle warmers on Amazon Prime 48 hours before you leave (speaking from experience), pack your best carrier for walking around — that's all I've got for you. Oh, and don't forget your phone charger. You'll be taking lots of pictures of your smiling baby, because they don't know how much work you've put in and they're actually having a great time.