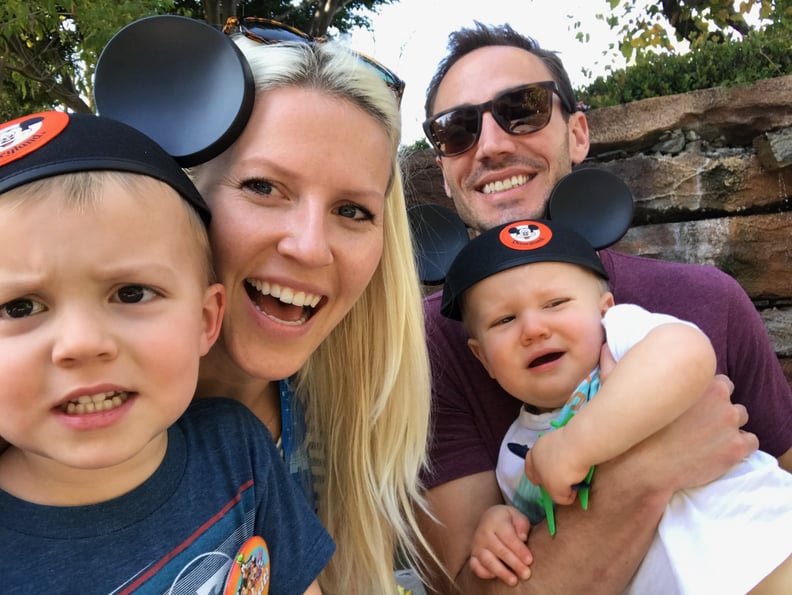 POPSUGAR Photography | Lauren Turner
POPSUGAR Photography | Lauren Turner
Taking your kids to Disneyland for the first time is the ultimate parenting rite of passage (in my book). It might be more expensive than the first day of school or prom dress shopping, but I'm here to tell you that it's totally worth it. But it's also intense and you need to be prepared. After my husband and I successfully navigated two 14-plus hour days with our 3-and-a-half-year-old and 15-month-old along with my sister's family of five (during Spring break, no less), I feel like I learned a few valuable lessons.
Let's start with the real-deal mom stuff:
You can say goodbye to your schedule.
However you structure your days back home is not how you should expect to structure them at Disneyland. In fact, remove the word "structure" from your vocabulary for the entire trip. Structure is not why you're at Disneyland. Feed your kids ice cream and drumsticks for lunch, let them pass out in the stroller, and don't bother with bedtimes. We pushed our kids to the limit over two days between Disneyland and California Adventure, and while the aftermath was rough (more on that later), it was totally worth it to maximize our time at the parks and enjoy the full experience.
Disneyland really is the happiest place on earth.
I had my reservations about taking our young kids to the parks, but I can happily confirm it was so, so worth it. If you embrace the chaos and go with the flow, Disney makes it incredibly easy for your family to have a truly magical visit (they aren't paying me to say this, I swear). I don't know if it's the vanilla scent they pump onto Main Street or the churros, but even with five kids, four adults, and 90 degree days, our trip was so amazing I may have actually shed a tear when we checked out of the hotel.
The time we spent together, the smile on my son's face when he met Mickey, the excitement of seeing Radiator Springs brought to life, the fun of saying yes to as many of the kids' requests as possible — I'm already nostalgic for it and we just got back last week. It was hands down one of the most awesome trips our family has ever taken.
Don't underestimate the aftermath.
I obviously drank the Disney kool-aid and will happily do it again (in, like, three years), but I won't lie to you: the let down was intense. The kids (and we) were exhausted, overstimulated, sugared out, and bummed that it had come to an end. In the days following, major meltdowns ensued and my patience was pushed to the breaking point. Even if your youngest doesn't vomit and your oldest actually naps on your eight-hour drive back home, you should expect some rough times in the days after your visit.
Go all in or don't go at all.
My husband was less than thrilled when I told him I was booking two-day park hopper tickets and three nights at the Grand Californian Hotel and Spa because, let's be honest, the thought of crowds, long lines, and Disney overload is daunting. Even I was a little nervous about going while they were so young, but once we arrived, we both consciously decided to get fully on board and embrace it. We stopped for the cheesy PhotoPass photos, wore the Mickey-emblazoned shirts, gave in to the expensive souvenirs, and said yes whenever we could. This trip was about the kids (even though we did manage to sneak in a few big rides ourselves), so we followed their lead as much as possible. Going in with that mindset definitely helped make it a success.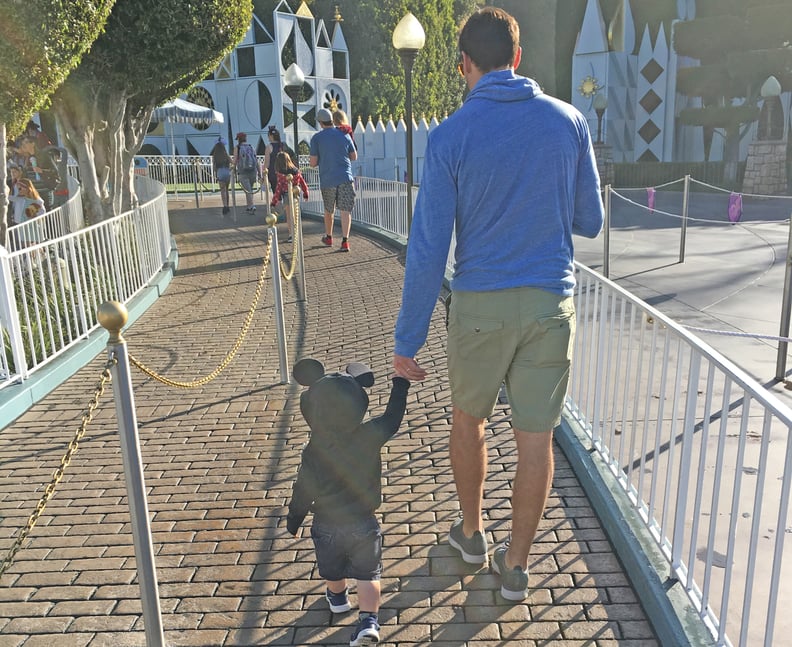 If you don't take a break, you won't make it.
If you want to make it to the Main Street Electrical Parade, you've got to escape the magical madness in the middle of the day. Resist the urge to do one more ride and head back to your hotel for naps or just to rest and recharge. If you don't, your magical day could turn into a wicked night.
Winging it is not an option.
When you're among 40,000+ people and have small children with you, you have to do some planning. Definitely don't overschedule your visit, but having an idea of your must dos and doing a little research will make it that much easier to go with the flow while you're there. Know which attractions have the longest lines (Hyperspace Mountain, Radiator Springs Racers, Indiana Jones Adventure, Finding Nemo Submarine Voyage, Peter Pan's Flight, and Soarin' Around the World), which run out of FastPasses early (Hyperspace Mountain and Radiator Springs Racers), and which popular rides don't offer FastPasses or Rider Switch options at all.
Make sure you also check out any attractions that might be closed. It was not pretty when I had to tell my son that his "best friend" Lightning McQueen was getting a "new paint job" and we wouldn't be able to take a picture with him like I had originally promised.
And now for the practical Disney details you'll want to know before you go:
Not all character meals are created equal.
Turns out reserving an overpriced character breakfast doesn't guarantee you a photo op with the magical mouse himself. Each location (and there are multiple) features different characters, so make sure to ask for the details before you book. Check whether seating will be inside or out and confirm what time the characters are there or you might show up to meet the princesses at Ariel's Grotto during lunch and discover that Cinderella and her pals only make the rounds during breakfast and dinner.
A stroller is absolutely necessary.
My older son hadn't sat in a stroller in at least a year, but we brought a double BOB knowing that the long days would potentially involve miles of walking and there's no way we would have survived without it! The kids got to rest (or nap) while we weaved through the crowds (strollers are excellent at people parting) and we used it to stash snacks, sweatshirts, and water bottles. My 9-year-old nephew even took advantage of the free ride more than once. Just make sure to keep one bag with valuables easily accessible so you can keep it with you when you leave your stroller to wait in lines and go on rides.
Magic hour really is magical.
Your kids are probably up at the crack of dawn anyway, so you might as well take advantage. If you stay at a Disneyland Resort Hotel, you get early entrance to either Disneyland or California Adventure each day. This is one whole hour before the park opens to the public, and it's aptly named. Hop on the most popular rides without waiting or just enjoy strolling through the park and snapping photos before the crowds set in. It's totally worth it to spend the extra money to get this perk, especially with toddlers in tow. Pro tip: plan to get in line at least 30 minutes before the early opening time, otherwise you'll waste half the Magic Hour waiting to get in the gates.
Make reservations or risk major meltdowns.
You'd think you were at the hottest new spot in NYC with how hard it is to grab dinner for a group at Disneyland. When we showed up for our 5 p.m. slot at Carnation Cafe, they were turning people away because they were fully booked. If you want to sit down to eat a full meal, you have to plan ahead and secure reservations, otherwise you better be ready to call popcorn and Dole Whip dinner (which wouldn't be so bad if it didn't translate to total toddler meltdown mode).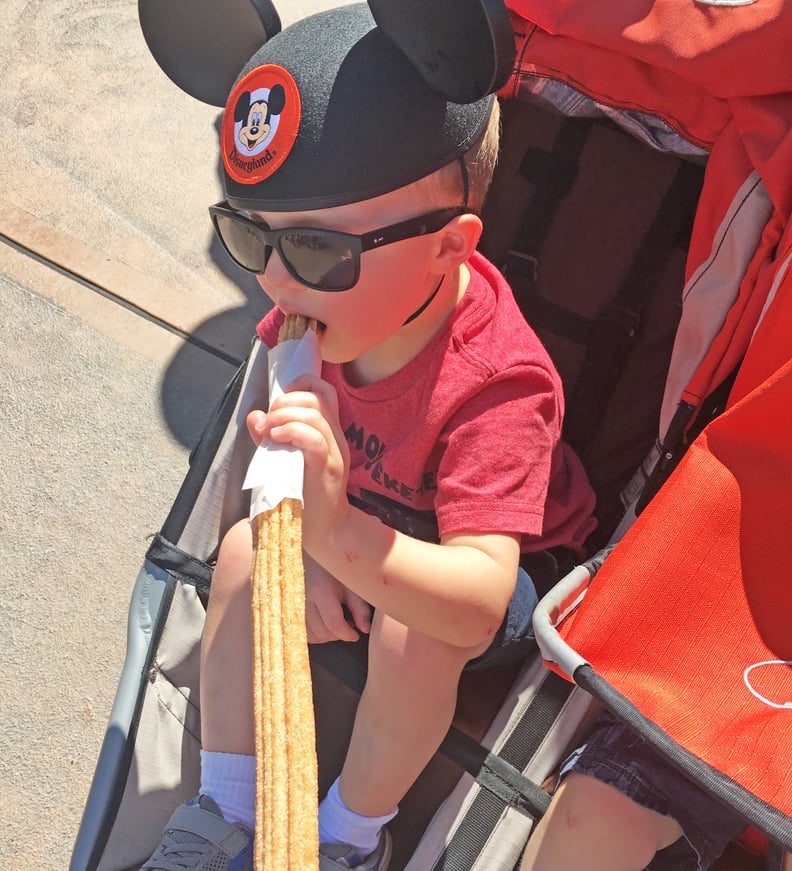 The Disneyland app is genius.
I grew up going to Disneyland on the regular (I pride myself in having a general map of the place etched in my mind), so despite having not visited in nearly 10 years, I thought I knew the drill. But as I started researching and planning for our trip, it was clear that going with kids was beyond my expertise and I'd need all the help I could get. Enter: the Disneyland App. We booked dinner reservations, planned our days based on ride wait times, and got to meet all the characters we wanted to because of the easy-to-navigate app. You can also connect it with PhotoPass so all the pictures you take around the park are available to buy on your phone.
You can bring your own snacks.
I read different things about the snack policy, so I wasn't sure what to expect when we got there, but I packed a snack bag each day and didn't get stopped once. Load up on granola bars, Goldfish, and a few treats so you don't have to shell out $10 every time someone cries hunger. You can also bring refillable water bottles and other unopened beverages.
Not all FastPasses are created equal.
With our FastPasses, we didn't wait in any line for more than 30 minutes during the whole visit — and it was Spring break! — which is crucial with little ones. Use them to your advantage and your whole day becomes that much more enjoyable. We found out you can have FastPasses for both Disneyland and California Adventure at the same time even though you can't hold more than one at a time within the same park.
You can also get a FastPass for the World of Color light show (absolutely worth staying up past bedtime for, by the way) at California Adventure, which doesn't interfere with any other passes. Just send one member of your group to grab FastPasses for everyone while the rest of you wait in line. Finally, when you're in Disneyland during Magic Hour, you have to wait until the park opens to get FastPasses, but that's not the case in California Adventure — you can pick up a FastPass as soon as you get in during Magic Hour, and if you want to ride Radiator Springs Racers, that's exactly what you should do.
Having a baby with you won't ruin your trip.
I can't say this for certain since your baby might be a terror, but when it comes to rides they don't meet the height requirements for, Disney's got you covered. They offer Rider Switch cards so one adult can ride with the older child while the other hangs back with the baby. Then the adult who waited with the baby can ride without waiting in line again — this also means the older kid can ride the same ride twice! The passes are good for up to three people and don't have to be used at a certain time (only on the same day) so they are actually even more awesome than FastPasses. Not all rides offer the option, but if you wanted to game the system a bit, you could take your whole crew to get in line for the more popular rides during Magic Hour and save your Rider Switch cards for later in the day when the lines are long.