As POPSUGAR editors, we independently select and write about stuff we love and think you'll like too. If you buy a product we have recommended, we may receive affiliate commission, which in turn supports our work.
I was that pregnant lady with the obnoxious baby registry. I wanted to have every single item that promised to make my baby the best sleeper, best eater . . . basically the best all-around baby ever. I read all of the "must-read" baby books and was prepared to have an easy go at this first-time-mom thing.
Clearly, my baby did not read the same books that I did. My infant was up partying at all hours of the night, then would wake my exhausted booty up between 4 and 4:30 am every day. I suppose I was partially to blame; I tried to give her some "tough love" and establish house rules when it came to sleep, but I would cave after a few minutes (seconds) and reinforce her bad sleeping habits. All of the miracle swaddle blankets, sound machines, and blackout shades in the world were not doing the trick.
Sleep deprivation played crazy games with my mind and body, and I know I'm not alone in this. My patience ran thin and I began to forget things. I stopped enjoying some parts of motherhood because I was SO DARN TIRED! My lack of sleep was certainly affecting my parenting.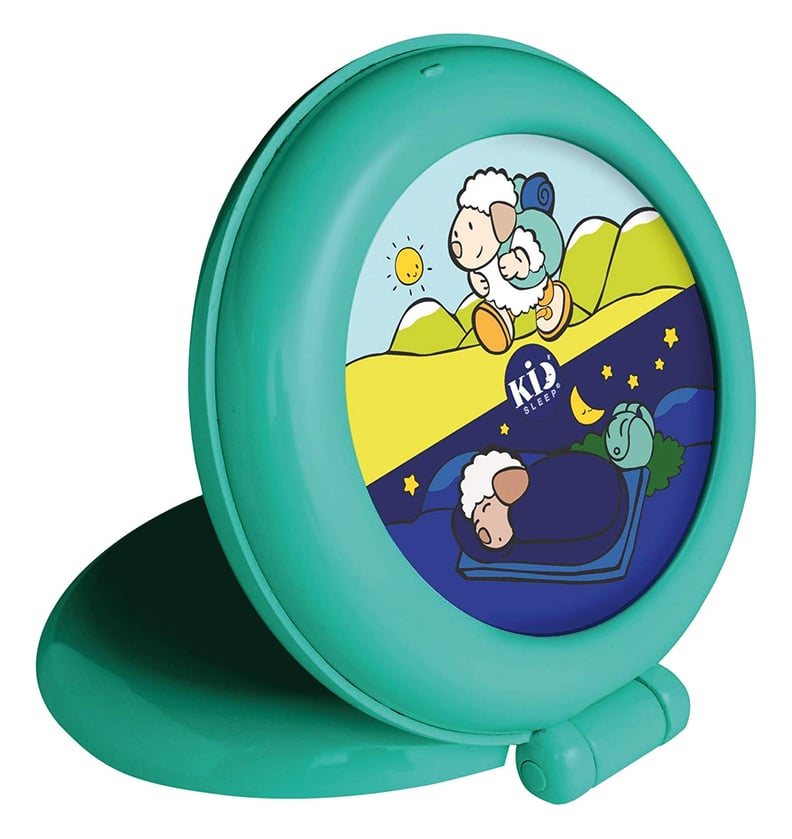 People kept telling me that my daughter's terrible sleep was just a phase that she'd grow out of. But she kept growing and her sleep behavior was not progressing. I was 100-percent exhausted and frustrated with all of the products on the market promising lofty ideals of a full night's sleep. That was until I found our holy grail: a ready to wake clock. (The version I have is no longer available, but a similar one called the Claessens' Globetrotter Travel Kids Sleep Trainer ($25) is. There are also tons of other options available!)
A ready-to-wake clock is a clock that allows you to set a wakeup time, then changes color when that time arrives, indicating it's acceptable to get out of bed. The one we chose has two bunny themes that correlate to two different colors. One setting has a bunny playing with a balloon and shines a yellow light. The other setting has a bunny sleeping in a bed with a dark blue light. Since young kids can't read a traditional clocks or tell time, this clock uses visual clues to help little kids know when it's time to sleep and when it's OK to wake up.
Once my daughter reached 2 years old, I set the clock to signify that it was OK to be awake at 5:45 a.m. At that time, being able to sleep in until 5:45 a.m. sounded like a dream. I explained to my daughter that she wasn't allowed to wake mama up until the bunny was awake and playing with her balloon. I told her that she was free to read her books until the bunny woke up, but unless she was hurt, she shouldn't make noise.
It was a bit like a game to her, and low and behold, it worked! Since my body was used to waking up so early, I unfortunately woke up before 5:45 a.m., but watched my daughter on the monitor. She popped her head up and checked the clock. When she saw that it was still blue, she laid back down — and actually fell back asleep! My daughter is turning 5 in a few months, and we still use it religiously every night.
I believe a ready-to-wake clock is a must have for any parent who has a toddler who boycotts sleep like my daughter did. If I were to have a second baby, I would start the practice of using a ready-to-wake clock as early as possible to save me the sleep deprivation. Moral of the story? The ready-to-wake clock worked, I finally got some sleep, and was finally able to parent like a normal human being. A true winner.