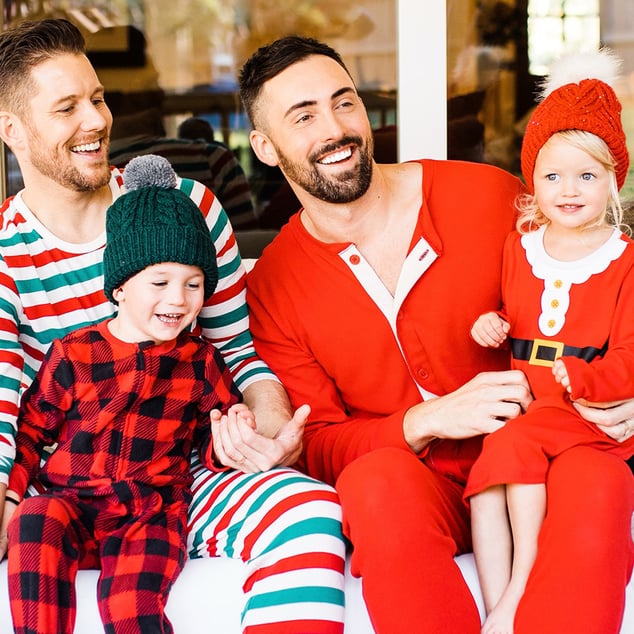 Father of two Dustin Patrick Smith knows how important it is for people to be exposed to all different kinds of families so that tolerance and inclusivity can be fostered, which is why his work with Old Navy modeling its holiday "jingle jammies" with his husband and twins is so important. Old Navy shared photos of Dustin and his husband, Burton Buffaloe, with their 3-year-olds — son Stone and daughter Holland — wearing matching family holiday pajamas and looking pretty dang beautiful, if I may say.
"Your fam, your jingle jammies (our 😍)," reads Old Navy's facebook post. "Dustin Patrick Smith & Burton B. Buffaloe love to take their traditions and 'mash them together to create a style that's all ours — but Santa comes to our house on Christmas day, that's non-negotiable.'"
On his Instagram account, Dustin shared why this campaign was not only important to him and his family but for others to see as well. "The definitions of a family today and a family in the past are far from similar," he wrote. "Oftentimes people will say a family includes a mother, father, and children all living under one roof. Our family consists of two fathers, a son and a daughter. Exposure to families that may not be like your own, in particular, encourages tolerance and acceptance because the fact is, everyone's family is unique. As we prep for the holidays we are celebrating uniqueness and individuality."
One commenter on Old Navy's post wrote, "Makes me want to shop at Old Navy. Love this inclusion" — and we couldn't agree more.
Read through to see the gorgeous photos of Dustin, Burton, Holland, and Stone from their Old Navy collaboration. They're going to be your new favorite family to follow on social media, if they're not already!
Dustin's Instagram Post About Diverse Families
Dustin and Burton's Family in Old Navy's Holiday "Jingle Jammies" Pajamas