How This $7 Refrigerator Whiteboard Completely Recharged My Coparenting Relationship With My Husband
Like most young parents, my husband and I are digitally savvy — we have an app for nearly everything and are so paperless that we don't even own a printer.
Naturally, we kept our complicated schedules online as well. With a shared Google Calendar, we logged every doctor appointment, birthday party, and ballet class, and anytime we needed to know what was happening, we could just pull up our perfectly synced phones to find out.
So I couldn't explain why we were still constantly fighting about such basic things as:
"Why do I always have to remind you what time her ballet class is?!"
"What do you mean you don't know what the plan is for dinner tonight?"
"I told you I wasn't going to be home tomorrow. Twice!"
"Yes, our house cleaner comes every other Wednesday. How is this new information?!"
We had the solutions to all of these frustrations right in the palms of our hands (which is where our phones generally reside), and yet, our digital wires were getting completely crossed.
The secret to its success lies in the fact that it's something, unlike a digital calendar, that we're forced to put together at the same time and in person.
Turns out, what we needed was a very low-tech solution, and I found it in the office supplies aisle at Target. I bought this U Brands Contempo White Frame Magnetic Dry Erase Board ($7) without a clear plan of what I'd use it for. Would it be a grocery list? A running inventory of to-dos? A place to air grievances? I showed it to my husband, and within an hour, we'd laid out the next week with all our top-level needs broken down into two sections: dinner and, well, everything else.
For him, not having a solid weekly meal plan was adding stress to his life. As the primary household cook, he handles our grocery shopping and would end up having to make a near-daily stop at the market to pick up provisions for dinners we hadn't thought about until halfway through his commute home.
For me, I hated organizing all the family's events only to have him have no awareness they were even happening. Whereas I looked at my iPhone calendar constantly, my husband just isn't wired the same way, so those things would slip through the cracks.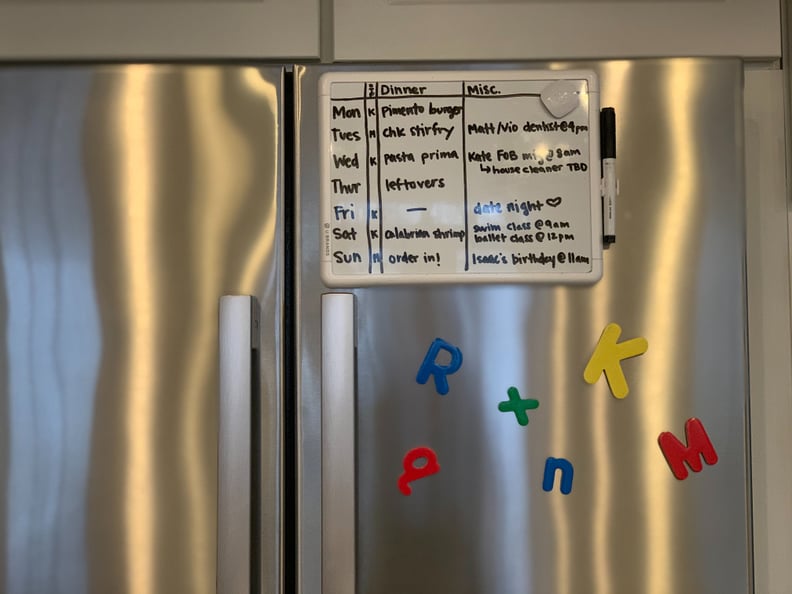 So now, every weekend — usually on Sunday mornings — we pull the whiteboard off the fridge, erase the previous week's additions, and start fresh. He consults recipes before picking five meals while I take the events from our Google calendar and write them out in the simplest of terms on the notebook-paper-sized board. Then, we literally talk through each day:
"Ah, our daughter's dentist appointment. Are you able to take her and I'll prep dinner?"
"Since you've got that meeting, I'll just feed the kids leftovers. It'll be an easier night for me that way."
"Can you be sure to pick up cash before the cleaner comes on Wednesday?"
"Remember I booked the sitter for date night on Friday and you promised to plan the rest. You good?"
"Since we have that birthday party on Sunday, the kids won't be hungry for a big dinner. Let's order in that night."
Then, once we hash out the logistics, we write in the meals on the corresponding days and plop the board at the top of our refrigerator, where we look upon it whenever we need a quick reminder of what's on deck.
Almost instantly, I noticed that we were no longer having same-day, last-minute panics about our afterwork whereabouts that inevitably led to unnecessary fights. We weren't having the near-nightly frustrations that came with not having a firm dinner plan in place.
We have loved this board so much that we've even tried to squeeze in a tiny column for morning workouts, with each of us calling dibs on a few days a week to get to sneak away and exercise before the school drop-off hustle begins. We've even contemplated color-coding or getting a bigger board and adding more details — maybe even looking two weeks out instead of just one. Ultimately, we decided to stick with our simpler-is-better approach.
As much as I have the $7 whiteboard to thank for this shift in our marital and coparenting dynamic, I think the secret to its success lies in the fact that it's something, unlike a digital calendar, that we're forced to put together at the same time and in person.
Those 20-minute check-ins in which we dry-erase the previous week's tasks and talk through what's coming next really make all the difference. Apparently, we just needed a bright-white sign on display in the busiest room of our house.