How to Look Better in One Minute
Look 100 Times Better in Just 60 Seconds: 16 Ways to Step Up Your Style in 2015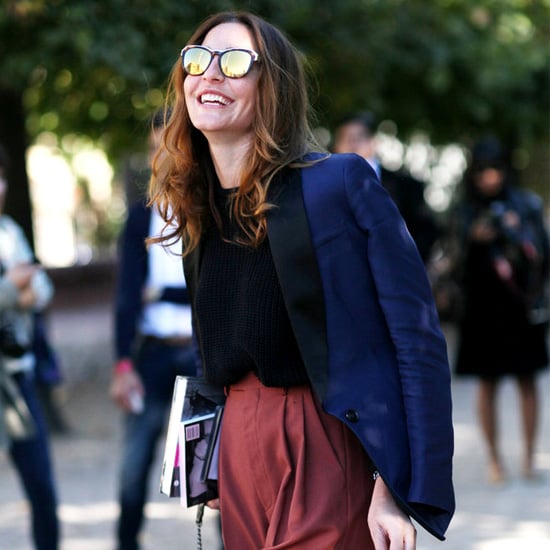 To put an end to ever uttering the phrase "I have nothing to wear," we've culled our editors' styling tips to bring you a wealth of one-minute change-up-your-wardrobe styling tricks. That way you can head into the New Year with plenty of sartorial optimism and create lots of standout outfits. But we realize that sometimes you only have a minute, and in those moments, it helps to have a few quick techniques on hand to steer you straight through a style conundrum. Read on to crib some simple solutions to use when you're pressed for time in 2015.
Layer up with a vest. A vest is an easy way to transition from day to night — just add a denim or leather version for a cool downtown vibe over a dress or top.
A bold bag can literally be a bright spot in an otherwise corporate wardrobe. If your office dress code doesn't leave lots of room to indulge your stylish side, a splash of color on your bag might be the best way to get your fashion fix.
Add a statement necklace — it instantly dresses up a look! The addition of a bold jeweled necklace, even on a dull tee or tank, instantly draws the eye in and makes your basics feel infinitely more special. Forget the t-shirt lurking under that standout necklace — everyone else will too.
Rule of thumb this season? The bolder, the better. Style a colorful floral blouse paired with a slick leather skirt for a more evening feel or go daytime polish in cropped kaleidoscope-hued pants with a casual button-down.
Cinch your look at the waist. By adding a textured, embellished, or bold belt, you're not only injecting a cool accessory into the mix, but you're also adding extra shape and dynamic to your silhouette. Let's put some stock into the saying "If you got it, flaunt it."
Play up your feminine side with a pair of girlie patterned tights. We absolutely adore heart-embellished tights as a cute, easy style add-on. Or if you prefer a daintier dotted print, rock 'em with a pretty, floral dress; a silk blouse; or a lace-inspired number.
Don't let the shape of a floppy hat fool you. The boho-style feel of a bigger, more "cumbersome" hat can translate into easier accessorizing capability and a higher return on fashion daring. Drape the front, wide brim artfully over one side of your face — without blinding yourself, of course — and reap the benefits of the heady dramatic effect.
Spice up any look, from casual cool to formal affair, with a little something leopard. The exotic print adds flair and texture without having to do little more than throw on your favorite leopard-enhanced piece. Try a leopard scarf over an all-black getup, or a patterned cardigan with a flirty, feminine dress.
A pleated skirt is a great transitional look regardless of your age or height and always manages to look pretty and ladylike no matter what you pair it with. Don't be afraid to rock your pleats with a striped tee (stripes are pretty much a neutral, as far as we're concerned) — even though the lines may be going in different directions, it'll result in an effortless, I-just-threw-this-on Parisian look. In the same vein, a pleated skirt with ballerina flats looks très chic as well.
Try colorblocking. It takes almost no effort at all to execute — just find your favorite colorful pieces and pair 'em up. The effect is striking but supersimple to achieve. Whether it's a colorblock sweater-and-jeans combo or a sweet juxtaposition of a bold dress over opaque tights, it's a zippy way to spice up a look.
Look to a red lip to punch up your whole look. It takes just a moment to add a bold red lip, but its effect is like finishing your look with an exclamation point — it livens everything up.
Play with texture — mixing and matching textures like chambray and leather or a cozy knit and sequins will lend a dynamic stye-setting twist to your basics. Try pairing a tweedy skirt with a leather jacket or playing off an angora sweater against silky bottoms for an unexpectedly cool juxtaposition.
Flatter your frame with skin-colored heels. We know we've said it before, but the effect of slipping on a pair of natural-looking heels or wedges with a shorter dress or skirt will work wonders for your legs and give the illusion of longer, slimmer stems. No matter what occasion you're dressing for, that's always a plus.
Don't underestimate the classics. We're often drawn to upcoming trends, but it's not always the newer the better. Need the proof? Just look to icons like Kate Middleton for the proof in the power of wardrobe mainstays like a great navy blazer or a perfectly fitted sheath dress.
Scarves have serious styling power in a pinch. Brighten up your style with a printed scarf or brightly hued wrap. It only takes seconds to throw on, and it can take your basics to a much more interesting place with its texture, print, or color.
Go for fitted silhouettes. It sounds simple enough, but the truth is a silhouette that skims the body versus looser, baggier fits is generally going to look more polished and make you look slimmer. Don't go skintight, but stick to pieces that highlight your best features and fit relatively close to the body.
— Additional reporting by Sarah Wasilak, Marisa Tom, and Hannah Weil