Topshop Clear-Knee Mom Jeans
Clear-Knee Mom Jeans Have the Internet Scratching Its Damn Head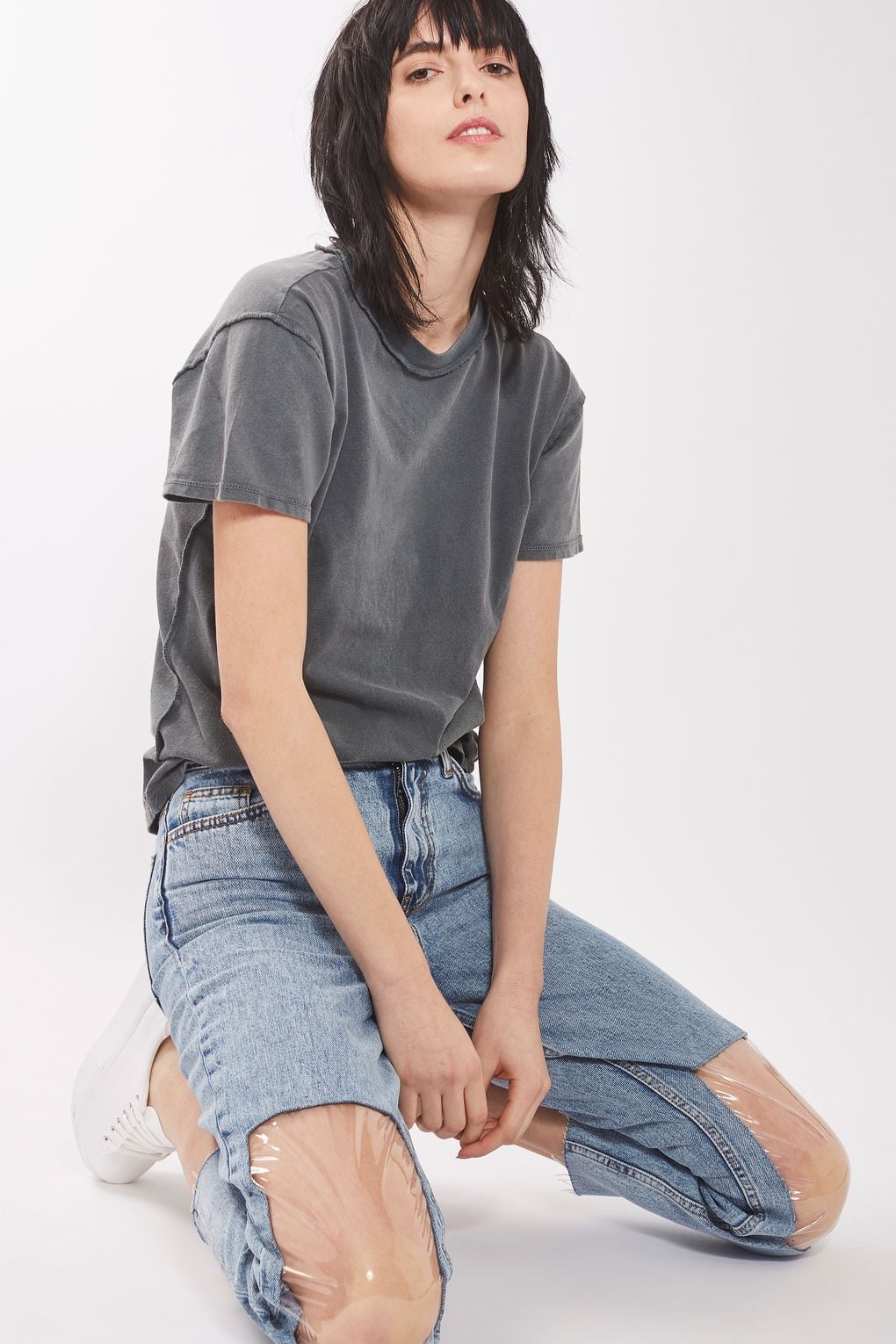 For the most part, fashion girls everywhere embrace new denim trends with open arms (and wallets). Baggy boyfriend jeans spent some well-deserved time in the spotlight, as did jeans with frayed edges. But one rather unique denim option just surfaced, and it has the internet divided because — well, you'll see.
People recently discovered that Topshop now sells MOTO Clear Panel Mom Jeans, a pair of high-waisted jeans with a tapered leg and a see-through plastic material sewn into the kneecap area. Yes, seriously. For $95, you too can tan an oddly rectangular part of your legs, because who wants evenly sun-kissed legs anyway, am I right?
These clear-knee jeans are giving us major flashbacks to that time Kim Kardashian wore see-through knee-high boots — and not the pleasantly nostalgic type of flashbacks. The see-through holes, which genius internet users have aptly dubbed "jindows" and "knee windows," pose one big question: why?! Why would you make a denim product that will undoubtedly induce awkwardly sweaty knees and subsequent fogged-up jindows?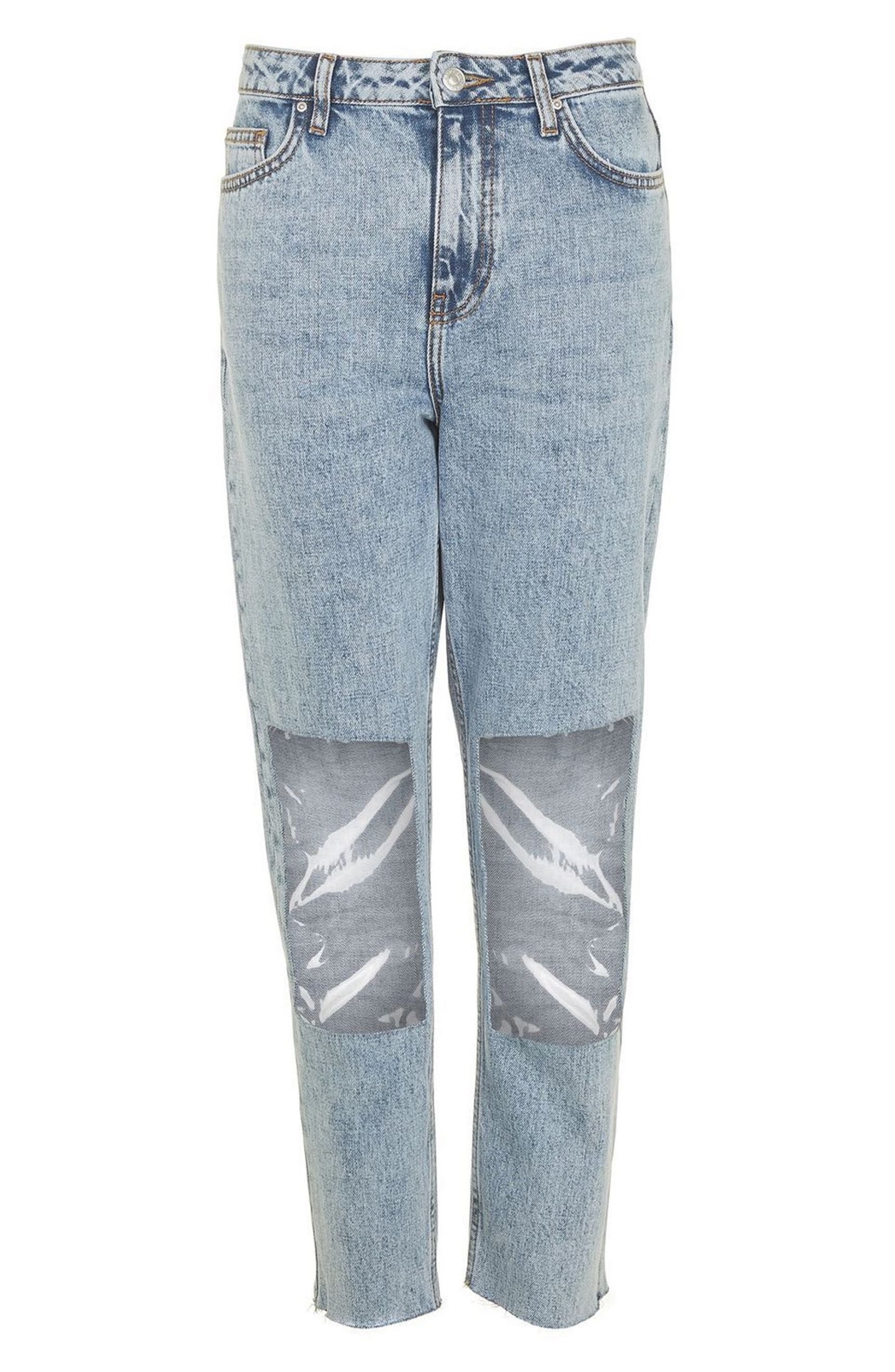 Although the product's description claims "off-duty styling never looked so good," some portions of the internet seem to think otherwise. Many people have used social media to share their candidly honest and hilarious reactions to stumbling across these strange denim pants.
These are actual jeans you can buy at @Nordstrom that cost $95.

Called Clear Knee Mom Jeans.

We are truly living in the dark time line. pic.twitter.com/vv9flwQeXx

— Jed Whitaker (@Jed05) March 13, 2017
DOROTHY PARKER: What fresh hell is this?
TOPSHOP: Thank you for asking! These are our "Clear Knee Mom Jeans." pic.twitter.com/QRhmLjKirv

— Una LaMarche (@sassycurmudgeon) March 13, 2017
Latest sign of impending apocalypse: Clear-knee mom jeans https://t.co/OegwSRywxP pic.twitter.com/rmDOBzCKAp

— The A.V. Club (@TheAVClub) March 13, 2017
But the feedback isn't all negative, as the jeans have gotten some surprisingly raving reviews on Nordstrom's website, where the jeans are also sold. One kneecap-lover proclaimed, "The awesomeness of these jeans can not be confined to mere words on a page," while another wrote, "Finding these was a great start to my 2017." Plus, many Twitter users rallied to show their support for letting their knees say "peekaboo," admitting that they're up for giving this budding denim trend a try IRL.
I 👏🏻 SUPPORT 👏🏻 CLEAR 👏🏻 KNEE 👏🏻 MOM 👏🏻 JEANS 🎷

— Jamirospicer.;ttu,-4 (@issshnang) March 13, 2017
I absolutely need some clear knee mom jeans https://t.co/YATxb8lpl8 pic.twitter.com/4UJOW5Dgih

— Mark Cersosimo (@markinhifi) March 13, 2017